A Typical Load carried by an Infantry Soldier.
Individual items of gear included, basic webbing harness, weapon and ammunition, a shell dressing, entrenching tool, machete, M26 grenade, nine full water bottles, five days rations, small stove and hexamine tablets for cooking, shaving gear, steel mug, shelter, lightweight blanket, hammock, spare socks and bayonet.
In addition each 10 man section shared a load of, 6 x 100 round belts for the M60 MG, spare barrel for the M60 MG, M49 flares, smoke grenades, white phosphorus grenades, grenade spigots and ballastite cartridges, claymore mines, detonating cord, plastic explosive, M79 rounds, M72 LAWs, spare radio batteries, torch, starlight scope night vision device, panel markers for identification to aircraft, binoculars, compass, maps, protractor, pace counter, strobe light, secateurs, medical kit, watches, codes and writing equipment.

Signallers carried the ANPRC Radio with spares batteries and handset and antennas.
Platoon medics carried a comprehensive medical kit.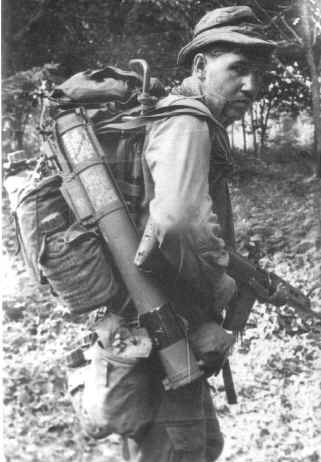 Dress - consisted of jungle greens with sleeves down, general purpose boots (GPs), sweat rag, floppy green bush hat.
photo from Vietnam Remembered