| | | |
| --- | --- | --- |
| Category: Army today/RAR | | |
Raised
18 January 1952
1 February 1964
Battalion colour

Scarlet (BCC 209)

Battalion nickname
The Fighting Fourth
Battalion march
Inverbrackie
Current home
Holsworthy, Sydney, NSW
Mascot
Now known as 4 RAR (Commando)
Tours of duty overseas.
Malaysia
October 1965-October 1967
Viet Nam
1 June 1968 - 31 May 1969 and May 1971-Dec 1971 (D Coy- Feb 1972)

"The Fighting Fourth" 4RAR/NZ (ANZAC) 1971/1972
Battalion Colours. (Pictured are the Colours circa 1970) The history of Colours is covered comprehensively on other pages of this site. The tradition of colours and the strict conventions applied and the respect accorded them must be a matter of common knowledge for every soldier. An officer or soldier passing uncased Colours of his own regiment or other corps or friendly service is to salute them. Colours are the jealous possession of the battalion. They do not leave the Battalion's possession when in service. No one but the Battalion may claim them. When they are being moved from, or to the place they are usually kept, they are to be escorted. When the colours are not being carried they are to be housed in the Officers Mess. When the Battalion is on active service or functioning in such a way that its custody of the Colours is not possible, the Colours are housed for safe keeping before leaving Australia. Gloves are to be worn at all times while carrying the colours. The Battalion was presented new colours on 12 October 1984, by the Governor General, The Right Honourable Sir Ninian Stephens, AK, GCMG, GCVO, KBE and laid up the old colours on 13 October 1984. The Commanding Officer at the time LTCOL M.J. Keating and the RSM, WO1 J.H. Dunshea, paraded the colours for the last time to the All Saints Chapel at Lavarack Barracks where they remained until 9 May 1995. The colours were then relocated to Sydney where they are now on show in the Battalion Headquarters building. The soldiers can view the colours to maintain the traditions of the Regiment. The old Queen's Colour is the design of the Union Jack and the current Queen's Colour is the design of the Australian National flag.
HISTORY OF 4 RAR

including

4RAR/NZ (ANZAC)

This page is dedicated to the CQMS of Delta Coy. 4RAR/NZ (ANZAC) on their second tour, S/Sgt (later WO1) R J 'Bob' Hann.
On 18 January 1952, a Royal Australian Regiment Depot was raised as a training unit for special establishment on the Order of Battle.

The Depot was later renamed 4 RAR, on 10 March 1952.

This renaming was necessary because Government approval had been given to raise a Battalion and not a Depot.

The primary function of 4 RAR at the time was to train and hold infantrymen for service in Korea.

On 24 March 1960, the unit was incorporated into the School of Infantry as Depot Company, The Royal Australian Regiment.

<< The gate badge of 4RAR Depot which is now on display at Infantry Centre, Singleton
The decision to raise the Fourth Battalion of The Royal Australian Regiment was made in 1963.Consequently, instructions for the raising of the Battalion were issued on 13 January 1964. The official raising of 4 RAR on 1 February 1964, resulted in the first regular Battalion to be raised on Australian soil.
Additionally it was stated that this battalion is a new battalion and not a resurrection of the old 4 RAR Depot. The Battalion was first raised under command of LTCOL D.S. Thomson, MC and WO1 L.E. Brennan.
On 1 February 1964, the Inauguration Parade for 4 RAR took place at Woodside South Australia. Two other very significant events took place concurrently. Firstly, on 11 April, 1965, the Governor-General, Viscount De L'Isle VC, PC, GCMG GCV0, presented the Queen's And Regimental Colours to the battalion. Afterward, the Governor-General suggested that to mark his visit the Assault Pioneers should wear beards, as was the custom in his own regiment, the Grenadier Guards. Subsequently, the 4 RAR Assault Pioneer Platoon Sergeant became the only soldier in the Australian Army permitted to wear a beard .
In October 1965, 4 RAR joined 28 COMWEL Ind Bde Gp at Terendak Camp in Malaysia. Training was intensified immediately as the unit was placed on a short notice to move to Sarawak. While training, the Battalion had platoons and companies on varying degrees of alert in case if Indonesian incursions across the Malacca Straits onto the Malay Peninsular. In April 1966, the Battalion was deployed to the Bau District. Battalion HQ was located at Cambrai Camp.
| | |
| --- | --- |
| | Borneo, 1966-06. Soldiers from the 4th Battalion, The Royal Australian Regiment, moving from hut to hut in a village as they carry out a routine patrol along the Malaysian-Indonesian border. Left to right: Corporal John Maloney, from Coburg, Victoria; Private (Pte) Bill McBride, of Albany, WA, on the steps of the hut; and Pte Arthur Francis, of Cessnock, NSW. |
Three of the rifle companies occupied bases at Gumbang, Stass and Bokah. The remaining rifle company was held as a reserve at Old Bau Camp. Documents captured by C Company, under Major K.J. McGhee, in a June 15 contact with an Indonesian Army infiltration group proved of great importance to operations in Sarawak and to political manoeuvres during the closing stages of confrontation. An important facet of the Borneo tour was the unit's hearts and minds campaign. Aid, in the form of construction, supply, employment and medical treatment, was given to local villages.
At the conclusion of "'Confrontation" in early September the bases occupied by 4 RAR were handed over to 3 Royal Malay Regiment. By 10 September 1966, 4 RAR was completely relocated to Malacca. On 11 November 1966, Lieutenant Colonel D.S. Thomson, MC handed over command of 4 RAR to Lieutenant Colonel C.H.A. East, MBE. The unit continued to participate in it's role as part of the British Commonwealth Far East Strategic Reserve. During this period the percentage of national Serviceman in the battalion increased, as a large number of regular soldiers returned early to Australia to go as reinforcements to Vietnam.
Lt Col East instituted a civic action scheme which was extremely successful. Initially the battalion adopted a Malay village, where it applied the Malay custom of "mutual assistance". During September and October 1967 4RAR returned to Australia and settled at Enoggera Barracks, Brisbane, where on 9 January 1968, Lt Col L.R. Greville replaced Lt Col East as commanding officer. The battalion was reduced by one rifle company for its ANZAC role in Vietnam, where it was to take over two New Zealand companies.
From 4 RAR's time in Malaysia and Sarawak the Battalion will remember the following soldiers.
Private P. Robinson

Corporal P.J.J. West

Corporal R.C. Patch

Private J.W. Jones

Private L.W. O'Carroll

Private V.H.Richards
WE WILL REMEMBER THEM
LEST WE FORGET
1st Tour Vietnam 1 June 1968 - 31 May 1969

On 13 May 1968 an advance party from 4 RAR moved by air to South Vietnam.

This group arrived on South Vietnam on 14 May 1968.

The main body of the Battalion departed on 21 May 1968 and travelled to Vietnam aboard HMAS Sydney.

The battalion took over from 2RAR on 21 June at the 1st Australian Task Force Base, Nui Dat, Phuoc Tuy Province.
| | |
| --- | --- |
| | Bien Hoa province, South Vietnam, 1968-06. A resupply helicopter is being unloaded at fire support base (FSB) Concord in northern Bien Hoa province shortly after the base had been set up by 4RAR/NZ (ANZAC) (the Anzac battalion comprising 4th battalion, the Royal Australian Regiment and a component from the 1st Battalion, Royal New Zealand Infantry Regiment). At the base with the Anzac battalion are armoured personnel carriers of 'A' Squadron, 3rd Cavalry Regiment, howitzers of 104th Field Battery, Royal Australian Artillery (RAA), and self propelled guns of an American battery. |
Two Royal New Zealand Infantry Regiment Companies, V (Victor) and W (Whisky), joined the Battalion and it became 4RAR/NZ (Anzac) Bn for its twelve month tour of Vietnam.

During its year long tour in South Vietnam the Battalion completed 11 major operations and five operations of company size.

The Battalion returned home to Australia to Enoggera in May 1969, as part of 6 TF, 1 Div and later relocated to Townsville, as part of the 3 TF, 1 Div in December 1969.
Awards
Distinguished Service Order
Lt Col L R Greville
Military Cross
Second Lieutenant Thomas Gary Reidy
Maj William John Reynolds
Maj John Pericles Deighton
Lt Maurice Francis Dodson (V Company)
Lt Brian Charles Barley (W Company)

Military Medal

Cpl Wayne Laurence Brown
Distinguished Conduct Medal
Sergeant Michael Rupert Carroll
Sgt John Aitchison Kennedy
Cpl Malcolm Gibson
L/Cpl Arohanui Leonard Ropeta (V Company)
Sgt John Grant Sandford
Mentioned in Dispatches
Maj Brian David Lindsay
Maj Michael Chisholm Morrison
Capt James Rollo Brett
Capt Peter Kenneth Sharp
2Lt Peter James Sheedy
WO1 Anthony Charles Toghill
WO2 Robert Richardson MM
WO2 Leslie George O'Keefe
Sgt Noel Robert McParland
Cpl Kenneth Bruce Miller
2Lt John Lindsay Burns (12 Field Regt)
Sapper Wiki Kahika (V Company)

Richard John Foster
Second tour of Viet Nam
May 1971- Dec 1971 (except D Coy left SVN 29 Feb 1972 - arrived Australia 13 Mar 72)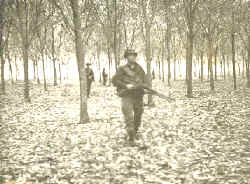 The Battalion's advance party departed Australia on 30 Apr 71, for the unit's second tour of Vietnam only this time lead by LTCOL Hughes and the RSM WO1 W.T.C. Thompson took over on 1 Jun 70 and looked after the men until 14 Aug 73.
<< In the rubber
During the voyage the infantrymen of the Battalion, ( one hundred and forty-one of them had previously seen service in South Vietnam) trained on the flight deck of the carrier, keeping in top condition.
The New Zealanders joined the advance party at Nui Dat in early May 71, having come from Singapore. The main body arrived on 22 May 71, and operations began soon after the Battalion concentrated at Nui Dat. The Battalion relieved 2 RAR/NZ (ANZAC) at midnight on 23 May 71.
4 RAR/NZ (ANZAC) after a week settling in and 'In theatre training' moved to the bush for the remaining seven and a half months of its tour. This meant the soldiers spent their tour entirely on operations during the monsoon season. The ANZAC Battalion conducted nine operations against their main targets, the 274 Viet Cong (VC) Main Force Regiment and the 33rd North Vietnamese Army Regiment.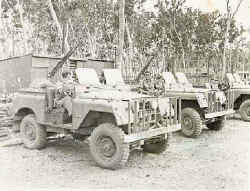 On 18 Aug 71, Prime Minister W. McMahon announced the withdrawal of troops by Christmas, and in Dec 71, the Battalion less Delta Coy and 1 Tp, B SQN, 3 Cav Regt returned to Townsville, Australia on the troop carrier HMAS SYDNEY. Delta Coy remained at Vung Tau until 13 Mar 72.
For 4 RAR/NZ (ANZAC), this final tour gave the Battalion the honour of being the last ANZAC Battalion to serve in South Vietnam (also 4 RAR was the last Battalion to leave Borneo in 1966). As the last Battalion out of South Vietnam, it was witness to the unique circumstances of the withdrawal, none of them being foreseen during the deployment to South Vietnam. During its tour of duty the Battalion killed 91 enemy and captured 5 for the loss of eight 4 RAR/NZ (ANZAC) soldiers.
| | |
| --- | --- |
| | Nui Dat, South Vietnam. November 1971. Lowered for the last time. A simple ceremony by a small element of 4RAR /NZ (ANZAC) (The ANZAC Battalion comprising 4th Battalion, The Royal Australian Regiment and a component from the 1st Battalion, Royal New Zealand Infantry Regiment), saw the Australian, 4RAR and Royal New Zealand Infantry Regiment flags lowered for the last time and marked more than five years occupancy of the base by Australians and New Zealanders. The flag lowering ceremony was carried out by New Zealand Regimental Policeman Private Tai Whatu and Australian Regimental Policeman Private John Skennar of Grafton, NSW. |
The Battalion remembers these soldiers from the second tour for the sacrifice they made.
Private B.M. Pengilly
Private J. Duff
Private R.J. Niblett
Private B.C. Beilken
Private K.M. Kingston-Powels
Private R.J. Sprigg
Private M.L. Rhodes
Corporal C.F. Wilkinson
Pte K H Harding (1RNZIR)

WE WILL REMEMBER THEM

LEST WE FORGET
AWARDS , SECOND TOUR
Distinguished Service Order (DSO)

Lieutenant-Colonel J. C. Hughes, M.C.

Military Cross (MC)

Major J. H. Taylor
Second-Lieutenant G. J. McKay

Military Medal (MM)

Corporal M. J. O'Sullivan
Lance-Corporal J. L. Adams (New Zealand)

Mentioned in Despatches (MID)

Captain D. D. McKenzie
Second-Lieutenant K. J. Byrne
Sergeant G. J. Chad
Sergeant D. K. Jenkins
Corporal D. Melrose
Private T. Parekura (New Zealand)
Private K. G. Casson
The Battalion returned to Australia to take over the rear lines in Lavarack Barracks, currently occupied by 2 RAR today and went on a much earned rest. After returning to work, the Battalion continued training on exercises around Mount Spec, Tropical Trials Establishment at Cowley Beach and High Range Training Area. It was during this period that the Battalion was looked after by MAJ E.H. Stevenson, (Administering Command) from 6 Apr 72 until 7 Jul 72, who in turn handed over to the new Commanding Officer LTCOL L.D. Johnson on 8 Jul 72, holding that position until the linking with 2 RAR on 15 Aug 73 to become 2/4 RAR.
Partly by Max Johns
During 2/4 RARs deployment to Rwanda on Operation Tamar in 1994, that the Government made the decision to unlink the 2nd/4th Battalion.

This was a result of the 1994 Defence White Paper that identified the need for an additional Infantry Battalion to enhance the Army's capability to meet strategic guidance requirements.

On 15 Jan 95, LTCOL R.C. Smith who was posted to Land Headquarters and had carried out the detailed planning to raise the Battalion, was appointed Commanding Officer of 4 RAR.

A Project Team for the raising of the additional infantry battalion was formed on 23 Nov 94, to begin planning.
This consisted initially of the CO, LTCOL R.C. Smith and RSM, WO1 K.R. Kahler. Shortly afterwards additional personnel with future appointments in the Battalion were posted to the Project Team.
The Courts Martial Room at Land Headquarters, Victoria Barracks, Paddington along with numerous computers and mobile phones, were made available for the Project Team to commence work. This was the beginning of the new technology Battalion. Manning was approved for 69 ARA and 103 GRes soldiers in the first year, building to 3 ARA rifle companies and 1 GRes rifle company by 1998. The General Reserve would also have proportional elements in Support and Admin Companies giving respective strengths of 556 ARA and 150 GRes. Therefore, the total unit strength would be 706.
The 2nd/4th Battalion was unlinked by the Chief of the General Staff, LTGEN J.C. Grey, AO on a parade at Samichon Lines, Lavarack Barracks, Townsville at 1500 hrs on 1 Feb 95.
After the parade the colours were escorted to Holsworthy on 2 Feb 95, by the Adjutant, CAPT S.J. Kluver and SSGT G.J. Stanworth, where a ceremonial parade was held at 1600 hrs to uncase the colours to mark this auspicious occasion. The Reviewing Officer for the parade was MAJGEN P.N. Arnison, AO and the Host Officer was BRIG A.J. Molan, AM Commander 1st Brigade.
The Battalion enjoyed strong ties with the 4th Infantry Battalions Association and was barracked at Jordan Lines, Holsworthy. It was intended the Battalion would occupy Tobruk Lines when 5/7 RAR (Mech) moved to Darwin in 1998. The Battalion finally moved into Tobruk Lines in November 2000 prior to Christmas, to enable The Battalion to conduct training before deploying to East Timor in April.
4 RAR (COMMANDO)
In 1996, a decision was made to convert the Battalion to a Special Forces unit and on 1 Feb 97 was re-rolled to 4 RAR (Cdo). Regular serving members were given the opportunity to undertake special forces training or elect a posting to a conventional forces unit. No GRes positions existed in the new structure and reserve members discharged or posted to GRes units. LTCOL R.C. Smith and WO1 Kahler remained in the unit during the first year before handing over to LTCOL N.L. Thompson on 29 Nov 97 and WO1 A. Forsyth on 12 Jan 98 respectively.
The initial years were busy creating a structure and recruiting members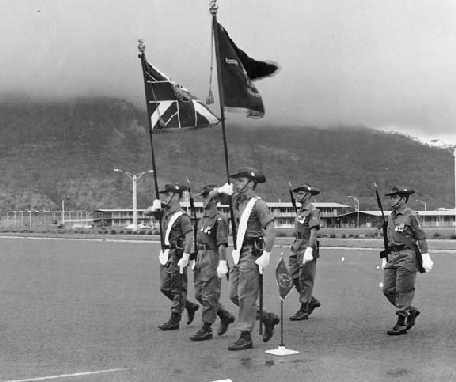 suitable for commando training. Bravo Coy was raised first followed by Charlie Coy in 1999, both taking 2-3 years to reach maturity. The pace of battalion life during these development years was hectic with capability development, equipment acquisition and training, focussing every memberís attention. LTCOL N.L. Thompson (29 Nov 97-17 Nov 99) and WO1 A. Forsyth (12 Jan 98-16 Jan 00) oversaw much of this consolidation period in an era involving preparation for the Sydney Olympics and much of the ADF being focussed on operational deployments to East Timor.
LTCOL J.J. Sengelman assumed command of the unit on 18 Nov 99 and quickly prepared Bravo Coy to assume operational responsibilities on 1 Mar 00, in accordance with OPO serials. In addition to this, Charlie Coy were tasked with providing support to SASR during the Olympics. LTCOL Sengelman was assisted by his new RSM, WO1 R.E. Lambert, who commenced work on 17 Jan 00.
| | |
| --- | --- |
| | Some of 4RAR Commando served in Iraq in 2003. They were back up, ready reaction for SASR |