| | | |
| --- | --- | --- |
| Category: Army today/RAR | | |
Raised
12 October 1945
Battalion colour

Garter Blue (BCC 132)

Battalion nickname/s
Pony Soldiers; Big Blue One; First To Go
Battalion march
Waltzing Matilda
Current home
Lavarack Barracks, Townsville, Qld
Mascot
Shetland Pony; "Septimus"
Now operates as the Ready Reaction Battalion
Tours of duty overseas.
Japan
As part of British Commonwealth Occupation Force (BCOF), 1946 1948
Korea
2 tours during the Korean War, 1952/53, 1954/56
Malaya
During the Emergency, 1959/61
Viet Nam
2 tours; 1 with US 173rd Airborne; 1 with 1 ATF, 1965/66, 1968/69
Malaysia
With 28 Commonwealth Infantry Brigade, 1969
Singapore
As part of ANZUK, 1970
Fiji
Operation Morris Dance to evacuate Australian civilians, 1987
Somalia
Operation Restore Hope, 1992/93
East Timor
| | | |
| --- | --- | --- |
| | | The insignia of the American Meritorious Unit Commendation awarded to 1RAR by the US Secretary of the Army for it's service while attached to the 173rd Airborne Brigade (Separate) United States Army, 5 May 1965 to 16 May 1966. |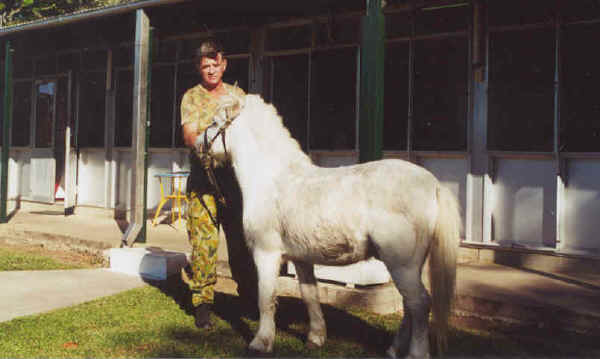 The Battalion Mascot, Septimus the Shetland Stallion and his handler Cpl Peacock
1st Battalion Royal Australian Regiment in Korea
In 1945 Australia sent three units to Japan as part of the British Commonwealth Occupation Force (BCOF). Originally known as the 65th, 66th and 67th Infantry Battalions, they were raised from Australian divisions stationed in New Guinea at the end of the Second World War. On 23 November 1948, the battalions were renamed the First, Second and Third Battalions, The Australian Regiment, respectively. The prefix "Royal" was granted by King George VI on 31 March 1949.

1RAR was in Australia when the Korean War began in 1950, having returned from Japan at the end of 1948. The battalion was bought to strength with volunteers from 2RAR and new enlistments resulting from the "K Force" recruitment campaign. It trained in Australia at Puckapunyal, Victoria, before departing for Korea on the troopship Devonshire on 3 March 1952. It arrived in South Korea on 6 April, joining the 28th Brigade on 1 June.

1RAR was not involved in any of the major battles of the Korean War, but did participate in many lesser known, but just as dangerous, patrolling operations. In July of 1952 it was detached to the 29th Brigade, relieving other battalions on Hills 159, 210 and 355. It took part in general patrolling along the Jamestown line, which involved securing defences, repairing minefield fences, and undertaking reconnaissance of enemy positions to gather information on them.

Other major operations that 1RAR took part in usually aimed at capturing a prisoner or destroying enemy defences. Operation Blaze (2 July) was 1RAR's first major action. It involved a raid on Hill 227 to capture a prisoner. Although it failed in its objective, the operation did give the brigade important experience against a strong enemy.

On the night of 13–14 September a fighting patrol from 1RAR encountered the enemy, and it captured its first prisoner. In early December 1RAR took over defences on Hill 355. The position had been poorly maintained and it took 1RAR ten days and 50 casualties to secure the area and regain control of the approaches. The battalion also supported the Royal Fusiliers in Operation Beat Up (25–26 November) by launching a diversionary attack on Hill 227.

The last action 1RAR engaged in during the war was Operation Fauna (11–12 December). The purpose of the operation was to capture a prisoner and destroy enemy defences. It did not achieve its main objective, but did succeed in destroying the enemy position code-named Flora. Nearly a third of the force became casualties, with 22 wounded and three missing. Operation Fauna shows the risks associated with prisoner-capturing operations, as they were rarely successful and often resulted in heavy casualties.

On 21 March 1953, 1RAR was relieved by 2RAR at Camp Casey, near Tongduchon, and returned to Australia later that month. The battalion returned to Korea in April of 1954, and was involved in training and border patrols. In March 1956, 1RAR ceased its operations in Korea and returned to Australia. Text by AWM
Battle honours

Casualties

42 killed No information on 1RAR wounded available

Decorations

2 DSO
2 OBE
4 MBE
6 MC
7 MM
1 BEM
20 MID
1st Battalion Royal Australian Regiment in the Malayan Emergency
In 1945 Australia sent three units to Japan as part of the British Commonwealth Occupation Force (BCOF). Originally known as the 65th, 66th and 67th Infantry Battalions, they were raised from Australian divisions stationed in New Guinea at the end of the Second World War. On 23 November 1948, the battalions were renamed the First, Second and Third Battalion, The Australian Regiment, respectively. The prefix "Royal" was granted by King George VI on 31 March 1949.

The Australian battalions sent to the Malayan Emergency formed part of the 28th Commonwealth Infantry Brigade Group (CIBG). CIBG was part of the British Commonwealth Far East Strategic Reserve (FESR). FESR comprised British, Australian, New Zealand, and Malayan troops. Australian officers commanded the Australian battalions in Malaya. However, the operations that 1RAR carried out were part of a larger strategy that required cooperation from the FESR and the Malayan army. Efforts were directed against the Communist terrorists.

1RAR arrived in Singapore on 2 October 1959. It began operations in Malaya on 9 November after spending a month training and acclimatising. The battalion was stationed at Minden Barracks, located in the foothills on the eastern side of the island. Although Minden was the nominal home of the battalion while it was in Malaya, it rarely spent any length of time there. Operations could last for days or weeks at a time, and breaks between operations were brief. During its period of service in Malaya, the battalion operated with three rifle companies, instead of the usual four.

The first operation 1RAR took part in was Operation Bamboo, which began on 9 November. Bamboo was a deep jungle search in Upper Perak on the Thai–Malay border. 1RAR remained in the jungles of the border area for 18 months, working to eliminate small groups of terrorists. It was monotonous and frustrating work. It was not uncommon for rain to wipe out tracks that were being followed, or for the terrorists to cross over the border into Thailand, where they could not be followed.

Operation Magnet began in April 1960. This operation was the first time that FESR units were able to track the terrorists across the Thai border. They then attempted to drive the terrorists into Malaya, where units from the 28th Brigade were waiting in ambush. Unfortunately, the operation did not result in any engagements.

Operation Jackforce began in June. It used the same approach that was employed during Magnet, except this time the 28th Brigade crossed the border while the Malayan units waited in ambush. This resulted in one contact with the terrorists.

On 31 July 1960, the Malayan Prime Minister Tunka Abdul Rahman signed a proclamation declaring that the emergency was over. Although this was the formal end of the Emergency, 1RAR continued on operations in Malaya until the end of its tour of duty in October 1961. It departed for Australia on 29 October, 1961. Text by AWM.

Casualties 2 killed in action, no wounded figures available

Decorations 1 MBE
<< Presented to the Battalion by the Officers, Viet Nam 1965

Unofficial, commercially produced patch for the "Pony Soldiers" >>>
| | |
| --- | --- |
| | Malaya. c. 1960. Unidentified members of B Company 1st Battalion, The Royal Australian Regiment (1RAR), resting and preparing meals at a temporary bivouac. B Company was on a long range patrol in Northern Malaya near the border with Thailand. Each member of the patrol constructed hammocks with overhead cover each evening from plastic sheeting acquired privately as satisfactory material was unavailable through official sources. (Donor B. Betts) note...such a temporary bivouac could be set up in about 2 hours and might be used for 1 night or several days. Sentries were always posted during set-up. |
| | Binh Ba, South Vietnam. 1968-04. Troops from 1st Battalion, The Royal Australian Regiment (1RAR), patrol a rubber plantation during Operation Pegasus. The one day operation was staged in and around Binh Ba rubber plantation, seven miles north of the 1st Australian Task Force (1ATF) Base at Nui Dat. |
| | |
| --- | --- |
| | Fire Support Base Coral, Bien Hoa Province, Vietnam, 1968-05. The hutchie or temporary shelter occupied by Neil Ahern, a member of 102 Field Battery, Royal Australian Artillery (RAA), supporting 1RAR at Fire Support Base (FSB) Coral. At the front of the hutchie Ahern's rifle, uniform and kit form a rough pillar topped by his helmet. Directly behind the hutchie artillery shell casings are stacked or strewn on the ground. In the background the development of the FSB is marked by an array of trucks, tarpaulins and sandbags. (Donor N. Ahern) |
| | Vietnam. 1966-01-17. Private Brian Duncan of Fairfield, Sydney, NSW, tries out the telescopic sight on a sniper's rifle captured by the 1st Battalion, The Royal Australian Regiment (1RAR), in an operation against the Viet Cong. The rifle was one of more than a hundred weapons taken by the Australians from a vast Viet Cong underground tunnel complex uncovered during Operation Crimp. |
| | Terendak, 1969. The Director of Infantry, Colonel DS Thompson MC addresses 1RAR on it's 24th Birthday Parade (held 3 October 1969 at 0845 hours). The Battalion CO, Lt Col J B M Ternary to the right rear on the dais. Sports after included, Wood chop, Grenade throwing, Sgts v Officers Tug of War, Wives egg and spoon race, Over 35 handicap 100 mts, 3 legged relay, Sack of potatoes relay, Sack race, Gourmet Competition, Boat race (beer), Catch a greasy pig. |
| | Terendak. 1969. In the old days the Band acted as Stretcher Bearers during action and were unarmed. They were killed in their hundreds. Now the Battalions have Combat Medics who are armed and dangerous. In-between these two groups was this mob. The Rifleman/stretcher bearers. We were infantry men with a basic training in first aid and health problem prevention. It worked in practice and a Combat Medic is now an established part of any Platoon. Left to right, back row. 'Dutchy' Holland, Ted Harris, (your humble web master), Paul Hartas, forgive me-memory fails, Bob 'Dolly' Dyer. Front row, forgive-me-that memory again, 'Pommy' Taylor. |
| | Somalia. 1993-03-16. Members of `C' Company, 1st Battalion, The Royal Australian Regiment (1RAR) taking prisoner a Somali bandit who was later taken to Burhakaba for questioning about the murder of a camel herder and his family. The soldiers are serving with the Australian contingent to the Unified Task Force in Somalia (UNITAF). |
1R.A.R. joined the US unit, 173rd Airborne Brigade (the "Herd") in May/June of 1965 in SVN when the two line Battalions of the Brigade were the 1/503rd and 2/503rd. When 1RAR joined up, they became the third battalion of the Brigade and remained so till they left to go home to Australia.

When they were replaced, the leadership in the U.S. saw that the Brigade's third Battalion (1RAR ) had left and so replaced them with the 4/503rd. So for a long time there was no 3/503rd. This was later rectified.

Guidon of B Coy 3rd Bn 503rd Infantry

The bayonet is used to refer to the brigade and being borne by the wing alludes to the brigade's airborne status. Red, white and blue are the USA national colours

The insignia of the South Vietnamese award, the Cross of Gallantry with Palm. I believe that this was awarded by SVN but never approved by the Australian Government.
Bend your head, and shed a tear,

For your sons, who serve so dear

Faith and Guts and Rifle Butts,

Left a trail, of blood stained dust.

So here we are, Where we belong,

173rd, So proud and strong

Lift your head, and hold it high,

173rd is passing by.

Aussie Diggers, Fight with us too,

"Duty First" they say, Their words are true

In Jungles deep, They showed us how,

We say "VC come fight us now".

So here we are etc

Sweat upon, Their sun-burned brows,

173rd has shown them how

War zone "D" we met our test,

Mekong Delta, We are the best.

So here we are etc

To Nui Dat, the "Tigers" came,

With the "HERD" the won great fame.

Dak To and Tet, We won and died,

"Jungle of screaming souls" the NVA cried.

So here we are etc

My wife who waits, at home so true,

I sing this song, my dear for you.

Tell our son that I fight Brave,

For Freedom Land which we must save.

So here we are etc
Written in Vietnam by a SkySoldier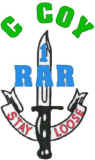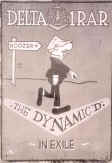 BRIEF HISTORY (1945 to 1994)
The 34th Australian Infantry Brigade was formed in 1945 and consisted of three battalions gathered from the 6th Division, but included elements of the 5th, 7th, 9th and 11th Divisions.

These Battalions, once formed, were designated the 65th, 66th and 67th Australian Infantry Battalions.

Personnel from the 65th Battalion, later redesignated Ist Battalion, were drawn from elements of 7th Division.

They were brought together as a formed unit on 12th October 1945 which is now celebrated as the Battalion's Birthday.

Lieutenant Colonel R. H. Marson, DSO, assumed command of the Battalion which commenced immediate preparations for redeployment to Moratai, where 34th Infantry Brigade was being concentrated. Every member of the unit was a volunteer for service in Japan where the Battalion served from February 1946 until its return to Australia in December 1948.

The unit was redesignated 'Ist Battalion, Australian Regiment' in November 1948. January 1949 saw another change when the unite was redesignated 'Ist Battalion, The Royal Australian Regiment' (1 RAR) following the granting by King George VII of Royal Assent to the formation of the Royal Australian Regiment (RAR).

The Korean War began in 1950 and 3 RAR was quickly dispatched to assist Australia's allies. 1 RAR, then located in Japan, was tasked to receive, train and prepare reinforcements for the Korean threat. 1 RAR did not reach Korea until March 1952. It was to be two long months before the Battalion saw action for the first time. On this occasion, 1 RAR was subjected to heavy concentrations of enemy mortar and artillery fire.

1 RAR returned to Australia in April 1953, having suffered 43 men killed and 170 men wounded in action. The Battalion conducted a second tour of Korea commencing March 1954 and saw many intensive actions prior to returning to Australia in April 1956.

The Battalion conducted extensive retraining in the period April 1956 to September 1959, then embarked for service in Malaya. In the two year tour that followed, 1 RAR participated in numerous anti-communist counter-insurgency operations as part of a joint Commonwealth programme in support of the Malaysian Government. 1 RAR then returned to Australia in October 196 1.

The Australian Government's response to the communist threat in South Vietnam resulted in 1 RAR being dispatched for two tours of duty in that country., the first, from May 1965 to June 1966 and the second from March 1968 to February 1969. The Battalion achieved significant operational success during both tours, receiving a Unit Commendation during the first from General W. C. Westmoreland (Commander U.S. Forces, South Vietnam) and in winning great distinction during the second for its efforts in defence of Fire Support Base 'Coral' (12th-16th May, 1968). 1 RAR returned to Australia with the combined losses of 54 men killed and 295 wounded in action. Enemy losses were considerable.

In 1969 the Battalion departed for garrison duties in Malaysia and then in December 1969 moved to Singapore where it remained for a further seven months prior to deploying to Townsville in 1970.

On the 23rd May, 1987 the Battalion deployed a Company Group on Operation Morris Dance to assist, if necessary, with the evacuation of civilians from Fiji following the military coup. This was the first operational deployment of Australian troops since Vietnam.

On the 17th December 1992, the Battalion was warned for duty in Somalia to provide the basis of a Battalion Group in support of 'Operation Restore Hope'. 'me Battalion Group conducted over 1100 foot patrols resulting in seven Somalian KIA, four WIA and 70 Somalians handed to the auxiliary security forces. The Battalion confiscated 935 weapons of various types and ensured safe delivery of 83 11 tonnes of humanitarian relief supplies. The Battalion returned to Australia on 22nd May 1993, and marched through Townsville to a rousing welcome home by the people of the city.

Throughout this time the Battalion has been actively involved in major exercises throughout Australia, overseas military exchanges and has on occasions provided much needed assistance to the North Queensland community in times of emergencies such as natural disasters.
The Battalion continues to develop the skills and techniques to fulfil its present role as part of the Operational Deployment Force of the Australian Defence Force.
Click to go to a dedicated 1RAR page