| | | |
| --- | --- | --- |
| Category: Air support/Viet Nam | | |
Officially the UH-1 series is the Iroquois, named as are all American military helicopters after an Indian tribe. It's unofficial name, Huey, became so commonly used that the AH-1 attack version was officially named the Huey Cobra. The Huey story traces back some five decades. In 1955, with an interest in a utility helicopter designed around a turbo-shaft engine, the US Army had the US Air Force develop a new helicopter for its use. At that time the US Army did not have its own aircraft development capability.

Bell produced two major versions of the UH-1 - the single engine Models 204 and 205 and the twin engine Models 212 and 412. Although both were designated UH-1, there were enough differences to warrant considering them two separate aircraft.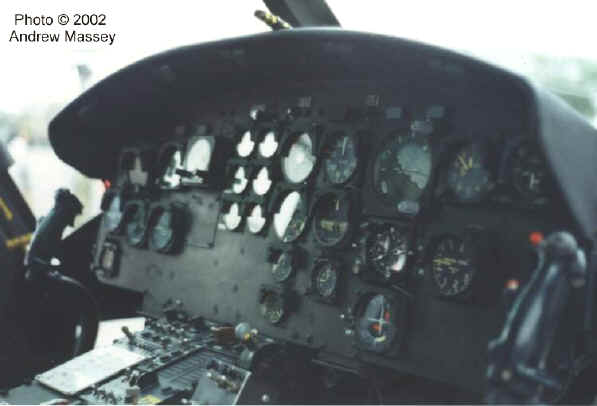 The twin "side by side" cockpit of the Huey.

The design selected, Bell's Model 204, was to be powered by a new Lycoming T-53 engine of some 850 shaft horsepower and featured a typical Bell two-blade teetering rotor. This gave it the distinctive 'wop-wop' sound that many people associate with the Viet Nam war.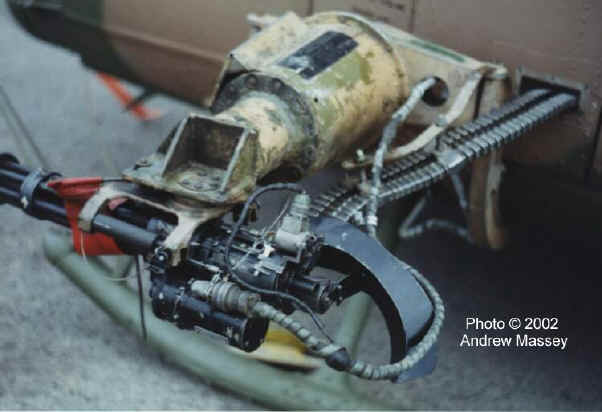 A mini gun attached externally to a Huey to turn it into an attack helicopter

In the original helicopter designation series, the first three aircraft received the XH-40 designation. First flight of the new design was in October 1956, development and production following. When the US Army adopted its own two-letter designation system, the H-40 became the HU-1 (Helicopter Utility). From this designation came Huey, the name by which it has remained known. The US Department of Defence ( DOD ) standard designation system reversed this to UH-1, the first designation in the new DOD helicopter series. With larger engines and increased capacity, the UH-1 was developed through successive models.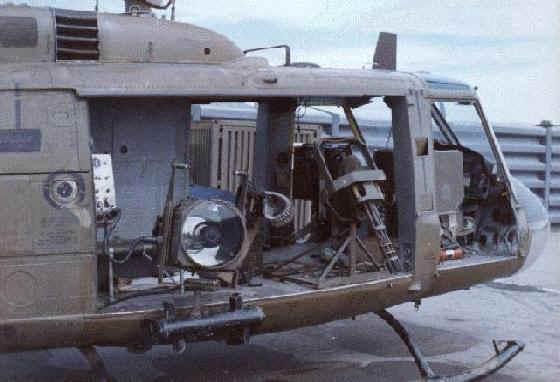 Note the searchlight and mini-gun fitted to this early model "gun-ship".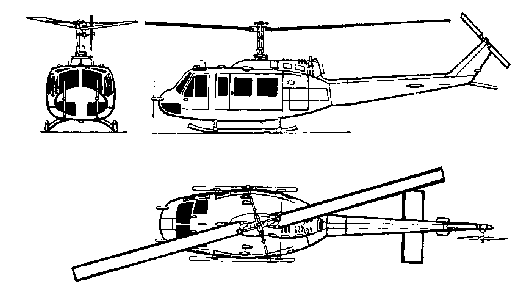 These helicopters are widely used in a transport, airborne battlefield command and control, troop insertion and extraction, fire support coordination, medical evacuation, search and rescue, armed escort/visual reconnaissance or utility roles. More than 9,000 were produced in 20 years. (4,600 were lost in Vietnam). Considered to be the most widely used helicopter in the world, the Huey is flown today by about 40 countries. Evolving through 13 models, the Huey flew millions of flight hours in support of a wide variety of Army missions.
A flight of 10 Huey's drop in to "lift" the equivalent of an Infantry Company at one time.
South Vietnam. 29 April 1967. Troops from 7th Battalion, The Royal Australian Regiment (7RAR), wait at Luscombe Field, Nui Dat, Phuoc Tuy Province, while mates are lifted off by a fleet of Iroquois helicopters. The troops were starting Operation Puckapunyal, a short shakedown for the Battalion which had recently arrived from Australia.