| | | |
| --- | --- | --- |
| Category: Discipline | | |
Military Police (Provosts) in WW2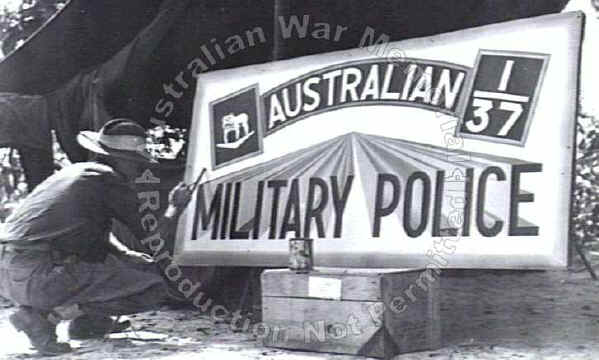 Morotai, 1945-05-25. Corporal J. Dwyer, 2/3rd Lines of Communication Provost Company, painting a sign to be placed at the camp entrance.
1943. Two Military Police purchasing a Fund raising badge from a child.

Note the MP armbands. Note the holstered side arm

---

Syria. 1942-01. Sergeant J T. Brown of the 1st Australian Corps Provost Company who was awarded the British Empire Medal.
| | |
| --- | --- |
| | 1945. A humorous sketch signed Batto, showing an MP (military policeman) saying to a soldier "Get that button done up!", though he ignores the soldier's lack of trousers, socks and boots. |
Taken at a training school for Military Police, most probably at Darley Vic.

donor:

Robyne Kirsch

If you can add details please email me