Trial Bay Gaol during World War I. These blokes are Guards at the Concentration Camp. Note the differences in uniforms - almost like "leftover uniform bits can go to these guys ...". There's probably a good explanation for the mix of uniforms - a mixture of regulars with the GCC blokes, possibly.

The gaol itself was used between 1915 and 1917 as an internment camp. It was populated mostly by artists, artisans, musicians and actors. Life for the Germans was comfortable, thanks to their own innovations as far as accommodations and food were concerned, and the sternly alert but flexible attitude the guards had. They had concerts, a coffee house, tennis, hockey and swimming to keep them occupied. Some Germans were allowed to trade their craft with the local townspeople in exchange for little luxuries or extra food and clothing.

From the soldiers' side it was a quiet posting. They shared fairly good relations with the Germans, and were often invited to the concerts or coffee houses. They intermingled with the local townspeople of South West Rocks and Arakoon, and sometimes went into Kempsey

The bloke on the far right is grandfather to the donor of the photos on this page, Trisha Griffin. He later married and the family was related to Frank Partridge VC.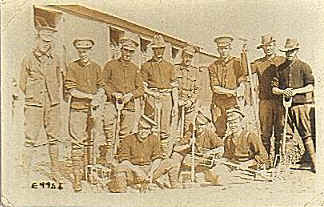 3092 Moltzen,
3156 Chapman,
3081 Lovejoy,
3148 Usher,
3051 Gilmour,
3135 Such,
3037 Debelle,
3044 Fitzhenry,
3014 Beach,
3069 Kennedy,
Jones Head Gardener.