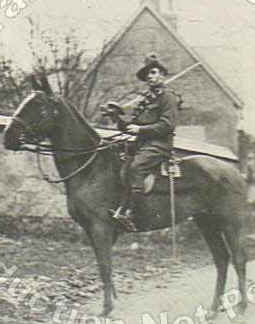 Joined the army 5 times in 1 war
France, c 1917. Trooper (Tpr) Eugene Vogel Finster, 1st Anzac Mounted Regiment, mounted on his horse with his sword drawn and "at the rest".

This unit was originally the 13th Australian Light Horse Regiment which was assigned to the 1st Anzac Corps for service on the Western Front.

This unit was issued with swords and trained as light cavalry.

Tpr Finster was an original member of the 2nd Field Ambulance enlisting on 1914-08-19, served at Gallipoli, wounded in action and repatriated to Australia on 1915-08-06 and discharged "Medically Unfit" from the AIF on 1916-02-28.

He re-enlisted on 1916-03-27 at the AIF Camp Bendigo and was discharged "Services No Longer Required" 1916-07-21.
He enlisted again on 1916-07-26 and was assigned to the 1st Anzac Mounted Regiment embarking for France on 1916-10-26. On the night of 1917-03-25 Tpr Finster, along with about thirty other men, made their billets in the Bapaume town hall when a mine, left by the retreating Germans eight days before, detonated shattering the whole building and killing two French deputies and a number of men employed at an Australian Comforts Fund coffee stall.

Fatigue parties dug through the night and the next day rescuing six men trapped in the rubble and a group of officers and men from the 13th Field Company and the 1st Anzac Mounted Regiment who were trapped in different cellars. Tpr Finster was seriously injured by the explosion and was repatriated to England and then to Australia on 1917-07-22 and discharged from the AIF for the third time on 1917-10-30. Private Finster enlisted in the Army for "Home Service" in the Australian Medical Corps (AMC) at the No 11 Australian General Hospital (11AGH) from 1919-03-24 to 1919-09-08 and from 1919-10-28 to 1920-01-22. Finster's service number in the 2nd Field Ambulance was 98 and 1912 in the 1st Anzac Mounted Regiment. (Donor W. Morriss)