| | | |
| --- | --- | --- |
| Category: Badges | | This page is a sub category index |
History of the RSM's Badge and the badges of WO1 and WO2
One of the most respected and coveted badges in the Services (particularly Army) is that of Warrant Officer Class One (WO1) or equivalent. In the Army that is the rank held by the Regimental Sergeant Major.

(There are other WO1 appointments and not all WO1s are RSMs).

Sub category index

It is referred to as the "Galloping Horses" in a reference to the 'supporters' on the Coat of Arms, the Kangaroo & Emu. (Originally the Lion & Unicorn on the British Royal Arms.)
| | |
| --- | --- |
| | RSM badge in metal (Level 3). |
The Regimental Sergeant Major or RSM is the senior Warrant Officer Class One in a British Regiment, and is primarily responsible for maintaining standards and discipline. The same rank and appointment exists in the Australian and New Zealand armies. In the Canadian Armed Forces, RSMs have the rank of Chief Warrant Officer. All Warrant Officers in the British Armed Forces are addressed as 'Sir' by their subordinates, but, due to their non-commissioned status, are not entitled to a salute. They are however issued with a Warrant on appointment.

Warrant Officers can be addressed as "Sergeant Major" only if they hold a Sergeant Major appointment, e.g. Company Sergeant Major (CSM), Squadron SM, Battery SM or Regimental Sergeant Major (RSM).

In any Unit that has more than 1 Warrant Officer Class 1 the RSM is "first amongst equals".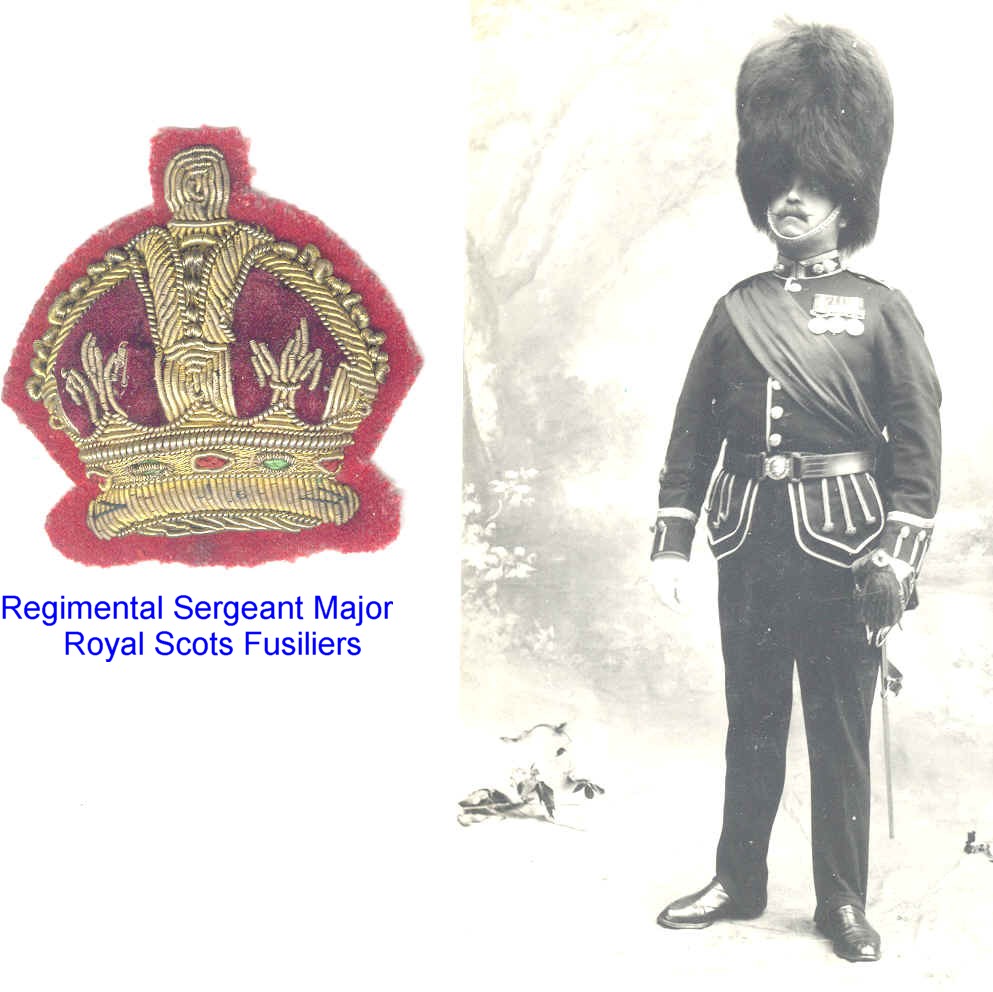 Wording: Australian Imperial Force

WARRANT

To Arthur Wyatt Peele

By virtue of the powers delegated to me by the Governor General of Australia and all other powers thereunto enabling I hereby constitute and appoint you to be a Warrant Officer Class 1 in the Australian Imperial Force from the 1st day of April 1919.

W Birdwood, General

Commanding Australian Imperial Force
AUSTRALIAN ARMY
WARRANT
Robert James HANN
Royal Australian Infantry Corps
By virtue of the authority given in the Defence Act 1903-1970 and the Regulations made thereunder, you have been appointed to be a Warrant Officer in the Permanent Military Forces.
You are, therefore carefully and diligently to discharge your duty as such by doing and performing all things thereunto belonging as required by the laws and orders relating to the military forces of the Commonwealth: and you are to observe and follow such orders and directions as you shall receive from your Commanding, or any other superior Officer, according to the laws and orders relating to those forces. (signature)
Wording on a Warrant circa 1980
Note. In the British Army the Rank of Regimental Sergeant Major existed BEFORE the rank of Warrant Officer came into being.
They were Sergeants who wore 4 chevrons (stripes) and in SOME cases, mostly Guards Units, that was surmounted by a Royal Coat of Arms.
Today in Australia the RSM is an appointment (not a rank) and is usually reserved for Warrant Officers Class One although some Warrant Officers Class Two have been Infantry RSMs.
| | | | |
| --- | --- | --- | --- |
| | Australian metal badge of rank for the RSM (WO1) in WW1. Worn on the right sleeve, below the elbow and just above the overseas service stripes (also shown). | | Crown worn above chevrons (in the Ballarat Volunteer Regiment) by 2829 James John Heath who originally served in the 55th Regiment of Foot during the Crimean war. |
Heath was born in Staffordshire in 1819 and he worked as a labourer until his enlistment in the British Army on 22 April 1837. He participated in the Battle of Inkermann and the siege of Sevastopol during his service in the Crimean War of 1854-1856.

He was promoted to the rank of Sergeant during this time for good conduct and affection for duty. He was discharged from full time service after the war and was employed in the service of the Victoria London Docks Company for nearly three years, during which time he acted as a Drill Sergeant in 2 Battalion of 5th Essex Rifle Volunteers. He subsequently emigrated to Australia and became Sergeant Major of the Ballarat Volunteer Regiment, a position he had held for over twenty years at the time of his death in 1885.
| | |
| --- | --- |
| | Belt buckle worn by RSMs pre WW1.(Circa 1850). Note that it is the State Arms not the Royal Arms depicted on the buckle. (no crowned lion). |
Many of the images on this page are courtesy of CWO Herbert H "Sarge" Booker 2nd
When shirt sleeves was the appropriate dress the RSM and CSMs would wear their respective badges of rank on leather wrist bands on the right arm.

In some Units (mostly British I think, and, I am told RNZAOC) an Infantry scarlet felt backing was worn behind the badge.
Worn by NX52530 Staff Sergeant Samuel Edward Cameron of 2/19 Battalion. Cameron was born in Queanbeyan, New South Wales, on 4 May 1909 and enlisted in the AIF on 3 July 1940. He served in Malaya before becoming a prisoner of war of the Japanese, when he was sent to work on the Burma-Thailand Railway in Thailand.

He was unofficially promoted to the rank of Warrant Officer while interned. Cameron returned to Australia after the war but died on 21 October 1945, from illness contracted while he was a prisoner, only days after his repatriation. AWM: REL30595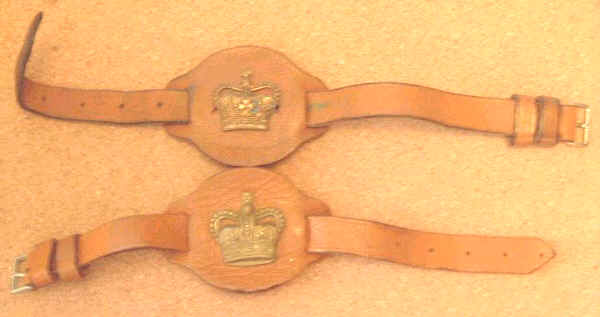 Three post 1953 wrist straps bearing (slightly different) St Edward's (Queens) Crown badge of rank and 1 with a wreath.
| | |
| --- | --- |
| | |
| Australian WO1 badge, 1971 | WO3 badge 1950? |
| | |
| --- | --- |
| | |
| British WO2 No 2 dress embroidered. | WO2 14/20 Hussars RCT Lancer Regt. UK |
| | |
| --- | --- |
| | |
| UK WO2 Royal Irish Rangers UK | WO2 Instructor RMC Sandhurst UK |
| | |
| --- | --- |
| | |
| UK Royal Marines Badge No 2 Dress. | UK WO2 (Unit unidentified, probably GS, mess) |
| | | |
| --- | --- | --- |
| | | |
| WO2 Rifle & Gurkha Regts. | WO2 Royal Green Jackets | Royal Marines WO2 |
| | |
| --- | --- |
| | |
| WO2: WW2 economy (printed) issue, UK. | No.1 Dress Regimental Quarter Master Sergeant (WO2), UK, post 1953 |