| | | |
| --- | --- | --- |
| Category: Badges | | |
New Zealand Infantry Unit hat & collar badges. Regiments 1 to 9
collar dogs (above) variation (below)

1st (Canterbury) Regiment Formed 17 March 1911. Absorbed the 2nd (South Canterbury) Regiment in 1921 to become the Canterbury Regiment. In 1964 it amalgamated with the Nelson, Marlborough & West Coast Regiment to become the 2nd Battalion Royal New Zealand Infantry Regiment.
3rd Cadets, Canterbury Regiment.

At first glance this appears to be the same as the badge above but voided. In fact it is quite different.

Note

3 stars above and below the bird.
NZ replaces the motto
Motto replaces "Canterbury"
Wording in scroll is different.

Variation of 1st (Canterbury) Infantry Regiment

This version is sometimes referred to as the "spiky ferns" version. It is the version most often seen in Gallipoli era photos.
2nd South Canterbury Regiment collar dogs

2nd (South Canterbury) Regiment

. Formed 17 March 1911. Absorbed into the Canterbury Regiment in 1921.
Above right is a variation (different crown shape& different scroll under the arm)

Collar dogs for the 3rd (Auckland) Regiment (Countess of Ranfurly's Own).

<<< 3rd Auckland Regt (Countess of Ranfurley's Own) with the St Edward's (Queen's) Crown
"This badge (depending on size) is either the first pattern (right) collar badge of the 4th New Zealand (Otago Rifles) Regiment, or it is a cartouche box badge for the same unit.

From memory, I think they were all cast".

Mike Subritzky.
Early collar dog variation.

4th (Otago Rifles) Regiment. Note 2 variations of collar dogs. Note the variations of attachment devices of the hat badges (1 slider, 1 pinned)
collar dogs

<<< The badge of the British West Riding Regiment on which the badge of the 5th Wellington is based

<< Another version of the badge of 5th (Wellington) Regt. This one from 1st Battalion 5th Wellington.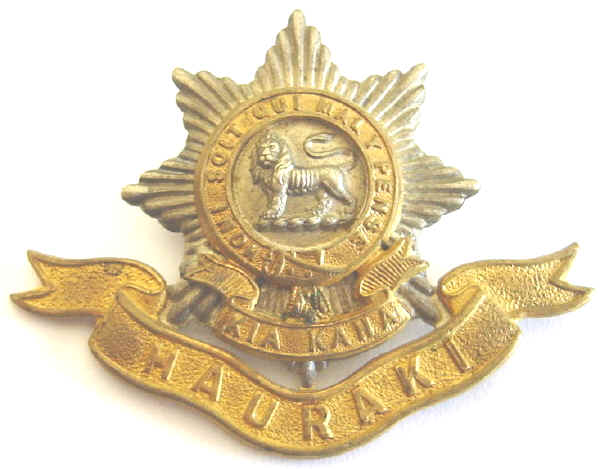 Photo by Shaun Aumua
| | |
| --- | --- |
| | |
| | Hat badge and collar dogs for 6th (Hauraki) Regiment. |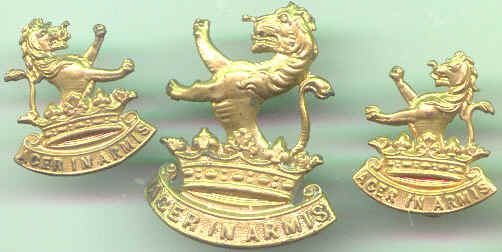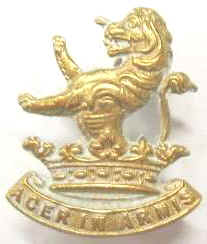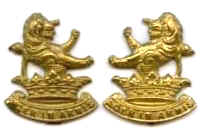 7th Wellington West Coast Regiment. Set of Hat and 2 facing collars.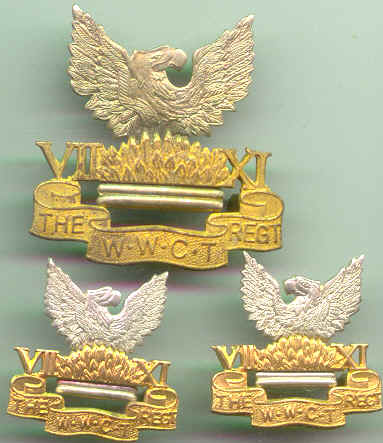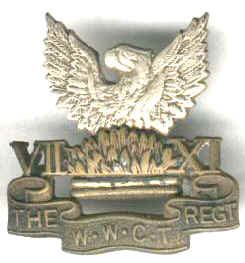 8th (Southland Rifles) Regiment There are many, many variations of this badge.

This Unit formed 17 March 1911.

It saw action at Gallipoli and in France and Egypt as part of Otago Regiment.

It also formed part of the 2nd NZEF in 1939/45 and supplied Companies to the 20th, 23rd, 26th, 30th & 37th Battalions.

In 1948 it amalgamated with Otago Regiment to become the Otago & Southland Regiment which later became the 4th Battalion RNZIR.

<< Spear tip broken off.
8th (Southland Rifles) Regiment

2 variations of the hat badge; The Otago and Southland Regiment

Above. Hat badges

Left. Collar dogs