| | | |
| --- | --- | --- |
| Category: Art | | |
W.E. PIDGEON (WEP) War Artist
WAR PAINTINGS 1943 - 1945
Ascending The Pimple (Australian War Memorial Collection, Accession No, ART29338, Reproduced Australian Women's Weekly, 10 June 1944)
On Shaggy Ridge
Ground Crew and Fighter, North-West Australia
Hop In. "There is a magnificent canteen run by the publican of that new pub set back from the footpath on Botany Road at Mascot....Dozens of tins of asparagus - plenty cigs, tobacco, Minties, chocolate and god knows what!"
Loading A Bomber On A Camoflaged Field, North-West Australia - The plane is from the famous Hudson bomber squadron. The pilots and air crews are held in the highest regard by all. Every day, with the precision and regularity of mail trains, these Hudsons drop a load of bombs on Jap stations in the islands to the north - Women's Weekly
U.S. Hospitality Tent - U.S. Bomber Station, North-West Australia
Advanced Dressing Station, Guy's Post, New Guinea

Ground Staff, Morotai - Trucked like cattle, ground staff arrive on a Morotai strip. - Women's Weekly

Kittyhawks, Morotai - Torrential rain makes discarded belly tanks look like stepping stones. Bomb shattered palms form a giant palisade against the sky.

Fortuna III and Thelma, Morotai - Wrecked Beaufighters in a Morotai 'graveyard'. Repair and salvage units leave nothing but a heap of metallic bones. Australian sailors snoop around for souvenirs.

Barber's Shop In A Forward Area (Australian War Memorial Collection, Accession No, ART29337, Reproduced Australian Women's Weekly, 29 July 1944)

"He's a hell of a little barber....an ex ladies' hairdresser from Farmers or, some say, Borrowmans - anyway cuts a pretty hair. The charge is 1/- of which he gets 6d. You sit on a sawn off log in a parlour of the most delicate hessian".

Interior, Transport Plane Evacuating Wounded
The Official Box
Barges and Swimmers
Smoko
---
W.E. PIDGEON: War Correspondent/Artist

William Edwin ('Wep') Pidgeon was born in Sydney in 1909 and died in 1981. After studies at the J.S. Watkins School and East Sydney Technical College, Sydney, he began his professional career as a cadet artist on the Evening News. He won two first prizes and one highly commended in the Australia at War exhibition 1944-45 and was three times an Archibald Prize winner (1958,1961 and 1968).

When he became an official war correspondent for the Australian Women's Weekly and Consolidated Press during World War II he was already a practising artist and the works in this exhibition reflect his ability to record, with insight and intimacy, the everyday life of soldiers and airmen behind the lines.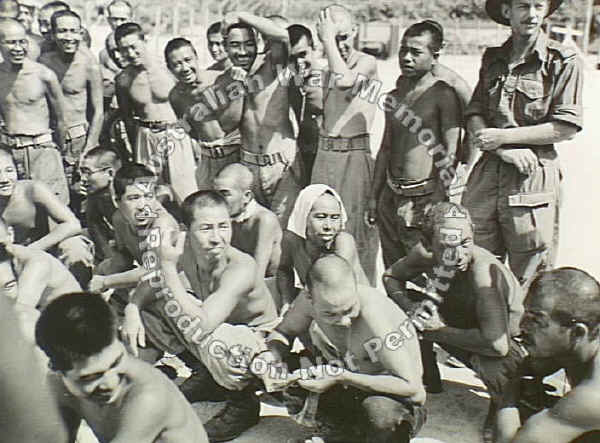 Morotai, Halmahera Islands. 1945. Sydney Daily Telegraph artist "Wep" (back right) was among spectators at an exhibition of Judo (a form of Jui-Jitsu) by Japanese prisoners of war (POWs) at 1st Australian Compound at Morotai.
ART27582

Title: Group Captain Noel Quinn

Maker: Pidgeon, William

Place made: Sydney 1968

oil on canvas 101.4 x 76.4 cm.

AWM copyright