| | | |
| --- | --- | --- |
| Category: Art | | |
Assorted works of art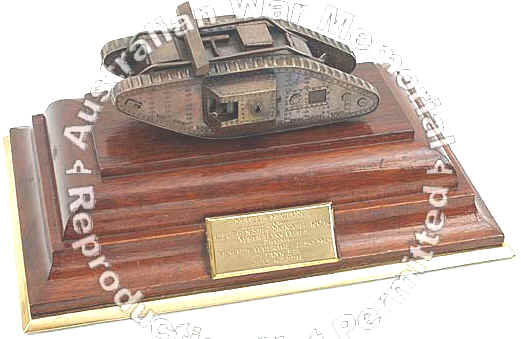 This model was made by artificers of 5 Tank Brigade, British Army, from German shell-cases and driving bands, and presented to Sir John Monash in 1918. The details written on the label on the base of the model indicate that the wood used for the base had special significance, and that the model may have been presented on 30 August 1918 in recognition of the successful use of tanks on 4 July 1918 in the Battle of Hamel.
Portrait of Flight Sergeant Rawdon Hume Middleton, VC, RAAF wearing B-type flying helmet, oxygen mask and Ervin jacket.

He was promoted to Pilot Officer posthumously.

Artist; Harold Freedman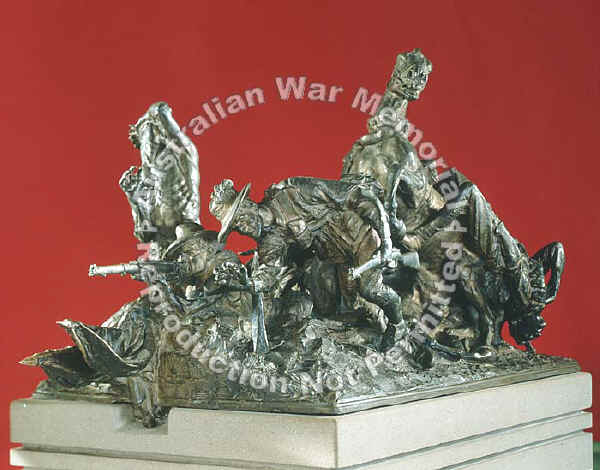 Australian Light Horseman collapsing when hit, horse-holder falling from horse at rear of group, fourth man with nude torso clutching at face. Depicted during the Sinai-Palestine campaign Made by E J Gregory, Melbourne, 1932 under Leslie Bowles' supervision from plaster, cast by George Perugia,/Lambert, George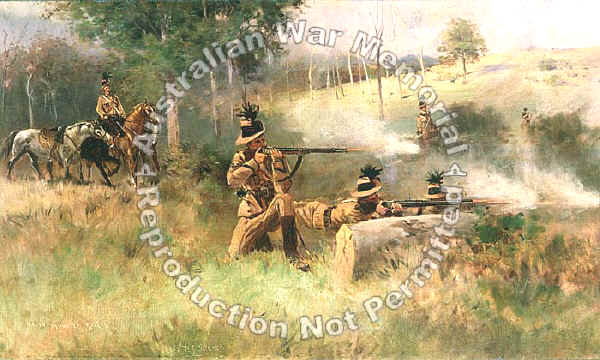 1905: The New South Wales Mounted Rifles. Artist: Percy Spence
| | |
| --- | --- |
| | Depicts Sgt W R Twohill, a Commando of the 2/6th Australian Independant Company, Papuan Campaign. Twohill is depicted in uniform with his sleeves rolled up, holding a rifle and wearing a handkerchief on his head. The original catalogue record accompanying this work notes; 'The model for this painting was selected by his Commanding Officer as one of his best soldiers. Round his head he wears a knotted handkerchief, which was found preferable in the jungle to a tin or felt hat'. The artist, William Dargie, noted in a letter to Col J L Treloar (4 January 1943) that 'General Blamey called to see my work today. He seemed quiet pleased...he likes, particularly No 208, and so do I'. (No 208 is this painting). |
This is a small section of the larger image.
| | |
| --- | --- |
| | Sent home from Egypt by a Kiwi soldier in WW2 |
| | |
| --- | --- |
| | A British bulldog makes his point in this piece of British war time art from WW2 |
| | |
| --- | --- |
| | |
| The Digger 1943 Artist not known | |