| | | |
| --- | --- | --- |
| Category: Air support/WW2/Allied | | |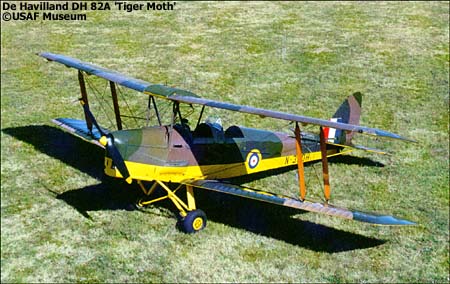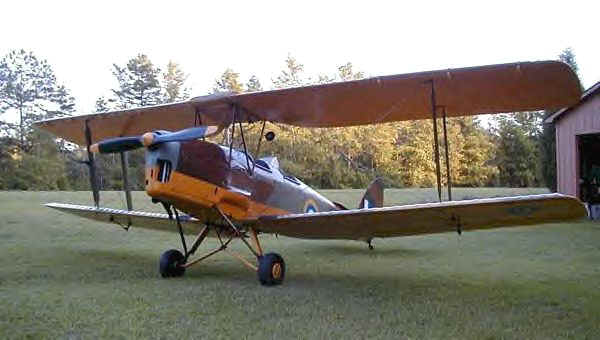 This classic British trainer made its first flight on October 26, 1931. It is one of a number of models of light aircraft named for moths in recognition of designer Geoffrey de Havilland's interest in moths and butterflies. It became popular with air forces throughout the United Kingdom as well as the civilian aviation market. In Britain, 8,101 were manufactured plus 2,751 more in Canada, Australia, and New Zealand.

During WWII, most Royal Air Force pilots trained in Tiger Moths including Americans who flew with the Eagle Squadrons before the U.S. entered the war. In the United Kingdom, Tiger Moths performed a variety of roles in addition to that of primary trainer including submarine patrol, air ambulance, and even prisoner evacuation.
RAAF Service
Following first deliveries in 1939, the RAAF operated 861 Tiger Moths in all, 712 of which were locally produced (in addition to others not delivered to the RAAF) by De Havilland Australia at Bankstown, NSW. Several were also delivered to other Commonwealth countries, and to the USAAF in Australia. It became the basic trainer for thousands of Australian pilots.
Following World War 2, hundreds of Tiger Moths became available for private ownership, at asking prices of 300 to 500 pounds Australian, less than a third the price of a new machine. Yet despite sale of several hundred in the immediate post-war years, the last RAAF Tiger Moths flew in January 1957, when the remaining ten were flown from Point Cook to Tocumwal for disposal.
SPECIFICATIONS
Span: 29 ft. 4 in.
Length: 23 ft. 11 in.
Height: 8 ft. 9.5 in.
Weight: 1,825 lbs. loaded
Armament: None
Engine: de Havilland Gipsy Major 1 of 120 hp.
Crew: Two

PERFORMANCE
Maximum speed: 104 mph/90 knots
Cruising speed: 90 mph/78 knots
Service Ceiling: 14,000 ft.
Range: 300 miles