The Magnificent Seven.
These are seven aircraft types that played a close supporting role with the Australian troops in the Pacific war.
The war in the jungle required a different approach to the problems of re-supply, troop insertion and extraction and air to ground support as well as bombing.
The Royal Australian Air Force (RAAF), the Royal New Zealand Air Force (RNZAF), the United States Army Air Corps (USAAC), the United States Navy, the United States Marine Corps (USMC) and the United States Army Air Force (USAAF) all played a part and they flew many different types and models of aircraft.
These seven have been included because of the close association of these models with our troops on the ground.
No pretence is made that these were the only types used. For all the types go to the page called
Click on the navigation bar or the thumbnails to see an enlarged photo with details
***************
.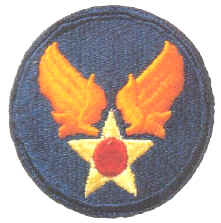 USAAF shoulder patch
****************