Mustangs in Foreign Service
The P-51 served in many different air forces around the world. It served during peace and during hostilities - to stop the Nazis during WWII and in the famed "Soccer Wars" in 1969. The Mustang flew and fought in Korea during the early 50's and in many other smaller conflicts. In all, at least 25 different countries operated the P-51 Mustang for more than 35 years!
The P-51 was designed and built in the USA but not because of any US contract or requirement. The British were responsible for hiring NAA to produce a new fighter, and NAA then designed the Mustang to RAF requirements. The RAF received early shipments and flew various models of the Mustang throughout the war.
During WWII the Royal Australian Air Force (RAAF) operated RAF Mustangs and in 1945 received their first shipment of 215 D model and 84 K model RAAF P-51s. Commonwealth Aircraft of Australia also built 200 P-51s under license from NAA. The Mustang was used by RAAF pilots in Korea until April 1951.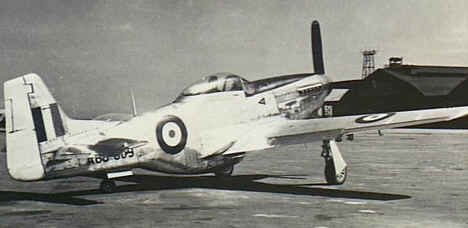 The Netherlands East Indies Air Force received 40 P-51s and flew them in the Indonesian conflict. When the conflict was over Indonesia received some of the NEIAF mustangs. Indonesia operated the Mustang until the early 1960's. The Soviet Union operated a few Mustangs, but not in front-line service.
The US sent China 50 P-51s before the end of WWII and they remained in service until the mid 1950's. Canadians also flew the P-51 within RCAF squadrons of the RAF. After the war, RCAF received 100 mustangs that remained in service until 1956 where many of them came into the US civilian market.
New Zealand placed an order for 320 P-51s just before the end of WW2 but only 30 were delivered. They saw service in Korea.
Sweden was one of the biggest overseas users of the Mustang. The RSwAF ordered 157 P-51s before the end of WWII and took deliveries between 1945 and 1948. In 1952 the Mustangs were replaced by jet aircraft. Sweden then sold 25 Mustangs to Israel and many others to Latin American countries. Some of today's survivors served in the USAAF, then to Sweden and then to Latin America.
Switzerland gained 100 P-51s in 1948 and they stayed in service until 1956. Italian Air Force used 48 Mustangs between 1948 and 1953. Israel IDFAF operated just 2 P-51s in 1948 but received 25 from Sweden in 1952. They were used heavily in combat and later phased out after 1957.
The South African Air Force (SAAF) flew their 95 mustangs in Korea (see photo above) but lost many of them by 1952. The Philippines also used the P-51 during the post-war era and then took them out of service in the mid 50's. Korea began to operate P-51s in 1950 as part of the ROKAF wing.
In 1947, Cuba received 3 P-51s from the US and they were used in 1959 during an internal conflict, replaced in 1960. The Dominican Republic (FAD) became the largest Latin American user of the P-51. 44 were taken on in 1948 and some remained as late as 1984!
Haiti (FAH) had 4 from 1951 until 1974. Nicaragua (GN) gained 26 Mustangs from Sweden in 1954 and used them until 1964. Honduras used a small number of P-51s until 1959. Uruguay (FAU) used 25 Mustangs from 1950 to 1960 - some sold to Bolivia. Guatemala (FAG) kept 30 P-51s in service from 1954 to early 1970's. Bolivia (FAB) 23 P-51s taken on over several years and used from 1954 to 1978. El Salvador (FAS) acquired 17 Mustangs in 1968-9 and flew them until 1974 when many where sold to private US owners. Venezuela (FAV) used only 1 Mustang but that 1 might have served in 5 different air forces. Costa Rica took on 4 P-51s from 1955 and used them to 1964.
In all, an outstanding military career for an outstanding escort fighter.