This group is made up of the QANTAS crews who flew a total of over 600 charter flights to/from Viet Nam 1965-1972 and who marched last year in Canberra at the re-dedication of the Vietnam War Memorial. They assembled about 45-50 members on ANZAC Day 2003 behind their new banner , just behind the Infantry Battalions who served in Vietnam. photo John Stanley
---
The Big Silver Bird

The crews of the Qantas "Champagne Flights" which ferried Australian troops between Sydney and Saigon during the Vietnam War marched together on Anzac Day 2003 for the first time.
Up to 50 former crewmen - Qantas only employed men for the run - reunited in Sydney's 2003 parade under their nickname of Skippy Squadron.
Between 1965 and 1972 Qantas flew more than 600 military charters on its Boeing 707s - about 300 flights carrying fresh troops to Vietnam, and 300 bringing home those whose tour was over.
To the crew members, who volunteered for Skippy Squadron, the Sydney-Saigon-Sydney route was a long trip with a few hours' break for refueling - but it also changed dramatically from leg to leg.
"It was a nervous flight over, but the guys on the way back were totally different from the guys we'd take in - a total change of personality, they had grown up," said Ray Stephan, 57, a former Qantas Chief Steward from Georges Hall who flew 26 wartime flights.
More than 500 pilots, cabin staff, navigators and ground crew served with Qantas's Skippy Squadron, and are eligible for the Australian Active Service Medal with Vietnam clasp and/or the Vietnam Logistics and Support Medal.
Alan Kitchen, 59, of Blakehurst, was 2nd Steward on six of the flights: "We could carry about 130 soldiers ... and on the way over, you could have heard a pin drop, especially between Singapore and Saigon," Mr. Kitchen said. "We felt sympathy for them. They were about the same age as us, or maybe just a couple of years younger. We'd say to them: 'We'll be here in 12 months time to pick you up.'
"But then when the returning soldiers got on to come home, it was roll your sleeves up and serve the booze, even before take-off. The aircraft was drunk dry."
The white-bodied, red-tailed Qantas commercial aircraft stood out among the thousands of warplanes at Saigon airport, Mr. Kitchen said. Skippy Squadron received escorts from United States jetfighters when approaching or leaving Saigon airport, for fear of firing from Vietcong. "The American air traffic controllers affectionately called us the 'Red Tail Rats' or the 'White Rats', Mr. Kitchen said.
"We had kangaroos painted on the planes, but they never called us kangaroos, just rats."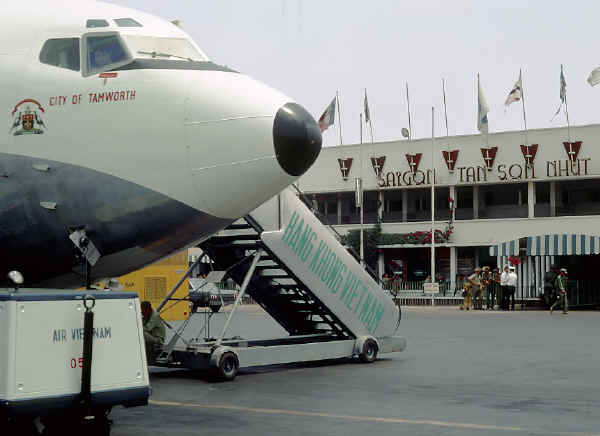 18th March 1968 Tan Son Nhut Airport, Saigon QANTAS QF177.122 after reports of artillery fire to 11,000 ft on descent, having arrived and waiting to board 165 very happy Aussies back to Australia on the return flight QF178.122 . For those technically minded : Taxi Weight 326,O00 lbs , 92% of runway used or 9,200 ft. 707-338 VH EBV "City of Tamworth" Photo by Hans Smit
Bob Freshfield, 54, of Merrylands, caught a Red Tail Rat to war and back as a national service infantryman in 1971. "We used to call them the 'champagne flights'. I took them twice, because I also flew back on R and R once," said Mr. Freshfield, a member of the Granville Vietnam Veterans Association.
Full dress uniform that QANTAS Stewards wore as they walked on/off the aircraft. Usually changed into Bow ties Cummerbund and Eton Jacket (Officers Mess Jacket) .

Saigon -Australia coats off, ties off, sleeves rolled up and serve as much booze as quickly as you can. Usual cut off place was Alice Springs by O.C. if they took notice of him.

There were 7 male cabin crew and the Chief steward had 3 x 1/2 gold bars with burgundy between. 2nd.Steward 2x1/2 gold bars burgundy between.

The other 5 crew usually at this stage 1 burgundy bar, until you had been flying 3 1/2 years

Technical Crew same uniform only full gold bars with 4 for a Captain etc , full wing on uniform coat and shirt , rest of crew 1/2 wing with S for Steward, N for Navigator and E for Flight Engineer.

The tail of aircraft was true to the 707's during 1965-1972.
He remembers the prodigious service of alcohol, "a lot of confusion" and a "long delay" at Darwin en route to Sydney. "A steward told me that they didn't want us at Mascot until midnight to keep us away from the protesters," Mr. Freshfield said.
But Mr. Kitchen said planes arrived and departed at night so they could be reconfigured for commercial daytime flights.