F4 Phantom

It's been 40 years since the "Phabulous Phantom" first took to the air on May 27, 1958. The F-4 Phantom II aircraft, which still flies in defence of 8 nations, was retired in 1996 from U.S. military forces, ending a record-studded 38-year career.
The Phantom was first used by the U.S. Navy as an interceptor but also was capable of flying as a ground-support bomber for the U.S. Marine Corps. The aircraft flew every traditional military mission: air superiority, close air support, interception, air defence suppression, long-range strike, fleet defence, attack and reconnaissance.
It could fly short training missions or 4.5-hour sorties as a Wild Weasel in search of anti-aircraft defence systems. It starred in both the Vietnam War and Operation Desert Storm with a record of 280 air-to-air victories and the destruction of more than 200 anti-aircraft sites.
The Phantom was the first multi-service aircraft, flying concurrently with the U.S. Navy, Air Force and Marine Corps. It is the first and only aircraft ever to be flown concurrently by both the Blue Angels and the Thunderbirds. It has been flown by the defence forces of 11 other nations: Australia, Egypt, Germany, Great Britain, Greece, Iran, Israel, Japan, South Korea, Spain and Turkey.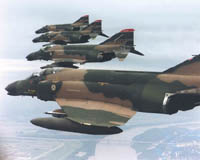 From 1958 until its U.S. service retirement in 1996, it flew more than 17 million miles - the equivalent of one aircraft flying continuously for more than 2,000 years.
It's only been 95 years since the Wright Brothers first took humans into the skies, and the F-4 Phantom II has been flying more than 40 percent of those years.
From 1958 to 1979, when the production line stopped, a total of 5,195 F-4 Phantom II aircraft were built. Of those, 5,057 rolled off the McDonnell Aircraft (later McDonnell Douglas) production line in St. Louis, Mo. The last 138 were built under license by Mitsubishi Aircraft Co. in Japan. The 21-year production run was the longest on record until surpassed by the F-15 Eagle, which has now been in production 26 years (1972-98 and counting).
Of the 5,057 built in the United States, the U.S. Air Force took delivery of 2,874 aircraft; the Navy and Marine Corps, 1,264; and international customers, a combined total of 919. The Phantom still holds the record for the largest production run of any supersonic fighter built in the United States.
In the 1960s, most of the thousands of McDonnell employees were involved in delivering the Phantom. Between 1966-67, production averaged 63 F-4 aircraft each month. Production peaked at 72 Phantom aircraft a month in 1967. By 1978, production was 4 to 6 aircraft a month. In all, production of the F-4 contributed to more than 1 million man-years of employment at McDonnell.
The two-place, twin-engine supersonic F-4 Phantom II, flew at Mach 2 (twice the speed of sound), and could carry a payload of up to 16,000 pounds of bombs, rockets, missiles and guns. Each aircraft has 54,197 feet of wiring and 643,000 fasteners holding it together.
The pilots and crews who worked with the aircraft called it many nicknames, but most of all they praised it as a workhorse, an aircraft you could count on, an aircraft that did it all, and an aircraft that got the job done and got you home again.