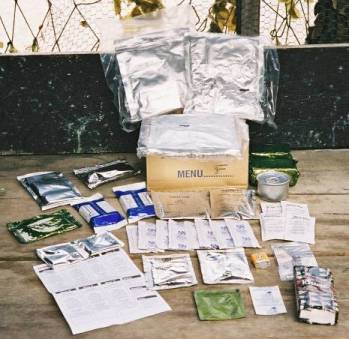 In Malaya in 1939/42 Aussies were a lot better fed than the Brits. Our meat ration was about twice theirs.

In Malaysia in the late 1960s Aussies who were forced to eat Brit ration packs were paid an extra allowance because their stuff was considered not quite up to standard.

All that appears to have changed.
So, what do you get in addition to the pouched foods?
All in all, it averages out at 30-odd separate packs of one sort or another:

An Oatmeal block (really a sweet oatmeal biscuit - quite tasty!) (Muesli bar)
Chocolate bars or a bar of Kendal Mint Cake, according to the menu.
Biscuits, brown (malted and hard, pack of six).
Biscuits, fruit-filled (malted hard garibaldi-like, pack of six.)
Cheese, processed, or meat paté, according to the menu.
Tea, Instant, White, 4 x sachets.
Coffee, instant, 2 x 5 gramme sachets.
Sugar, quick dissolving, 8 x 10 gramme sachets.
Drinking chocolate mix, 1 sachet.
Vegetable stock drink mix, 1 x sachet.
Instant soup (varying flavours), 2 x sachets.
Beverage whitener (non-dairy creamer), 2 x sachets.
Gum, chewing, PK, 5 sticks.
Sweets, boiled, 1 pack assorted flavours.
Fruit drink mix, either orange or lemon (enough for 1 litre of drink).
Tissues, paper (Kleenex individual pack).
Waterproof matches (10) and striker (1).
Water purification tablets (6).
Variations are also available for Kosher, Halal and Vegetarian.