| | | |
| --- | --- | --- |
| Category: Flags | | |

This poster, circa 1916, clearly shows that the Red Ensign was used extensively in semi-official advertising.
This Digger is clearly holding an Australian Red Ensign.
The Red Ensign was chosen as the cover of this 1917 book
Badges like this were sold in South Australia (and elsewhere) to raise funds for the support and comfort of wounded ANZACs of WW1.
| | |
| --- | --- |
| | Anti-German League pin-back badge circa 1915. |
| | |
| --- | --- |
| | |
A WW2 birthday card showing a sailor, a nurse, an airman and (on the inside) a Digger and another nurse all showing the Red Ensign.

The twin quotations are

"There will always be an England" &
"Advance Australia".
| | |
| --- | --- |
| | |
| This is the old Queensland Red Ensign | The British Red Ensign |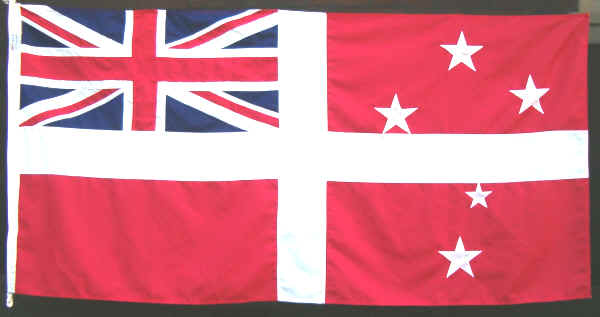 This is supposedly a Tasmanian Red Ensign circa 1875. My only concern is that the image was provided by a Nigel Morris who has publicly called me a "dog" for even talking about the Red Ensign so I am not sure of the validity of the information provided.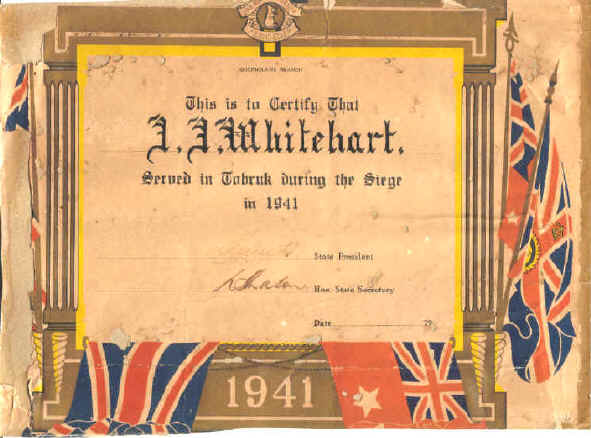 A relative of mine served with the 2nd Ninth Battalion 2nd AIF at the Siege of Tobruk. Even a quick look will show that the Australian Red Ensign has a place of pride on this document. The Blue Ensign (mostly lost to silverfish) is also there on the left hand side facing.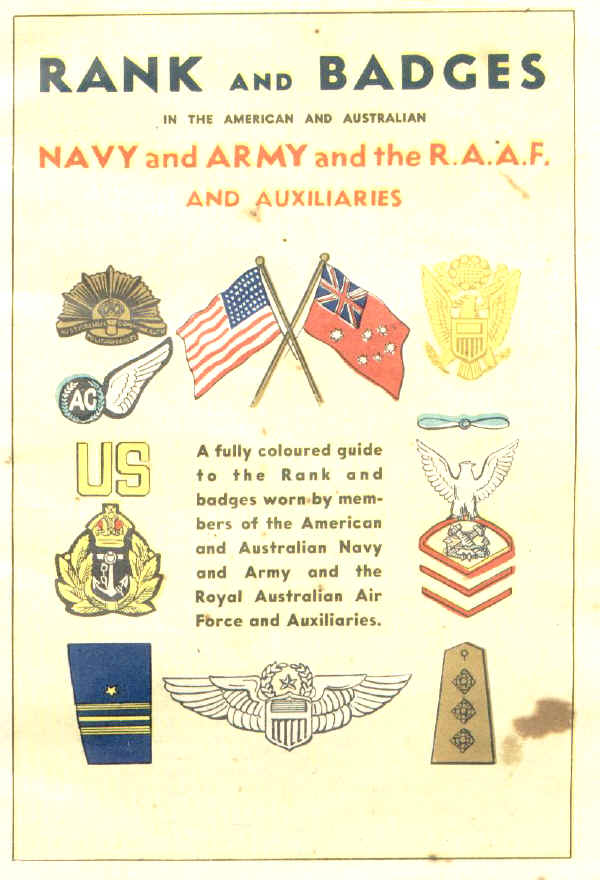 The Red Ensign makes another showing on this booklet produced in WW2 to explain the various insignia used in Australia by various bodies including the USN, US Army & USAAF
Printed cotton patriotic cloth. The cloth is surrounded by a pale blue border and headed by the words 'A SOUVENIR OF THE GREAT WAR'. To the left of this heading is an airship, to the right is a biplane. In the centre of the heading is a portrait of Lord Kitchener. On either side and slightly lower are portraits of General French and General Joffre. Below Lord Kitchener is a portrait of Grand Duke Nicholas. A calvary charge is depicted to to the left of these portraits while to the right an artillery attack is printed. In each corner are larger portraits of King George V, the Czar of Russia, the King of Belguim, with a burning town behind him, and President Poincare. Printed clockwise around the cloth are portraits of the King of Servia with a flag behind it, General Botha with a mounted soldier and red ensign on either side,
General Smith Dorrien, General D Henderson with an aeroplane behind it, General Allenby, Colonel Sam Hughes with two infantry soldiers and a red ensign on either side, General Leman, Lord Landsdown, Rear Admiral Beatty, Hon. W Churchill and Lord Fisher with an anchor between them, Admiral Jellicoe, General Douglas Haig, Sir Edward Grey and Hon. A Bonar Law with a ship and the flags of Australia and New Zealand behind them, (note the Australian flag is depicted as an Australian Red Ensign) Hon. H H Asquith, Lord Roberts with two soldiers on either side, Maharajah of Behar, Viceroy of India with a red ensign and an elephant on either side and Mikado in front of a Japanese flag. In the centre of the cloth is a piece of paper with signatures and red seals printed in front of the flags of the United Kingdom, Belgium, France and possibly Imperial Russia. Behind the flags is a sun with the words 'LIBERTY & PEACE' written near the top. At the base of the paper is a lion and a scroll with the words 'OUR WORD IS OUR BOND'. To the left of the flags are French soldiers manning a field gun. To the right is a mounted Indian soldier. Below the centre image is depicted a fleet of warships with aeroplanes flying above them.
| | |
| --- | --- |
| | |
| A NZ organised Anzac Show uses the Australian Red Ensign on the programme. | This shows the use of the Red Ensign on a Memorial Thankyou card for a fallen soldier |
This AIF "match-safe" or match box protector from WW1 clearly shows the use of the Red Ensign was common, far more common than the use of the Blue Ensign.
Acquired in Glasgow on 11 November 1918, the day the Armistice was signed, by 1378 Corporal Arthur William Skyring, of 4 Australian Broad Gauge Railway Operating Company, AIF.

It was hard to obtain Australian flags in Britain during the First World War.
Acquired in London on 12 November 1918, the day after the Armistice was signed, by 1378 Corporal Arthur William Skyring, of 4 Australian Broad Gauge Railway Operating Company, AIF.

It was hard to obtain Australian flags in Britain during the First World War and this very small example was all that Skyring could find in London.
Queensland Public Service Patriotic Carnival at the Exhibition Grounds, 12 October 1918.

"To assist our Soldier Boys, their Wives & Dependants".
Associated with 421324 Flying Officer Morris Dolf Freudenstein RAAF, who served with 640 Squadron RAF (Wellington Bombers) during World War Two.

It is claimed he carried the ensign whilst on operations.
"These Colours Don't Run"

Details

Poster by Department of Munitions, Melbourne 1942.

Screen-printed in black, blue and red on white.
Unusual WW1 Postcard with the embossed words on front "To My Aunt From Camp", followed by the written words "with love from Bob and Bill".

The back reads: "Dear Auntie & Uncle Just a few lines to let you know that I am still alive. Cousin Jack is looking after us very well. We stayed out at his place last Saturday night and enjoyed ourselves. Well this is all I have to say. So Goodnight. I remain your loving nephew. Bill & Bob".

Note. The artist must not have known the superstition about not having a horse-shoe facing down so that all the "good-luck" runs out of it.