| | | |
| --- | --- | --- |
| Category: Equipment | | |
| | |
| --- | --- |
| | Issued to, and used by, 2662 Bugler Herbert George Mitchell Cole who served in South Africa in 1902 with C Squadron, 4 Battalion Australian Commonwealth Horse (South Australia). |

Trumpet in the possession of 2662 Bugler Herbert George Mitchell Cole who served in South Africa in 1902 with C Squadron, 4 Battalion Australian Commonwealth Horse (South Australia).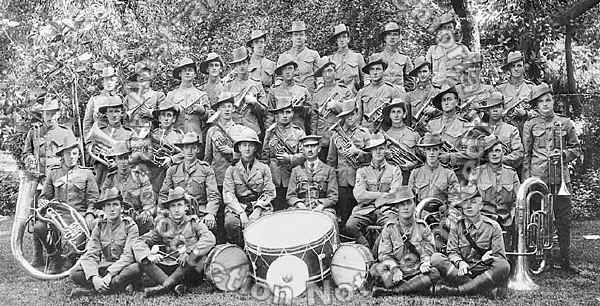 Headquarters band at the Esbekieh Gardens immediately after the dinner of the first Anzac Club on the first commemorated Anzac Day. The band played at the opening of the club and all members are believed to have fought at Gallipoli. Most bandsmen are wearing an unofficial jacket which features an upright patrol collar and appears to be made of lighter fabric. From left to right, back row: J. Bryke, 17th Battalion; Cameron, 26th Battalion; Thompson, 17th Battalion; A. Moon, 3rd Battalion; C. Rowe, 13th Light Horse. Fourth row: L. Garnett, 19th Battalion; S. Abbott, 17th Battalion; J. Davis, 12th Light Horse; R. Betts, 12th Battalion; A. Williams, 22nd Battalion; T. Cowling, 23rd Battalion; S. Gibson, 18th Battalion; N. Murray 12th Light Horse; A. Herron, 10th Battalion; B. Ferrel, 17th Battalion; R. Breese, 24th Battalion. Third row: T. Danby, 26th Battalion; C. Baker, 27th Battalion; W. Walters, 21st Battalion; A. Quint, 13th Light Horse; J. Jelly, 24th Battalion; F. Clark, 18th Battalion; J. Flavel, 27th Battalion; R. Stevens, 14th Battalion; W. Fowler, 13th Light Horse; T. Cowan, 17th Battalion. Second row: J. Osborne, 20th Battalion; W. Crothers, 20th Battalion; J. Rayfield, 25th Battalion; Sergeant Major Bright, Bandmaster, 24th Battalion; Lieutenant Wittham, 18th Battalion; V. Sommers, 4th Field Engineers; F. Thomas, 24th Battalion; G. Cryer, 10th Battalion. Front row: J. Eagan, 22nd Battalion; C. Evers, 19th Battalion; C. Harrison, 28th Battalion; Dan Chaloner, 28th Battalion, a Gallipoli veteran who also served with the 2/16th Battalion during the Second World War.
This is one of the original drums of the band of 21 Battalion, AIF. Members of 21 Battalion Association presented the drum to 2/21 Battalion in 1941. It was carried by Drummer 'Sam' Kissick at Albury and Darwin.

As a member of Gull Force he was captured, together with his drum, on Ambon. He and the drum were later moved to Hainan Island, where the drum was used to play drum rolls at prisoner of war burials.
Musical instruments like acoustic guitars are a great way to relax and relieve stress. Some styles such as classical music can easily lull you to sleep at night. Zzounds has great deals on music instruments. They have anything ranging from electric guitars to harmonicas. They even have microphone equipment so you can host your own concert!

Used by A Eric Beattie, a member of the AIF Concert Party in Changi, which was formed within days of the surrender to the Japanese in February 1942. The Concert Party, which numbered about thirty, performed a wide variety of programmes, that were equally popular with both the allied internees and their Japanese captors, until early 1945.
Band & drum of the 15th Battalion Auckland Regiment 1933

The drum of the 15th North Auckland Regt. Circa WW1