| | | |
| --- | --- | --- |
| Category: Equipment | | |
Equipment to colonial and pre WW1 troops
Above left, above right and left: Images of the 1900-1910 era Cairncross water bottle and cover on issue to sailors.

Note the D broad-arrow D mark of the Department of Defence.
Equipment issued to troops in WW1
All a soldiers gear, uniforms, equipment etc was called "kit" and was carried in his "kit bag".
Standard AIF canvas kit bag, WW1 issue, in dark khaki with soldiers details stencilled on the outside in white paint.

A piece of hempen rope through the eyelets in the top allowed closure and doubled as a carry handle.

As well there was a loop at
the bottom of the bag. This allowed the rope to be put through it forming a sling so that the whole lot could be slung over the shoulder.

As well as using rope as a closure troops also had a lockable brass clip (photos below), that could be used to close the kit bag and provide a reasonable degree of security against petty theft and loss by falling out.
Every now and again the powers that be would decide to check that each soldier had all of the equipment issued to him. Kit would be laid out in a pre-arranged manner and a senior NCO or Platoon Commander would do an inspection. The lay out below is as used by the 50th Battalion AIF in the Great War.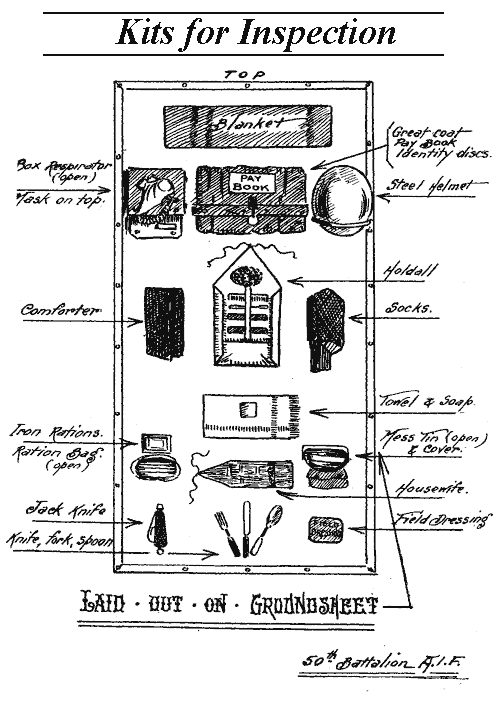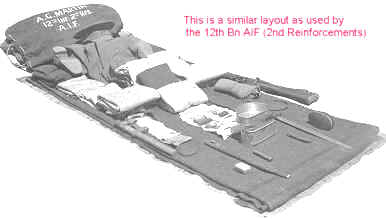 A fully laden AIF soldier circa 1914/18
image and text of above photos from Grants Militaria
| | |
| --- | --- |
| | France or Belgium; uniforms; two views of a soldier, one facing viewer, other side view, illustrating wet weather kit: slouch hat, waterproof cape or groundsheet over tunic haversack and trousers, and gum boots. |
| | |
| --- | --- |
| | This is a rifle mounted set of wirecutters as used by Australian and British troops in WW1. They would fit the SMLE Mk3 by clamping on at the nose cap area and with bayonet fixed the wire would run down the top of the blade and into the jaws of the wire cutters where forward motion of the rifle would force the cutter to swivel under spring pressure and close the jaws on the wire and cut it. On one side it is marked Pat No. 17886... C.H. Pugh Ltd. Birmingham England. No.1 Mark ...., though it is a lightly stamped marking and a little unclear, these are the No.1 Mark11 version. There is also a Broad Arrow acceptance stamp on the mounting bracket. |
| | |
| --- | --- |
| | Folding wire cutters, Allied issue, 1917, worn on the belt in a canvas pouch. |
| | |
| --- | --- |
| | <<< D shaped mess tin. Maker marked 'Simpson & Son Adelaide' Dated 1916. Mess tin in good condition with very little surface rust. Wire handle slightly bent. A WW1 item used by Australia and Great Britain. |
| | |
| --- | --- |
| | These pocket knives were common but were not official issue |
| | |
| --- | --- |
| | |
| Pair of binoculars dated 1900 | Carl Zeiss binoculars, case and magnetic compass |
| | |
| --- | --- |
| | Water bottle as issued to troops in WW1 and WW2 |
NZ Officers Mess 1½ pint milk jug

Between the wars Units were able to have little luxuries that are not appropriate in wartime

WW1 entrenching tool, assembled. For ease of carrying it came as a 2 piece unit that hung from the belt, at the rear.
| | |
| --- | --- |
| | |
| Ammunition (Ammo) box circa 1943 | Ammunition box circa 1968 |
WW1 AUSTRALIAN ARMY DESPATCH POUCH

This leather pouch is approx 14 x 15 x 4 cm. Marked on front with AUSTRALIA, C.G.H.F.and broad arrow. Also another broad arrow with S. And also marked with 323 on back.
JERRY CAN

In WW2 the Germans had a much better design of petrol (gasoline) can than the Brits. (and therefore the Australians & NZers who shared Brit pattern equipment).

So the Brits stole the design. For that reason it is called the "Jerry" can (Jerry being the WW2 slang name for Germans).

The basic design is so good that it lasts to this day even though the material is now plastic, not metal, and the lid is screw off.