| | | |
| --- | --- | --- |
| Category: Equipment | | |
Equipment issued to troops WW2
| | |
| --- | --- |
| | Gas mask: Released by the manufacturer in October 1943 and referred to as 'Respirator, Anti-Gas, Light'. Intended to replace the GS type, then in use. Its improvements were its light weight, simplified carriage and its waterproof container. The change from the snout mounted type of respirator gave a soldier greater freedom in firing the rifle from the right shoulder. Modified design of the outlet valve created better acoustic qualities. Available in three sizes; large, normal and small. The respirator followed closely the British light pattern but the camouflage effect is an Australian innovation for jungle warfare. |
<< Trinity Beach, Cairns area, Queensland. 1944-12-13. Private C E Phillips, 1 Combined Operations Section, wearing a kapok type American life jacket. Secured by five tapes and worn over webbing equipment, the jacket provides quick release and good support in the water. It is not recommended for use by assault troops because of its bulk. Below, 1940/45 Shell Dressing
| | |
| --- | --- |
| | 1942 General Electric searchlight. Its beam can reach upwards of 32,000 feet and can be seen for 30 miles. |
WW2 machete (above), with sheath (right) & a post war version (below). Invaluable when working in the jungle. Also issued for troops in Malaya and Viet Nam. About 500 millimetres (18 inches) long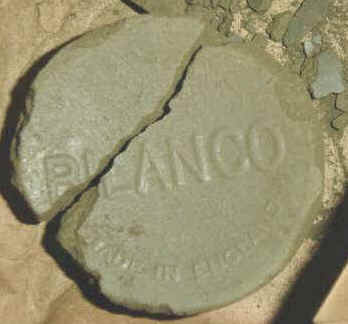 This is a broken block of dark green Blanco. It came from a box that had written on it:
Ha/12802
Powder Cleaning
Web Equip 12-x-5-oz
BLKS-Shade K.G. No 3
QTY

The block has written on it "BLANCO made in England".
It was a paste (later a solid powder as shown) used to whiten or colour items of equipment. It looked a bit like thick toothpaste and dried very white. Olive drab (see above) was also available and later other colours including brown were introduced. It was used on belts, webbing and lanyards and in some cases on gaiters.
WW2 standard webbing
WW2 entrenching tool

WW2 Aussie bum pack, hangs off belt or worn slung over shoulder

Entrenching tool cover

Army issue blanket, WW2

Canvas pistol holster 1943 (front & back views)
| | |
| --- | --- |
| | |
| WW2 Commando toggle rope, useful as a garrote | Pliers in a frog to hang on the belt, WW2 |
All a soldiers gear, uniforms, equipment etc was called "kit" and was carried in his "kit bag".
Standard AIF canvas kit bag, WW1 issue, was used again in WW2, in dark khaki with soldiers details stencilled on the outside in white paint.

A piece of hempen rope through the eyelets in the top allowed closure and doubled as a carry handle.

RAAF kit bag, WW2

RAAF kit bag WW2 (2)
| | |
| --- | --- |
| | As well as using rope as a closure troops also had a lockable brass clip (photo left), that could be used to close the kit bag and provide a reasonable degree of security against petty theft and loss by falling out. |
| | |
| --- | --- |
| | |
| RAAF WW2 escape/survival compass | 1943 marked bush shower. Fill it with water at ground level, pull it up in the air with a rope over a tree limb, turn the shower rose and it works! |
| | |
| --- | --- |
| | |
| WW2 First Aid kit for MT (Motor Transport) | Aussie issue map case with carry strap, it has a plastic overlay, pen holders, a hard board for writing on and clips to hold the map firmly in place. Marked "C. G. HARTLEY & CO.1943" |