It will be noticed that C, Q, X, and Z of the English Alphabet have been omitted. Their place is taken by K, or S, KW, KIS, S respectively.

It is important to know the sound of the vowels and the diphthongs.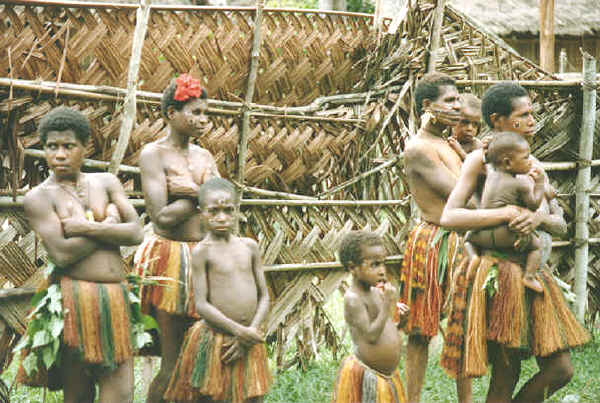 Family gathering in PNG
Vowels
| | | | |
| --- | --- | --- | --- |
| A | ah; | O | or, sometimes o; |
| E | as in "pen" | U | as in "put" and, very occasionally as in "rude." |
| I | ee | | |
Diphthongs

There are five diphthongs, viz.

AI-almost identical with the sound of the English letter "i."

AE-somewhat narrower than AI.

AO-a sound between the "ow" in "how" and the "ow" in "throw."

AU-almost identical with the sound of "ow" in "how."

EI-similar to the sound of "ei" in the English word "rein."

It is possible to write AI for AE and vice versa, and be sufficiently correct. The same may be said of AU and AO.

The combination IU is often used to denote the long "u" as in "rude." After "s," the "I" of "IU" takes on the function of an "h"; and so we spell the Pidgin-English word meaning "to shoot" as SIUTIM.

Spelling

The phonetic spelling has its problems, not merely because pronunciations and intonation vary all over the Territory, but also there is no authority to indicate a correct and constant orthography. RAT may be LAT in some parts. L and R are to a certain extent interchangeable - depending on the speaker. The same may be said of S and T, P and F, AI and E. An M may be inserted before a B, or and N dropped before a G.

At first sight, these idiosyncrasies of Pidgin-English may appear to make the language a difficult and untrustworthy one. But this is hardly so. It presents not one-tenth the difficulty encountered by the foreigner who learns English at, say, Cambridge and travels through the counties with their numerous dialects. The tyro certainly finds it awkward, but a little experience soon rights that.

How is the difficulty overcome here?

Several things have been taken into consideration when translating sounds into symbols. Origin, usage, most general pronunciation, meaning and simplicity of phonetic rendering have been considered when spelling a word capable of several spellings. In most cases, it is a question of whether we use an 1, for an R, a T for an S, a P for an F, or insert an M in front of a B. Both TAMBAK and TABAK are used for tobacco. We have rendered it as TAMBAK. WETSAN (sand) and WETMAN (white man) are better rendered so than by WAITSAN and WAITMAN respectively, because the former appear to be the more general pronunciation.
Consonants

When the consonants appear in these pairs-

SK, SL, SM, SN, SP, ST, SW, TR, BI,, 1311, PL, PR, KL, KW, they are pronounced as if an unaccented ''i" were between each pair of consonants; e.g. TRU-TIRU, SLIP-SILIP, etc.

They are frequently spelt with an "i" This should be avoided, however, as it leads to confusion in pronunciation and recognition of words.

NG is pronounced like the "ng" in "singer" and is sometimes found at the beginning of a word.

The "ng" of "finger" is spelt NGG.

<<< The bow and arrow is still the most important tool a man has.
Nouns

Singular and Plural.-The singular form of tire noun suffers no change in form for the plural. The number of a noun is inferred from its nature, its qualifying adjectives and the text.

Articles.-Inflection, context and qualifying adjectives take their place. If precision is desired, WANPELA, (one) is used for the indefinite article, and "the" is represented by IA or HIA (this).
Examples

TASOL DOG HIA NO LUKIM WANPELA MAN SINDAUN LONG NAMBIS

But the dog did not see a man sitting on the beach.

DOG I NOGAT GRAS OLOSEM PISIN.

Dogs have not feathers like a bird.

MI SAVE SIUTIM BALUS.
MI HARIM BALUS I KRAL. I STAP WE?

I heard a pigeon. Where is he?

PLES I NOGAT MAN.

There are no men in the village.

IM I MAN BOLONG SINGSING TRU.

He is a man fond of parties.
Case.-The form for all the cases is the same. The noun suffers no change of form or ending.

Gender.-In Pidgin-English as in English, gender depends on the presence or absence of sex. Adjectives meaning "male" and "female" are MAN and MERI respectively; e.g. DOG MERI is a female dog and a male infant is a PIKININI MAN.

Abstract Nouns.-There are quite a number of abstract nouns. To name but a few-SAVE (sagacity), DAI (death), KRANKI (foolishness), WOK (duty), POREIT (fear), LAIK (desire), and many others.

Pronouns

Personal Pronouns
| | | | |
| --- | --- | --- | --- |
| Person | Singular | Dual | Plural |
| 1st | MI | YUMI | M I PELA |
| 2nd | YU | | YUPELA |
| 3rd | I | | I |
YUMI is used by a person speaking within a group and identifying himself with the group:
MIPELA is used to a third person outside a group with which the speaker identifies himself, but does not include the person addressed:
This peculiarity, by the way, places Melanesian languages in the Austronesian group which includes Polynesian, Papuasian and Indonesian.

Demonstrative Pronouns.-
There are no Demonstrative Pronouns. A Demonstrative Adjective with a noun is used instead (vide Demonstrative Adjectives).

Interrogative Pronouns.-
Who and whom are translated by WUSAT.
WUSAT I KAM?

LUKIM WUSAT?
Whose is translated by BOLONG WUSAT.
What is translated by WONEM.
Which is translated by WUSAT or by WONEM, according as It is used for a person or for a thing. Sometimes it is translated by a noun and a Demonstrative Adjective.
Relative Pronouns

Who is translated by WUSAT.
Whom is omitted or circumvented.
Whose and Which are treated in the same way.
ADJECTIVES

Proper.-The proper Noun is used as a Proper Adjective.
Quantitive-
IM I GAT PLANTI MONI.

LIKLIK DOK HIA KAIKAI PIG OLOGETA.

MI KAIKAI LIKLIK RAIS PASTAIM.
Few may be translated by the phrase I NO PLANTI.

Other Quantitive Adjectives are rendered by nouns.
Cardinal Numeral
One
wanpela
Six
sikispela
Two
tupela
Seven
sewenpela
Three
tripela
Eight
haetpela
Four
fuwapela
Nine
nainpela
Five
faipela
Ten
tenpela
Twenty
tupelaten
thirty
tripelaten
Ordinal Numeral
First
nambawan
Sixth
nambasikis
Second
nambatu
Seventh
nambasewen
Third
nambatri
Eighth
nambahaet
Fourth
nambafuwa
Ninth
nambanam
Fifth
nambafaip
Tenth
nambaten
Indefinite Numerals.-
They are

OLOGETA (all),

PLANTI (many).

I NO PLANTI (Few)
MI SIUTIM OLOGETA PIG.

PLANTI MAN I NO GAT MERI.

MI LUKIM SAMPELA MAN, TASOL I NO PLANTI.


Demonstrative Adjectives.-This, that, these and those are translated by HIA, EM . . HIA, DISPELA.

DOG HIA NOGAT TIS.
EM DOG HIA I NOGAT TIS.
DISPELA DOG I NOGAT TIS. This dog has no teeth.

The context indicates whether This or That, These or Those is meant. Dispela (tispela) is always singular.

Indefinite Demonstrative.-Such, Other, Same.
MAN OLOSEM I NOKEN LULUAI.

PUTIM ARAPELA BOKIS ANANIT.

MI SOIMAPIM LAPLAP BOLONG MI. YU MEKIM OLOSEM BOLONG YU.
Another is translated by NARAPELA.

Interrogative Adjectives.-
Which and What are translated by
Distributive Adjectives.-
They are circumvented by phrase or construction, but Every may be translated by OLOGETA.
Comparison of Adjectives

The comparison of Adjectives is, as it rule, regular. Emphasis and voice inflection are sometimes used. There are two classes of regular comparison-the class which is compared like LIKLIK and the class which is compared like HANGGIRI
Positive
Comparative
Superlative
Liklik
liklik moa
Liklik long ol. (smallest)
liklik tumas (very small)
Sitrongpela
sitrongpela moa
Sitrongpela long ol
Sitrongpela tumas
Gutpela
gutpela moa
Winim ol (best)
Gutpela tumas (very good)
Hanggiri
hanggiri moa
hanggiri tumas
Planti
planti moa
Planti tumas
Adjectives describing qualities, dispositions and characteristics are compared like LIKLIK. All others are compared like HANGGIRI

ADVERBS

Almost any Adjective is capable of being used, without Inv change of form, as an Adverb. There is a class of Adjective, however, ending in -PELA, which drops the ending when used as an Adverb.
EM I SITRONGPELA BOI, SAVE WOK SITRONG.

GUTPELA MAN HIA, SAVE HARIM GUT TOK BOLONG LULUAI.
Simple Adverbs.-
Adverbs of Manner and of Degree are straightforward.
EM I MEKIT I OLOSEM.

KLOSAP I PUNDAON.
Number.
OLOTAIM EM I LEIS TASOL.

MI KAM GEN LONG FIKUS.
Time.
Place.
PUTIM LONG HAP.

MI STAP NISAET.
Probability is translated by AITING.
Interrogative Adverbs

Manner
Cause
But censoriously-
Why is translated in several ways-
BOLONG WONEM

HAUSAT

WASAMARA

WATPO
HAUSAT and WASAMARA are used emphatically.
WATPO is most often used rhetorically:
WATPO is also used censoriously:
Time
Number
HAUMAS TAIN YU KAM?

HAUMAS KLOK?
Place
Relative or Conjunctive Adverbs
YU SAVE LONG WONEM EM I MEKIM

YU SAVE OLOSEM WONEM EM I KAM?

YU SAVE BELONG WONEM EM I KAM?

YU SAVE EM I KAM WE?
Having the same form as the corresponding Adjective, Adverbs are compared in the same manner as the Adjectives.

PREPOSITIONS

There are only two prepositions but they cover the whole range of English translations, either by themselves, or in combination with a phrase. They are LONG and BOLONG.
Into, Through, Under, Inside, In are translated by NISAIT LONG.

LONG covers In, By, On, With, From, To, At.

BOLONG covers For and Of.
---
BOLONG also means "for the purpose of," "because," "in order to," e.g.:
IM I KATIM KANDA BOLONG PAITIM YUPELA

IM I KRAI BOLONG KIAP I PAITEAL

IM I KAM BOLONG HARIM TOK.
LONG is also sometimes used as a conjunction.
If is translated by SOPOS, as well as by TASOL.
YU KEN GO SOPOS YU WOK GUD.

YU NOKEN WOK LONG ME SOPOS YU NOSAVE KUK.

TASOL IM I KAM, MI KEN HASKIM EM.
VERBS

Verbs in Pidgin-English are very simply conjugated and suffer a minimum of form change, Context and inflection generally distinguish between the tenses. There is no Passive Voice. The English Passive is directly translated into the Active or rendered by an Adjective. Past Participles are treated as Adjectives.

There are Transitive, Intransitive and Auxiliary verbs of which the Indicative only is conjugated, and that very simply. The subjunctive Mood is inferred.

Most Transitive verbs are distinguished by the fact that they end in -IM. Frequently an Intransitive verb is made Transitive by adding -IM

| | | | |
| --- | --- | --- | --- |
| | WOK | WOKIM | |
| | RON | RONIM | |
| | SANAP | SANAPIM | |
| But | | | |
| | LUKLUK | LUKIM | |
| | TOKTOK | TOKIM | |
A few verbs are both Transitive and Intransitive, e.g. KAIKAI.

The Verb "To Be.'~-There is no verb "to be." It is simply omitted and is understood.

Conjugations- Conjugations are regular and simple.

Only the Indicative Mood is conjugated. There is no change in the verb in the tenses--one form suffices for each tense for the singular and plural of all persons.
| | | |
| --- | --- | --- |
| All Present Tenses | | |
| Person | Singular | Plural |
| 1st | Go | Go |
| 2nd | Go | Go |
| 3rd | Go | Go |
| Past Perfect Tense | | |
| 1st | Go pinis Bin go | Go pinis Bin go |
| 2nd | Go pinis Bin go | Go pinis Bin go |
| 3rd | Go pinis Bin go | Go pinis Bin go |
These are really the only tenses. All other tens", including the future, are implied or inferred. Bat if the immediate future is meant, i.e. "about to," it is conjugated thus:
| | | | |
| --- | --- | --- | --- |
| Singular and Plural | | | |
| 1st Person | Laik go | | |
| 2nd person | Laik go | | |
| 3rd Person | Laik go | | |
Auxiliary Verbs.-There are only two Auxiliary Verbs-BIN and LAIK. BIN forms the Past Perfect Indicative Mood. LAIK forms the Immediate Future, but it must be distinguished from the Transitive Verb meaning "desire" or "wish." In this latter case it is generally followed by "i." The context also helps in distinguishing the one from the other.
There are some verbs which are Passive in sense, but Active in form:
MI FILIM NOGUT.

SUSU I SMEL NOGUT.
MISCELLANEOUS

Inflection- Inflection forms a very important part of Melanesian Pidgin-English. It not only has the more obvious function of marking interrogation, but also determines the meaning of words, the case
and number of nouns, the tenses of verbs, and, in fact, supplies a deal of the desiderata, of Pidgin-English. The use and function of inflection can be learned best by experience.

Order of Words.-There is a general resemblance to the order of words in English, but often a word depends for its meaning on its position in the sentence. Consequently the order of words is important.
(a) MI TASOL I GO LONG KAIKAI

(b) MI GO LONG TASOL KAIKAI

(c) MI GO LONG KAIKAI TASOL.

(d) TASOL MI GO LONG KAIKAI.

(e) IM I LUKIM TASOL MI.
It must be said, however, that (h) and (e) are rare. The general practice in this case is to have TASOL follow the word it qualifies and place the emphasis on that word.

In statements, Adverbs of Time precede the subject and verb.
But in a question, if the Adverb is stressed or emphasised above verb, the Adverb goes first. If the verb is stressed, then it goes
MI LUKIM YU ASTADEI?

ASTADEI MI LUKIM YU?
There is an exception to the rule for statements when a preposition is used to form in Adverbial phrase.
Adverbs of Place follow the sentence in statement and in question.
The Adverb WESTAP goes first, however:
OLEMAN STAP WE?

WESTAP OL MAN?
Adverbs of Manner follow:
IM I WOKABAUT SITRONG.

MEKIM OLOSEM WONEM?
However, in the Imperative, the Adverb goes first: SITRONG I GO!

See also Adverbs of Cause-Why. When MEKIM is used, meaning "to cause," it is followed immediately by the Infinitive:
MI MEKIM SAVE YU!

KIAP MEKIM DAT PIG.
Nating.- Many English words beginning with "un" can be translated by "nating." The word means "to lack," "be without," "unaccounted," "vacant," "unmarked," "of no account," etc. The preceding question or statement fixes the meaning of "nating."

Examples:
I NO KARIM RUKSAK; I KAM NATING.

SIT NO HASKIM, I GIPIM MI NATING.

YU LAIK KAIKAI PASTAIM? NOGAT, MI GO NATING.

NO KESIM PEI: MIPELA WOK NATING.

I NO KAIUM MASKET: I GO NATING.

NO, MI NO TOK: MI SINDAUN NATING.

YU SAMTING NATING.

YU GAT PLET? NOGAT MI KAIKAI NATING.

IM I KALABUS NATING.

LONGPELA NATING.

MI TOK NATING.
PLEI- Besides meaning "to joke," "to chaff," "play a game," PLEI also means, generally in reference to male with female, have sexual intercourse." If you say TUPELA I PLEI and you refer to a man and a girl, the only meaning is "they had sexual intercourse."

But TUPELA I PLEI TENIS (or KRIKET, etc.) save you from an accusation of calumny. A master will not therefore refer to his wife's joking with the cook-boy as "MISIS NA KUK I PLEI LONG HAUS KUK." In any case natives consider immodest for a woman to exchange badinage with a man.
BOKIS.- In addition to its common meaning, BOKIS is also a polite term for the external female genitals. If you are referring to a suitcase of a trunk belonging to a woman don't say "BOKIS BOLONG MISIS." Similarly, a woman will not refer to "BOKIS BOLONG MI."
A man can refer to "BOKIS BOLONG MI" or "BOKIS BOLONG MAsTA" with impunity. If you speak of a woman's suitcase, etc., use PAUS, KEIS, or LONGPELA BOKIS, RETPELA BOKIS, etc., without adding, in the latter two cases, "BOLONG MISIS."

PUSIM.- This word has only one meaning, i.e. "to copulate with." It does not mean "to push." SIUBIM is the word meaning "to push" or "to shove." You will not, therefore, when requiring a shove, invite or command a boy to PUSIM MI.

KILIM.- Does not mean to "kill," though it may result in death. It means "to strike" or "to hit hard." KILIM I DAI will translate "kill."

SELIM.- Means "to send" and not "to sell," though payment may be expected after sending. "To sell" is translated by PEIM.

PEIM.- Does not mean to pay (see above). The word "to pay" is BAIM which also means "to buy."

N.B.-There are no such words as: Whysat, gotim, wantini, tellim, broke, broke'im, callini (meaning to call), cryout.

If you tell your boy to WOKIM TEBOI,, don't be annoyed if he takes hammer and saw and begins to make a table. He probably wouldn't know you wanted him to LAINIM TEBOL. To clear the table is TEKEWEI, not RAUSIM.

Distinguish between MEKIM and WOKIM. The former means "to do" and the latter "to make."

SISTA AND BARATA may occasion confusion at first (see dictionary). A woman's sister is her BARATA and her brother is her SISTA. On the other hand, a man's brother is his BARATA and his sister his SISTA. The terms reach further than this, for they also include cousins. Cousins of the same sex are BARATA, of different sex-SISTA.

DAI also means "to faint," "to fall into a deep sleep" or "become hypnotized or anaesthetized." It does not conclusively mean "to die."