ENLISTMENTS

were first attested at the mainland centers by Col WALSTAB en route to Rabaul via those areas a few days before first enlistments at Rabaul which occurred on 19th or 20th September 1939. The response of the young and not so young able-bodied men was immediate and enthusiastic in every centre where detachments were formed. Within 10 days 200 Volunteers were attested at Rabaul alone.

The response from other centers were just as enthusiastic. Close to 600 Territory Residents enlisted with the NGVR but at no time did the Effective strength exceed 350. This was due to the constant discharge of personnel of all ranks for enlisting in the AIF either in Australia or with one of the many detachments which left the Territory for that purpose, with NGX numbers. With the exception of Officials of the District Services Department of the Territory - who for some unknown reason did not join the NGVR - the Unit was representative of a splendid cross-section of the community of the Territory.
OFFICER APPOINTMENTS -
The following initial appointments were made from the Reserve of Officers -

Commanding Officer - Maj (Lt Col) Charles ROSS-FIELD.
2nd in Command (2IC)- Maj (Capt) Harold TAYLOUR.
Adjutant - VX108390 Lt (Lt Col) John Charles MULLALY.
A Company

Officer Commanding, (OC) - NG4053 Lt (Capt) John Harold McKenzie EDWARDS. DCM/MC/MM (World War 1) (Deceased 1 July 1942 aboard MONTEVIDEO MARU as a Civilian).
5. Lt (Aussie) GRAY

B Company

Officer Commanding,(OC) - Capt (Maj) C. DUCHATCH.
7. Capt Carl GUNTHER.
8. NG2017 Lt (Maj) Edmund William JENYNS. MID.

Regimental Medical Officers -

NG4054 Maj Norman Bennington WATCH;
NX12261 Capt (Maj) Phillip James WOODHILL and
NG3000 Lt (Capt) Claude Geoffrey KILNER.
Early in 1940 NG2000 Sgt William Manning EDWARDS was promoted to Lieut OC Coastal Detachment. (Later in the War he was appointed to CO (Lt Col) 1 New Guinea Infantry Battalion and on Formation of the Pacific Islands Regiment (PIR) at end of 1944 was appointed its First Commanding Officer (Colonel).
In Jan 1940, Lt John Charles MULLALY was appointed Adjutant and Quartermaster of Unit pending the availability of a Staff Corps Officer for that appointment (None eventuated).
It may be of interest to personnel of the PNGVR to know that later in the War the initial Adjutant of the NGVR as then CO of the Depot Battalion, PIR was Parade Commander of the first Royal Review ever to be held in Papua or New Guinea. The occasion was the visit to the Depot at NADZAB in June 1945 of HRH the Duke of Gloucester who reviewed the Unit which, a few weeks later, became 3 New Guinea Infantry Battalion. HRH visited the Royal Papuan Constabulary at LAE two days later.
About August or September 1940 after six or seven weeks of intensive training (in the conduct of which the Unit had been greatly assisted by two Australian Instructional Corps (AIC) Instructors who were allocated in June 1940 from Australia - WO2 UMPHELBY (Maj) and "Barney" BARNARD (Capt) - the following personnel were appointed to commissioned Rank as Lieutenants with the Unit -

NG4029 Rifleman (Rfn) James Clarence ARCHER (Rabaul).
Sgt Bob LANE;
NGX120 Sgt Henry (Harry) Thomas WYATT and
NG1006 Sgt Gordon RUSSELL (Coastal Detachment) and
Sgt MAINWARING (Goldfields).

Sgt Ian McLEARN and
NG506 Sgt Hugh McMillan LYON (later Maj, 2IC; 1 NGIB) also qualified.
BATTALION HQ was set up in a small bungalow at the corner of Casuarina Avenue and Kamerere Street, Rabaul at the end of Sep 1939.. It contained also the Armory and Q-Store. A splendid Parade Ground with Training Huts and Equipment Stores was established in the Botanical Gardens within a matter of a few days. An excellent Rifle Range for Rifle, Lewis and Vickers Machine Gun practice was made in the Lakunai-Matupa Farm area.
Simple Tactical Exercises were carried out also in this area and elsewhere. Corresponding set-ups were established at Goldfields and Mainland Coastal Areas. Training Parades were held on Tuesday evenings and during weekends. They were attended with regularity and enthusiasm which did not wane. Army Forms in abundance soon reached the Unit but it was months before up-to-date Training Manuals and Pamphlets (including Pam 18) put in an appearance and not till Jun 1940, with the arrival of the two AIC Instructors, that we had the advantage of 1st class training.
However, unbounded enthusiasm compensated for lack of technique. Backyard training several nights a week supplemented the usual official Parades. In the view of the role of the Unit the aim was efficiency for all personnel in the use of all weapons available to it. This was certainly attained by the great majority of the Volunteers. Their standard of Education, Intelligence and Character qualified fully 75% of members as potential Officers. Of the survivors of the RABAUL Invasion and those at SALAMAUA and LAE fully that percentage held Commissioned Rank of varying degrees in one or other Army Branch of the Services at the termination of hostilities.
NGVR provided the Armed Escort for Enemy Aliens dispatched from the Territory in Sept 1939 for internment in Australia. The Unit provided similar escorts on two following occasions within the next few months.
Alternative Action Stations, to comply with the Units Role, were located at strategic points along the shores of Blanche Bay and several night exercises related thereto had been carried out by the end of 1940. Lack of Unit transport was overcome with the co-operation of various business firms and individuals, loaning trucks and utilities for the purpose. Similar facilities were made available to other detachments.
Schools for prospective NCO's to replace wastage caused by enlistment with AIF were held by all Detachments at regular intervals.
Goldfields Detachment carried out a forced night march in Battle Dress from Wau to Salamaua during Christmas 1940/41 in record time. The return trip was done by air.
Not to be outdone; Coastal Detachment shortly afterwards did the trip from Lae to Salamaua and return in one weekend.
It is fitting that a tribute should be made to the practical and material assistance given to NGVR in it's earlier days by Inspector "Sandy" SINCLAIR who, at that time, was Drill Instructor to the New Guinea Native Constabulary at Rabaul. It was valuable material and greatly appreciated, particularly at times to a somewhat harassed Adjutant. "Sandy" Sinclair later held the appointment of Officer in Charge of the Royal Papuan-New Guinea Constabulary at Bushitabu, Papua.
Early in 1941, the 2/22nd Infantry Battalion arrived at RABAUL and further NGVR Training was gradually merged with that of that Battalion. Only a few NGVR survived the war, they being Officers of the Unit. The rest of the NGVR were lost when they were placed aboard the Japanese leased Liner MONTEVIDEO MARU and were being taken back to Japan when an American submarine - USS Sturgeon - seeing the lone ship, with no escort, and thinking it was loaded with supplies for Japan, sank it.
There were no survivors except for approx 20 crew who, making it to the Philippine Mainland were then killed by guerilla fighters.
Amongst those members of the NGVR who survived the Battle for Rabaul, Lae and Salamaua are -

NGX 458 Lt James Clarence ARCHER; (later Assistant Secretary of the Territories Department, Canberra, ACT.
NGX 457 Lieut Claude Geoffrey KILNER; (Adjutant, NGVR, April 1941 to Capture of Rabaul).
NG15 Rifleman Richard Edward Paul DWYER; (later Director of Agriculture, Port Moresby, PING.)
NGX 262 Lt Col James Irwin CROMIE; (Adjutant NGVR for a time after Jap occupation of Lae and Salamaua and later Solicitor, Port Moresby, PNG).
VX44906 Lt Col Allan Gordon CAMERON; Capt and Adjutant 2/22 Infantry Battalion and late of Phillip Island, Victoria).
NGX 455 Col William Manning EDWARDS; (OC Coastal Detachment, NGVR at occupation of Lae and Salamaua; He escaped and served through to the end of the New Guinea Campaign).
Capt Carl GUNTHER; Medical Officer Bulolo Gold Dredging Company and OC C Company, Wau, Bulolo, NGVR.
---
The Chinese Contribution to the NGVR.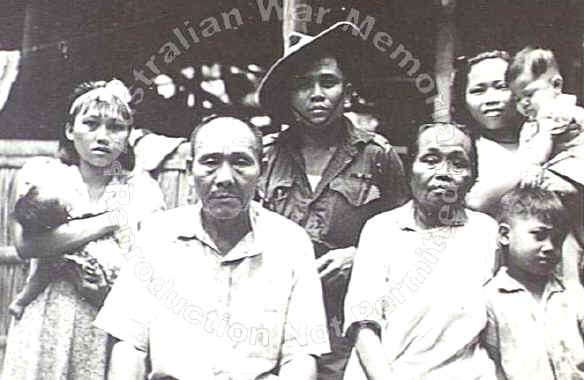 Bitapaka, New Guinea. 1945-11-04. Private Shui Hong, now of 118 General Hospital, who served with the New Guinea Volunteer Rifles in New Guinea, has a reunion with his family.
On the formation of the NGVR in Sep 1939, the Chinese Community of New Guinea were very keen to play a part in it. There was no provision for their enrolment with the Unit.
The Regimental Medical Officer (RMO) Maj Norman Bennington WATCH, suggested they form an Auxiliary Stretcher Bearer Unit which could be unofficially attached to NGVR. This was organised early in 1940 under the guidance of the RMO and his most efficient medical WO2 NGX496 WO2 Bob Kennedy MSM. It was a most capable and efficient Unit of about 40 young Chinese Residents of Rabaul.
NGX496 WO2 KENNEDY was executed by the Japanese at the fall of RABAUL; Norman WATCH was captured and spent the rest of the war at ZENTJU Camp in Japan and Died in Sydney NSW in 1951.