-An Australian Militia Battalion -
This article is based on, and largely reproduced from "To Kokoda and Beyond" by Victor Austin, (of 39 Bn and later 2/2 Bn AIF); Volume V of "Australia in the War of 1939-45" by Dudley McCarthy; "Pacific Victory" by Hugh Buggy; and "Recollections of a Regimental Medical Officer" by H D Steward.
A patrol from 39th Australian Infantry Battalion surveys the Uberi Valley.

The 39th Battalion existed as a unit for only 2O months of World War II, but its story is one of the most unusual and proudest in the annals of Australian military history.

Formed in haste from disparate Victorian militia elements in Oct-Nov 1941, initially officered (except for platoon commanders) by World War 1 veterans, its ranks largely composed of 18- and 19-year old boys armed with 1914-18 Lewis guns, and designated for a passive garrison role in Australian administered Papua, the 39th was, literally, a "scratch" unit.
The untried, and largely untrained, 'garrison battalion' found itself in Port Moresby in the front line of Australia's defence, just weeks after the Japanese attack on Pearl Harbour and a devastating series of reverses in the Pacific and Asian theatres of the war.
Sent to the Owen Stanleys this small force from 24 July was faced by a selected Japanese invasion force estimated at 1500 men, reinforced by another 3000 landed at Gona on 13 August, and it was not until 26 August that the first elements of the 7th Division became involved in the battle. (Although 53 Bn was in the battle area from 24 July, they had landed at Moresby in January "badly trained, ill disciplined and generally resentful" and proved to be "below standard required for action" (Brig Potts) and were withdrawn).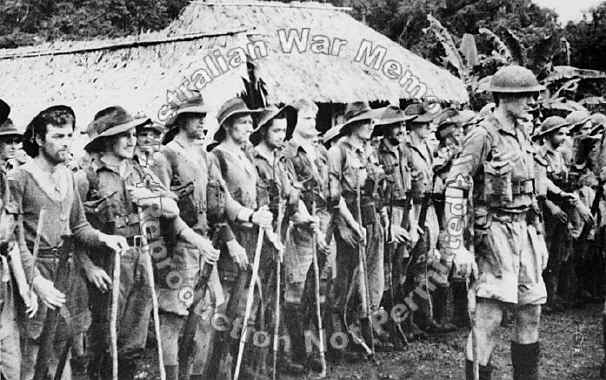 Menari, Papua. 1942-09-22. Members of the 39th battalion, AMF, parade after weeks of fighting in dense jungle during the Kokoda campaign. The officer in front is Lieutenant Johnson. The men standing behind him, from the left, are: Arnie Wallace, Bill Sanders, Harry Hodge, Kevin Surtees, George Cudmore, George Puxley, Kevin Whelan, Len Murrell, Dick Secker, Neil Graham, Clive Gale and Jack Boland. Their bedraggled dress reflects the hard fighting of past weeks. (photographer: Damien Parer)
Relief for the 39th did not happen until 26 Aug and the unit was then reduced to 150 all ranks.
The 2/4th Regt's RMO in Syria, Blue Steward who was RMO with 2/16 Bn. in New Guinea wrote "At Aloha... I first saw the boys from the 39th Bn, gaunt with gaping boots and rotting tatters of uniform hanging around them like scarecrows.
Their faces had no expression, their eyes sunk back into their sockets. They were drained by malaria, dysentery, and near-starvation, but they were still in the firing line, facing a much more powerful enemy with much heavier weaponry."
Hugh Buggy summed up the position, thus, "Battalion and Brigade officers spoke in the highest terms of the deeds of the men of the 39th Militia Battalion, to whom fell the almost superhuman task of delaying numerically superior Japanese forces, who were supplied along the short and easier line from Buna to Kokoda."
Resting at Koitaki, the 39th received reinforcements; 100 from the 53rd Bn (by then disbanded) and later, 300 from Australia. On 30 Nov the Battalion was again in action, in the Gona-Sanananda area in which it suffered more casualties than in the Owen Stanleys. In the period 3 - 18 December losses were 8 officers and 220 men killed and wounded. By January 1943 when Sanananda fell, battle casualties and medical evacuations had reduced the Battalion to platoon strength - 32 all ranks.
The reason for Army Command's decision to strike the 39th Battalion from the Order of Battle will probably always be a mystery and one which seems now, and which surely should have been apparent then, to have been a major injustice. This occurred on 3 July 1943.
---