| | | |
| --- | --- | --- |
| Category: Army History/WW2 | | |
AUSTRALIAN WOMEN'S LAND ARMY (AWLA), 1942-1945
Australian Women's Land Army was formed in Australia, lasting from July 27, 1942 until 1945.
During World War Two many people who normally worked on farms to produce food and other essential items joined the armed forces to fight the war.

The government had to find people to replace farm workers to be sure that people in Australia as well as those fighting overseas had adequate supplies.

The nationwide Women's Land Army (WLA) was formed in July 1942.

Within two years there were about 3000 women working on farms in the country. Most WLA members worked full time. Their work was especially important in growing fruit and vegetables, the cotton industry, and on dairy and poultry farms.
| | |
| --- | --- |
| | |
| Cap badge (above) and cloth shoulder patch (below) worn by Australian Womens Land Army | Member of WLA in uniform showing placement of badges |
| | |
| --- | --- |
| | |
| Australian Women's Land Army WA | The Australian Women's Land Army badge was based on it's British counterpart shown here. |
AWLA uniform issue

AWLA pullover

<<< AWLA jodhpurs as issued

AWLA badge as displayed on the arm-band shown below.
Wagga, NSW. February 1946. Peggy Hull, a member of the Australian Women's Land Army, servicing a 60 foot windmill on a property called Alabamba, where she and another member of the Land Army worked. (Donor P. George)
Wagga, NSW. 1946. Peggy Hull, a member of the Australian Women's Land Army, and Mr Horton, the owner of Alabamba property on which two Land Army women worked, punching the skin from a sheep carcass to prepare it for butchering. (Donor P. George)
Tambar Springs, NSW. December 1945.

A member of the Australian Women's Land Army washing her clothes in a boiler on Merrigular Property owned by Mr Cadell near Premer.

Six members of the Land Army, worked on this property and lived in shearer's huts, two to a room. The women undertook a variety of jobs around the farm, including lamb marking, dipping, cleaning the fly blown eyes of sheep, helping in the shearing shed, driving and maintaining a tractor and header, cutting and baling seed lucerne, and harvesting wheat.

The women worked long and irregular hours and had no set leave, earning 30/- ($3) per week . (Donor P. George)
| | |
| --- | --- |
| | |
| Victoria. 1944-10-15. A member of the Australian Women's Land Army chopping blocks of wood on a Gippsland farm. | Victoria. 1944-10-15. Elaine Bosketti (left) and Heather Cameron, members of the Australian Women's Land Army, weeding a large paddock of carrots on a Gippsland farm. |
| | |
| --- | --- |
| | |
| WERRIBEE, VIC. 1944-01-26. A member of the Australian Women's Land Army using a four horse scuffler on the Victorian Government Experimental Farm. | c. 1944. A member of the Australian Women's Land Army drives a five horse team land cultivator. |
| | |
| --- | --- |
| | c. 1944. Five members of the Australian Women's Land Army stack sheaves of oats after the reaper and binder has been through. |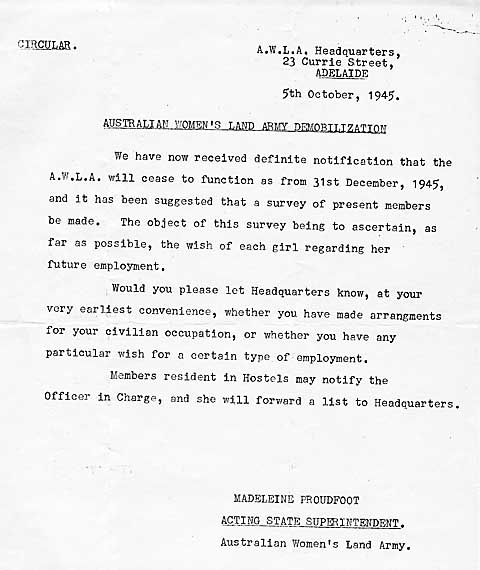 Demobilisation circular for AWLA, 1945
Women who served in the AWLA were awarded the Civilian Service medal after it was introduced in 1994 to recognize military style service by civilians.

As awarded to Elsie Watson STANBURY