Because many men returned from Viet Nam in small groups it was not possible to have grand parades for them.

When Battalions returned they usually marched through the streets of a major city but these often attracted the rabid rat bag element of the Anti War, Anti Conscription, Anti Government and Anti Anything crowd.

Many Viet Nam vets were bitter about the treatment they received from an indifferent populace and an angry Rent A Crowd.

Many still are.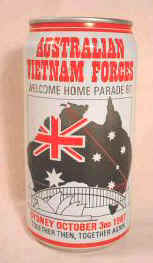 Special beer cans were produced for the occasion.
Vets from the Soudan, Boxer Rebellion, Boer War, WW1 and WW2 were held in high esteem on their return. Vets from Malaya and Korea were ignored but tolerated if encountered. Viet Nam vets felt somewhat cheated, firstly because they were hampered in (even stopped from) winning the war by the very political system that sent them and then secondly because they were abused by the people that they represented.
It should be remembered that in the Federal Election (1966) held after committing combat troops (1965) the Government of the day INCREASED it's majority by 19 seats in the House of Reps.
The people agreed with sending troops. Only in 1968 did the tide turn.