| | | |
| --- | --- | --- |
| Category: Conflicts/Vietnam | | This page is a sub category index |
Australian Army Training Team Vietnam. (AATTV) "Persevere"
Sub category index

AATTV Advisor at Ranger Training Centre

US Presidential Unit Citation
US Meritorious Unit Commendation
This page is dedicated to the late WO2 DT (Dave) Powell, MM, a friend, a good man in the bush and a member of The Team.
Vietnamese Cross of Gallantry with Palm - Unit Citation

The streamer of the US Meritorious Unit Commendation, now at AWM
A BRIEF HISTORY OF THE
AUSTRALIAN ARMY TRAINING TEAM VIETNAM
"It is their war and you are to help them, not win it for them"
(Lawrence of Arabia, 1917)
Un-official hat badge >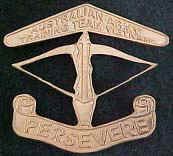 The Australian Army Training Team Vietnam (AATTV), affectionately known as "The Team", was raised and sent to Vietnam in 1962 initially under the command of Colonel F.P. Serong (now Brigadier, retired).

<<Colonel F.P. Serong (now Brigadier, retired) with Vietnamese officers at Dong Da.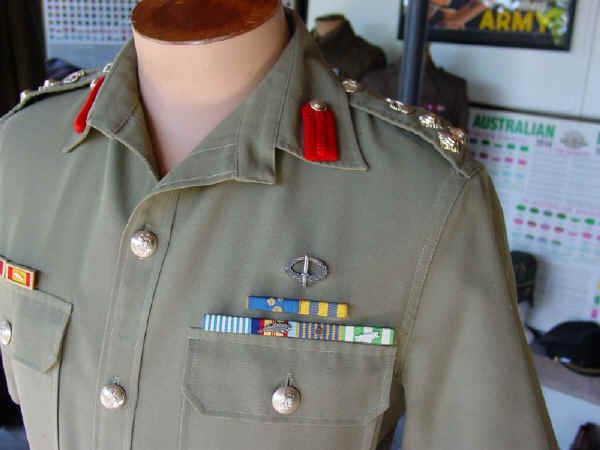 This is the uniform tunic of a Brigadier who had served with AATTV. It is not Serong's.
The Unit at this time consisted of 30 Officers and Warrant Officers who were originally to be employed in the training roles of Vietnamese Units. As the war escalated in1965 AATTV was increased to 100 members (including some Staff Sergeants, Sergeants and Corporals) and they were employed from the Delta areas in the far South to the Northern border of the Demilitarised Zone (DMZ) separating North and South Vietnam.
AATTV was both elite and unique. It's members were specially selected, it was small, and for it's size it was one of the most highly decorated Units in the history of the Australian Army. It's claim to uniqueness springs from a number of factors; it existed only in Vietnam where members joined it from Australia, singly or in drafts, it consisted mostly of Officers and Warrant Officers who operated individually, in pairs, or occasionally in groups of normally not more than ten; and it's task was unique- training, advising, or commanding a variety of Vietnamese forces. The first Australian Unit into Vietnam and the last out, it was operational for ten years, four months, and sixteen days, achieving the distinction of being the longest serving unit of any service in any theatre of war.
Even if only because of it's name, it is not likely to exist again. The members of AATTV were so spread across South Vietnam that they met as a Unit only on ANZAC day, and once when they paraded in Vung Tau in 1970 to receive a Unit honour from the Commander of the American Forces, General Abrams. Collectively the Unit can claim to have built up a special knowledge of the war as it was fought over the whole of South Vietnam. Early in the conflict the Unit was referred to by a Federal MP as "the expendables".
The AATTV identification shoulder patch is green shield with gold lettering, a boomerang with 'AATTV ' across the top of the shield, a crossbow depiction the Unit's involvement with the Montagnard tribes of the mountain regions who played a large part in "The Team's" operations and below this, a scroll with the word 'Persevere' entered within.
British and Australian military awards received by all ranks during the period 1962 - 1972 were:
| | | | | |
| --- | --- | --- | --- | --- |
| | | | | |
| Badcoe VC | Payne VC | For Valour | Simpson VC | Wheatley VC |
Victoria Cross (VC) 4
Distinguished Service Order (DSO) 2
Order of the British Empire (OBE) 3
Member of the British Empire (MBE) 6
Military Cross (MC) 6
Distinguished Conduct Medal (DCM) 20
Military Medal (MM) 16
British Empire Medal (BEM) 4
Mentioned in Dispatches (MID) 49
Queens Commendation 4
A total of 114 decorations in all. Add to this the Unit decorations of the United States Meritorious Unit Commendation, the Unit Citation of the Vietnamese Cross of Gallantry with Palm and individual awards from both US and Vietnamese Governments too numerous to mention here and one can begin to understand the esteem with which the AATTV was held by all Allies involved in the war.
| | |
| --- | --- |
| | Rank brassard worn by Warrant Officer Class II Rayene (Ray) Stewart Simpson VC, during his third period of service with the Australian Army Training Team Vietnam (AATTV) 1968-1969. On 6 May 1969 Simpson was then serving in Kontum Province on the Laos/Cambodian border as commander of the 232nd Company of the Mobile Strike Force of the 5th Special Forces Group in a search and clear operation when the enemy was encountered in a series of action over six days. Simpson's leadership and bravery during these encounters earned him the Victoria Cross. |
A total of 1000 members served with AATTV during the entire period of the conflict - 1962 to 1972. This consisted of 990 Australians and 10 New Zealanders. Casualties were recorded as 33 members Killed In Action (KIA) and 122 as Wounded in Action (WIA).
US Silver Star
Vietnamese Cross of Gallantry with Palm- Unit Citation.

see above
The following extract was taken from the book; "Australians at War, Vietnam - The Australian Experience" one of a series of volumes produced by Time Life Books Australia:
"During the regular morning commercial flight from Singapore to Saigon on August 3, 1962, a remarkable transformation took place among a number of male passengers. There were 29 of them, short haired, strong looking men in civilian clothes. One by one, they left their seats, strode purposefully down the aisle and disappeared into the lavatory for a few minutes. When each passenger emerged, he had made a quick change into the jungle-green combat uniform of an Australian soldier.
The men were the first Australian troops to be engaged formally in Vietnam. They were the Officers and senior NCOs of the Australian Army Training Team Vietnam, soon to be known simply as "The Team". For reasons of diplomatic sensitivity, this initial contingent had been instructed not to wear their uniforms when boarding the plane in Singapore; later such niceties would be dropped. If "The Team" was the first Australian unit to go to Vietnam, it would also be the last to leave that tragic place.
It would remain there, doing it's best for Australian foreign policy and the non-Communist South Vietnamese, for nearly ten and a half years - by far the longest period of time any Australian Unit of any service had served in war.
So critical were "The Team's" jungle skills that it's first leader was himself a former Commandant of the Jungle Training Centre at Canungra, Queensland. Confident and innovative, Colonel F.P. Serong had recently returned from a two-year stint as adviser to the Burmese army. On his way back to Australia, he had toured Vietnam and had observed the deteriorating combat situation at first hand. His personal qualities and his intimate understanding of the type of war being fought made him an ideal choice to head "The Team". The Americans thought so highly of Serong that he was consulted at the highest levels; indeed, he ranked as a special adviser on counter-insurgency to General Paul D. Harkins, Commander of all U.S. forces in Vietnam."
wording part copied from http://www.aattv.iinet.net.au/index.html
<< Gaythorne RSL, Brisbane. Keith Payne VC renews an old acquaintance with Charlie Mene MM.

---

"Dasher" Wheatley VC >>
US cheers for game Digger from Denis Warner in Da Nang
American marines and South Vietnamese troops leaped to their feet and cheered when an Australian warrant-officer commanding a company of Nung tribesmen at Con Thien on the southern edge of the demilitarised zone ran 350 yards under heavy fire to rescue two of his men stranded beyond the perimeter of the camp.
"It was the bravest act I have ever seen in my life," said Major Marvin Camp of the Marine Corps. "If that guy was an American, no decoration would be to high for him."
Instead, the warrant-officer will not get even public recognition of his act. "My wife thinks I'm running a base cam," he said. "She has no idea what I'm doing and I don't want her to know. Please don't use my name."
The action, if not the deed, was typical, however, of the sort of fray the Australian advisers in I Corps have found themselves involved in during the past two months of heavy fighting.
The action here began on May 8 when heavy formations of North Vietnamese regular troops attacked Con Thien. The post was held by about 100 Special Forces, about 300 Vietnamese irregulars and two companies of US Marines who were there to defend the engineers building the "fire break" south of the demilitarised zone.
With recoilless rifles, the North Vietnamese knocked out two amphibious tractors and a small tank. Then with flamethrowers, they charged the bunkers held by the marines. The marines stood their ground but at daylight the next morning the North… had a foothold.
Two day s later the Australian company of Nungs arrived to reinforce the position while a …forms, initially of battalion strength to fight its way in from the west,. Before it got there it had to be reinforced eight times.
con Thien was now under more or less continuous mortar fire and to this was added fire from rockets and recoilless rifles.
On May 2, however, the Australian Nungs pushed out on patrol for 1,500 yards. They had started to fan out in platoon when they came under heavy mortar fire. The platoon, led by Warrant Officer Clarrie Upton, of Casino, NSW suffered seven casualties in the first burst of fire.
Armed only with carbines and one machine-gun, Upton's group began to fall back. "When they saw we were pulling back, the Charlies (the Vietcong) got out of their holes and chased us with mortars," Upton said. "We withdrew along the edge of the cleared strip (the "firebreak" which the Seabees have built from Gio Linh to Con Thien). Charlie even et up a mortar on the strip to have a go at us, but we opened up with the machine-gun and fired enough to drive him off".
At this point a Sergeant Johnson entered the action. Alerted that Upton was bringing in his wounded under fire, he drove an ambulance out of Con Thien, dodging the minefield and enemy fire to pick them up.
The wounded and what appeared to be the rest of the patrol were all back in Con Thien when the warrant-officer company commander, who cannot be named, saw his two stragglers stranded on the firebreak and the easiest of targets for the North Vietnamese gunners.
He describes his own reaction as one of anger. He was furious that the two men had let themselves be left behind. Major Camp and others who saw him go through the wire tell a different story.
He was under heavy automatic fire as soon as he went out, said Major Camp. "We didn't think he had a chance". But the warrant officer got to the men, seized them by the arm and ran back and out of sight of the men watching from the bunkers on the hill.
"Next time we saw was one come up and the the next and finally –himself. Man you couldn't stop yourself cheering them."
Large wooden Roll of Honour plaque bearing at the top a green plastic shield edged in white. The shield shows a yellow inverted boomerang with red lettering 'AATTV' above a brown crossbow. Beneath this is a yellow scroll bearing the motto 'PERSEVERE' in red.

Underneath the shield is painted yellow lettering 'ROLL OF HONOUR 1962-1972'. Thirty-three small engraved brass plaques have been attached to the main plaque, each bearing the name, initials, rank and date of death of members of the Australian Army Training Team who died during service in South Vietnam. Gallantry decorations are also indicated if applicable. The engraving has been carried out at different times in different styles and the letters have been filled in with red.

The back of the plaque is marked in black 'PLAQUE SHOP (partly legible Vietnamese lettering) Danang'. A slot in the back shows that the plaque was originally designed to hang on a wall. The wooden foot, secured by a length of chain, was added in Australia in the 1980s to allow the plaque to be used at ceremonies held in the open.
'SGT W F HACKING 1 JUN 63,
WO2 K G CONWAY 6 JUL 64,
WO2 R A SCOTT 10 SEP 65,
WO2 K A WHEATLEY VC 13 NOV 65,
WO2 R J SWANTON 13 NOV 65,
WO2 R V LEES 13 JAN 66,
WO2 J A MACDONALD 7 FEB 66,
CAPT G R BELLEVILLE 12 FEB 66,
WO2 J H ANDREWS 21 FEB 66,
WO2 T D PHILLIPS MID 20 MAR 66,
WO2 W A BLANCK 20 SEP 66,
WO2 M P HANLEY 20 FEB 67,
MAJ P J BADCOE VC 7 APR 67,
WO2 J M STONE 19 APR 67,
CAPT K W BAUDISTEL 13 AUG 67,
WO2 A P SIGGERS 21 AUG 67,

WO2 A J ROBERTSON 5 DEC 67,
WO2 M A HENDERSON 16 DEC 67,
WO2 R SEILER 16 DEC 67,
WO2 A PARELLO MID 1 FEB 68,
CAPT A DANILENKO MID 25 APR 68,
WO2 F G HAMERSLEY MID 30 MAY 68,
WO2 J DURRINGTON 30 MAY 68,
WO2 J GARRIGAN 27 DEC 68,
WO2 J A BOND 25 APR 69,
WO2 M W GILL MID 6 MAY 69,
WO2 B WALSH MM 27 JUN 69,
WO2 K J TROY 23 NOV 69,
WO2 J G PETTIT 3 APR 70,
WO2 J FITZGERALD 17 APR 70,
WO2 F L RAFFEN 7 AUG 70,
WO2 T LYDDIETH 18 FEB 71,
CPL T D BLACKHURST 17 APR 71'.
Mekong Delta, South Vietnam. November 1971.

The owl insignia, the badge presented to students who graduate from the Australian Army Training Team Vietnam (AATTV) night operations training course. The course was conducted at two bases in the Mekong Delta.