It's hard not to be impressed when you watch man and machine operating as one smooth unit. Like something out of Apocalypse Now, four Black Hawks materialize on the horizon until their dragonfly-like appearance is joined by the signature thump of helicopter rotor blades. Once landed, the infantrymen exit on cue, buffeted by the downward thrust of swirling blades. No sooner have the 'grunts' adopted firing positions and the four machines rise from the grass of High Range Training Area near Townsville and blend back into the horizon.
What these diggers are doing is training for war. Should these 1st Battalion the Royal Australian Regiment (1 RAR) soldiers ever have to put this training into practice their response will be instinctive. Just over 12 months ago, these same soldiers were patrolling the dusty Somali streets of Baidoa. One of the big lessons to come out that deployment is there aren't too many big lessons to learn.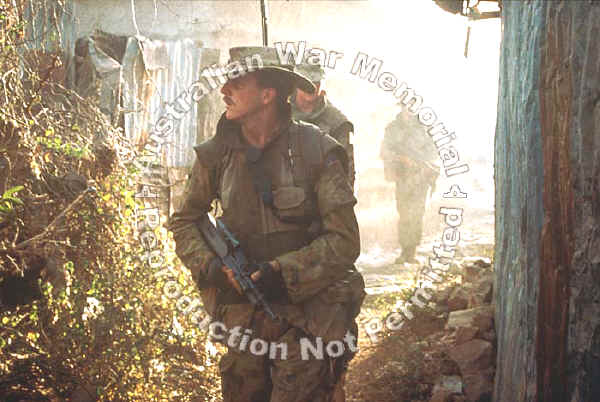 Baidoa, Somalia. 1993-03-22. Corporal T. R. Connor, in front, middle Pte Burger, and Lieutenant Bob Worswick, at rear, members of 2 Platoon, A Company, 1st Battalion, The Royal Australian Regiment (1RAR), on foot patrol through a narrow overgrown lane in the native quarter. They are serving with the Australian contingent to the Unified Task Force in Somalia (UNITAF). Note the Slouch Hat going back to war.
Logistic problems aside (more than one reliable source described the actual deployment of the battalion group as messy), our training doctrine for low-level conflict is sound. With minor adjustments in Somalia the intensive patrolling at section level made way for the distribution of humanitarian relief in the Australian sector.
"Nothing could go on in that city without us knowing about it" says Private Manvell Newton a section machine-gunner in Somalia. The reason things improved in our area of operations was because we absolutely saturated Baidoa in patrols. We patrolled 24 hours a day seven days a week and every hour of the day we had a patrol in that town - or three patrols - Baidoa was broken up into three areas and there were always patrols in those areas."
The intensity of the patrolling was remarked upon by practically everyone. In the initial stages, there was little time for rest. An official report states that had there been lesser sub-units available, flexibility and capability would have been severely curtailed. Defence artist, George Gittoes, also commented on the extreme conditions in which the Australians worked on his return from Somalia.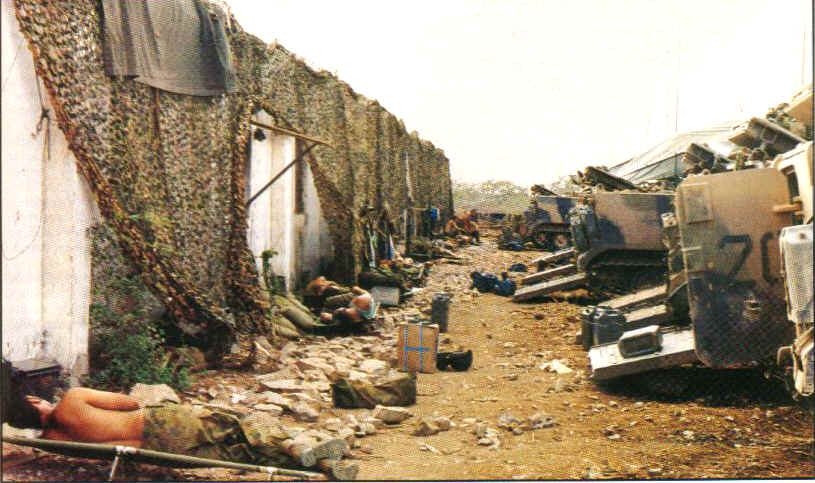 Diggers trying to catch 40 winks before the next patrol. It sure as hell ain't like Nanna's place but it's home for the time being.
Because of the level of patrolling, contacts with bandits were frequent and fast, with little time for hesitation. Under these circumstances the instinctive spontaneity of military training came to the fore.
Pte Newton's section had two contacts early on. While the bandits usually fled, a quick response from sections was crucial for safety. While fighting in an urban environment posed some problems, as Pte Newton found out, the contact drills worked well.
"In our first real contact, a Somali walked up behind one of our guys and went to shoot him in the back of the head. A guy in our platoon saw it and shot the Somali. There was a bit of confusion as to what was going on - we were in the streets and we didn't know where the shots were coming from.
"The [Australian] guy that fired the shot was yelling that the Somali had bolted. We later found out that another Somali had picked up the pistol and ran down the road."
Pte Newton's section was tasked to chase after the bandit. Not having seen the actual incident, the section didn't know who they were looking for but took off down the road. Pie Newton says rather than run around something that would take him into the street he "just barreled through it".
"There was this bit of a fence coming out and I didn't want to run out into the fire lanes so I decided to run through the fence - they were usually made from little sticks about the size of your finger. What I didn't realize was there was a 1ft thick log behind it and I went to plough through it and bounced off it instead."
Unable to find the bandit, the platoon settled into fire positions and assumed the contact was finished. 1st Section then swept the area in a dry assault. When the bandits saw the section coming, they fired. The section returned fire and the bandits bolted.
"They [the bandits] ran through this camel herd and they were straight in front of us" says Pte Newton. "Baker (the section second in command) yelled out a target indication he heard from the boss and it was these two [running through the herd], so everyone started firing.
"I started firing at the last guy and he was hoofing it, he was moving pretty fast. At the time I was so high on adrenalin I wasn't watching where my rounds were going and I couldn't see the tracer so I walked the gun on to see the dust trail and walked the rounds onto the last guy and he dropped."
The success of the operations effectively ended the bandits' hold on Baidoa. The Australian presence allowed non-government aid organisations (NG0s) to deliver food relief in safety. During the deployment, the battalion group escorted over 400 convoys and delivered in excess of 8000 tonnes of grain to more than 137 villages within the Australian sector.
Come the time to go home, the NG0s did not want the Australians to leave. Senior UN commanders also expressed regret at the battalion group's departure. This is hardly surprising. Baidoa would not endear itself to most Western hearts. Under control of banditry it was even worse. The legacy of that banditry is everywhere.
An independent observer on return from Somalia remarked of the irony of keeping peace in a place too used to violence.
On one day, a child with a badly gashed leg was given first aid and taken to a medical centre for treatment. The next day, the same child gouged out the eye of another child for apparently no reason.
Lance Corporal David Williams, B Squadron 3rd/4th Cavalry Regiment, remembers Somalia as hot, dry and smelly. It wasn't the best place on earth, that is for sure. A lot of starving kids, a lot of starving people.
"Not actually in Baidoa, that was probably one of the better places. When you got into the outlying regions - 50km outside of Baidoa, then it became very noticeable. Some of the little children had hospital bands, like UNICEF was helping them out. There were some cases like stick insects - they really were bad."
The Townsville-based squadron mainly escorted convoys, such as food distribution. By late March, however, the armoured personnel carriers (APCs) were escorting individual NGO workers. LCpl Williams says APCs also carried platoons to outlying regions to search for weapon caches and "bad guys".
"It was pretty disheartening at the start, how people could feud among themselves and get themselves into such a predicament - but in the end we saw we were doing good and the amount of food we distributed and the way people reacted to the Australians in particular.
Life in Baidoa quickly settled into routine. LCpl Williams also was impressed with the Australian approach to getting things done. Like most of the Australians, he found the old saying of operations being 90 per cent boredom was well founded but sometimes there "was quite an adrenalin rush".
"Another call sign [another APC] and myself had just been to a CARE compound about 3am where guards had stolen 50,000,000 Somali Shilling. All of a sudden we heard this firefight in town about 2 or 3km away. We heard the contact report over the radio and I rang up and asked if they needed assistance."
He says it took about five minutes to get to where the section was ambushed, though they didn't know by who. The APCs dropped their ramps, collected the infantry and quickly left the area. Later in the morning, the two APCs were contacted again when they took AK47 fire in the town.
Now 12 months on, LCpl Williams says it is the sights and sounds of Baidoa that linger on in his memory of the deployment.
They don't have a sewerage system or anything like that. There are carcasses of dead animals lying about and shallow graves all around the place. Baidoa is on top of an escarpment and you go down into the bush and there are just masses of shallow graves. That is probably one of the biggest things that sticks in my mind."
While the relief effort progressed smoothly, there were hiccups. Deploying at Christmas made things more difficult than normal. Virtually the whole Townsville-based brigade was on leave. As 1RAR operations officer, Major Mark Fairleigh, states: "It is 'the' worst time to deploy a battalion overseas".
Intelligence on the situation in Baidoa was scant. Information wasn't available through official channels. Before deployment, information was gleaned from non-defence people such as Phoebe Fraser, daughter of the former Prime Minister, Malcolm Fraser. The Commanding Officer 1RAR, Lieutenant Colonel David Hurley, got more information from a former ADF member in Baidoa by satellite telephone.
Equipment problems also occurred. Sorting out what to take and what to leave at home caused some heartache. In Baidoa, the Australians used US fuel to run equipment. Generators, for instance, had timing trouble until the machines seemingly adapted to the petrol.
Operationally, there were some problems working in an urban environment, as Pte Newton found out. Maj Fairleigh says we were not "well practiced" in urban patrolling. Something, he believes, more attention at home could rectify. He added that hopefully the army would devote more time to this sort of low level training with some sort of facility and increased training time.
Water, or the lack of it, hampered long-distance patrols. Jerry cans were left along patrol routes only to be happily snavelled by local Somalis.
Getting enough specialist equipment was another problem. Global positioning system (GPS) and night-vision equipment was used to advantage in Somalia - but some say there wasn't enough.
Corporal Bill Perkins, a section commander, says categorically: "We need more night‑vision gear - the section needs more than one pair of night-vision goggles". Given that Cpl Perkins' section was ambushed twice at night you can understand his concern.
Other problems that couldn't be expected cropped up as well. The reality of searching vehicles turned out to be much different from training. In Baidoa, a bus crammed with 90 people would turn up at a roadblock and would need to be searched a far cry from sterile exercises back home. Cpl Perkins says you had the problem where a truck full of bananas might come along.
"You just haven't got the time to take everything out. You could do it but it would take you all day, so you just had to do the best you could."
By and large, however, Cpl Perkins agrees the foundation of training in low-level operations met the demands of the situation, as physically and mentally taxing as they were.
He says contacts happen so fast but the mind seemed to slow things down to a manageable pace. On the other hand, training made responses quick and automatic: "It showed the blokes were well trained because everyone adopted fire positions and returned fire. There was not one bloke I saw who curled up in a ball or anything like that. Everyone returned fire and did their job."
His section was contacted in the process of doing an obstacle crossing at a crossroad. The forward scout was fired at with an AK47 and other small arms and the section carried out the contact drill.
The section was pinned down by fairly heavy fire coming from a building. Cpl Perkins asked his forward scout if he could engage the bandit's position with a 66min Short-Range Anti Armour Weapon but he was too close for the aiming distance of the weapon.
"So 1 deployed my other 66 from the No. 1 rifleman behind me. I gave the section the order for rapid fire, he stuck his head out and fired the 66 and it went high on the building but it caused rubble to come down on top of them and it injured four Somalis."
Cpl Perkins and his section was contacted again at the same crossroad on another occasion. Again, well-practiced drills and quick thinking avoided major casualties. The section stopped at the crossroad and the first scout crossed the road. The second scout took a couple of steps from his position and some Somalis began abusing him. He then heard an AK47 being cocked and saw the bandit.
"He knew his life was in danger and he initiated the contact," Cpl Perkins adds. "At the same time, one of my other soldiers on the other side of the road was wounded - this was all happening in a spilt second and we were under heavy fire.
12 months down the track, Somalia is slowly drifting into memory. Soldiers already have been posted from the battalion, while others are taking discharge. Life goes on. It is hard, however, to picture all these fresh, young faces as our latest veterans. This is a problem more than one person has encountered.
Oddly enough, people's opinions differ on the experience. There seems to be to schools of thought. A large majority believe it was the most rewarding episode in their professional career. Others, however, are disappointed.
Whatever the case, it showed that our army should be ready - with the right equipment to fight. It came as a shock when soldiers on leave heard the battalion was to deploy. As Pte Newton says: "My mother said she heard on the news that 1,000 combat troops were to deploy and I said 'no mum, its always cooks and medics that get sent'. Then I heard that the 1,000 troops were being deployed from the Townsville-based First Battalion and 1 said 'that's me' and I got a bit of a shock'."
I was very excited at first, I was going to be able to do my job and a lot of attention was focused on us at the time before we went and when we went. So I was very eager to go over. When we were over there it sort of hit you, - we've got some bad guys to play with."