| | | |
| --- | --- | --- |
| Category: Conflicts/Others | | |
IRAQ; the unseating of Saddam Hussein
Some images and text from the AWM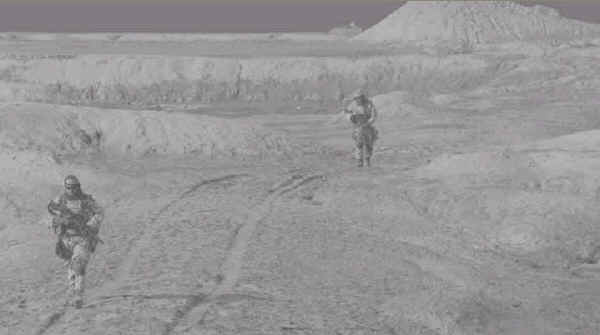 The terrain in Iraq is particularly hostile. Over ten days in April 2003, members of RAN Clearance Diving Team 3 cleared mines and other ordnance from 160 square kilometres of the coastal parts of the peninsula. Petty Officer Clearance Diver Dean ("Jock") Campbell and Able Seaman Clearance Diver Colin Von Rechenberg walk along a cleared path on the barren Al Faw peninsula in southern Iraq.
Saddam Hussein came to power in Iraq in 1979, the same year the Shah of Iran was overthrown.

During the 1980s, as Iraq fought a long, bitter war against Iran, the West supported Saddam as a moderate bulwark against the spread of fundamentalist Islam.

By 1988, however, when the Iran–Iraq war ended, the Iraqi economy was in ruins and the West was turning away, repelled by Saddam's use of chemical weapons against both Iran and his own Kurdish population in the north. Saddam's answer, in 1990, was to invade the rich sheikhdom of Kuwait, accusing it of undermining efforts to keep oil prices high.

In the First Gulf War the United Nations authorised a United States–led coalition to eject the Iraqis from Kuwait. After the war, the UN Security Council demanded that Iraq give up its ballistic missiles and "weapons of mass destruction" (nuclear, chemical and biological weapons), along with any equipment and materials for making them. Dissatisfied with Iraqi obstruction, the Security Council maintained sanctions on most Iraqi trade throughout the 1990s.

| | |
| --- | --- |
| Lance Corporal Jason Nuske of the 2nd Cavalry Regiment surveys the streets of Baghdad from an Australian ASLAV-25 reconnaissance vehicle. He is wielding an FN Browning M2 .50-calibre machinegun. | |

In 2003 the United States, asserting that Iraq was still concealing weapons of mass destruction and alleging links with terrorist groups such as al Qaeda, demanded military action against the Iraqi regime. However, the Security Council did not agree: a new group of weapons inspectors were still at work, and were reporting very little in the way of prohibited weapons and materials.
Unable to obtain UN backing to overthrow the regime of Saddam Hussein, the United States pressed ahead with a "coalition of the willing": the chief participants were the United States, Britain, and Australia. The Second Gulf War commenced on 19 March 2003.

---

Saddam Hussein after he was dug out of a "rat hole" on a non-descript farm after the end of the major conflict section of the war. >>>
SASR & Special Forces Operations Group in Iraq
In Afghanistan in 2002, the Special Air Service (SAS) had distinguished themselves in one of their core capabilities, conducting long-range reconnaissance. In Iraq the following year they were employed in a more directly combative role. Elements of 1st Squadron, SAS, entered Iraq on 18 March 2003, and may well have fired the first shots of the war.
<<< Australian SAS troopers at Al Asad airbase in April 2003. The troopers' Land Rover long-range patrol vehicle (LRPV) is armed with an FN Browning M2 .50-calibre machine-gun and an MAG-58 general service machine-gun. AWM P04101-401

---

In western Iraq, the SAS located and destroyed launch sites for Scud missiles that might have threatened either coalition forces or Israel. Closer to Baghdad, they were prepared to prevent any attempt to move missiles towards the west.

Early in the war SAS troopers were fighting running battles with Iraqi soldiers, who tried to counter the Australians with machine-guns mounted on 4-wheel-drives. The SAS themselves employed machine-guns mounted on their own long-range patrol vehicles, along with rocket-propelled grenades and shoulder-mounted Javelin anti-tank missiles.
A notable success was the capture on 16 April of the vast Al Asad airbase west of Baghdad, near the Euphrates River. There were over 50 aircraft, many still airworthy, hidden in camouflaged shelters at the base. After capturing the airfield, the SAS troops repaired the runways sufficiently to allow coalition Hercules aircraft to use it.
The Special Forces Operations Group consisted of the SAS contingent, together with commandos from the 4th Battalion, Royal Australian Regiment (4RAR), and other attached groups. The 4RAR troops were available as a ready-reaction force to come to the aid of any SAS detachments which got into trouble, but in the event they were not needed in this role.

However, they did assist the SAS in securing the Al Asad airbase in western Iraq and elements of the special forces group entered Baghdad to provide security when the Australian National Headquarters was set up in the city.

<<< Wherever you are the beer should be cold. This is a stubby cooler for BIAP, in Iraq.
Three CH-47 Chinook helicopters from 5th Aviation Regiment transported the ground troops between areas of operation and helped supply the forces. Soldiers from various units went to Iraq to provide security for Australian defence and diplomatic personnel working in Baghdad. These included a detachment from the 2nd Battalion, Royal Australian Regiment (2RAR), together with two light armoured vehicles from 2 Cavalry Regiment.
Specialists, including some from the Incident Response Regiment, were deployed to help deal with any weapons of mass destruction which might be found. At Al Asad they helped inspect the 8,000 tonnes of explosive ordnance found there, to ensure that it did not contain chemical or biological weapons.
Royal Australian Navy in the Persian Gulf
Since 1990, the RAN has regularly provided ships to the multinational Maritime Interception Force (MIF), enforcing UN sanctions on Iraqi trade through the Persian Gulf (and at times in the Red Sea). Before and after 11 September 2001, the MIF, led especially by Australian frigate HMAS Anzac, worked hard to tighten the blockade and stem the flow of smuggled oil coming out of Iraq. Enjoying robust rules of engagement, and able to operate in shallow waters, Anzac undertook night operations to intercept smugglers close to the mouth of the Khawr 'Abd Allah waterway.
<<< Crew on board HMAS Kanimbla await the arrival of a helicopter from HMAS Anzac, in April 2003.

---

After September 2001, the Australian presence in the MIF was increased to three ships. Since then Australians have regularly commanded the multinational operation, the first time the MIF has had non-American command.
By 2003 the smuggling of oil (and dates, another lucrative cargo) had been largely curtailed.
During the Second Gulf War, Australian Captain Peter Jones commanded coalition naval operations in the northern Persian Gulf. Operations included surveillance and inspection of all shipping in the area, clearing the Khawr 'Abd Allah waterway, and naval gunfire support by HMAS Anzac in support of British forces ashore. In a notable success, coalition boarding parties based in HMAS Kanimbla seized three tugs and a barge preparing to lay sea-mines to attack coalition shipping.
<<< An F/A-18 Hornet aircraft of 75 Squadron taxiing at its base in Qatar on 27 April 2003. Fourteen RAAF Hornets flew over 670 sorties during the war, including 350 combat sorties over Iraq.

---

Fourteen F/A-18 Hornet aircraft from 75 Squadron played a significant role in the war in Iraq. The Hornets were based at Al Udeid air base, near Doha in Qatar.
At first they flew long missions of five or six hours, escorting and protecting coalition early warning AWACS aircraft and tanker aircraft used for air-to-air refuelling. Later, at the height of the war, the Hornets were used to attack Iraqi ground forces with laser-guided bombs. Targets included tanks, trucks, and artillery, as well as bunkers and storage areas for fuel and ammunition. As Iraqi resistance crumbled, the Hornets also flew close air-support missions to assist Australian and other troops on the ground as they advanced on Tikrit, north of Baghdad, a centre of support for the regime.

The RAAF also sent two P-3 Orion maritime patrol aircraft and three C-130 Hercules transport aircraft to the Middle East. The Orions typically flew long 12-hour missions, especially at night, over the Persian Gulf. They assisted naval operations in the Gulf by keeping track of the large number of small vessels in the area, both to curb smuggling and to guard against the danger that they could be suicide boats packed with explosives. As the war went on, the versatile Hercules flew supplies and equipment into Iraq, and later flew some of the first humanitarian aid into Baghdad.
IRAQ in 2004
After the overthrow of Saddam Hussein's Baath Party regime, a United States–led Coalition Provisional Authority (CPA) was set up to govern the country, alongside a 25-member Iraqi Governing Council. In June 2004, it has been agreed, the CPA will hand over power to a Transitional National Assembly and Iraq will regain its sovereignty. A permanent government, elected in accordance with a new constitution, is due to take over in 2005.
<<< Under Saddam Hussein's rule, hundreds of thousands of political prisoners were executed or tortured at Abu Ghraib prison on the outskirts of Baghdad and elsewhere.

Coalition forces found 993 unmarked graves at the prison.
In early 2004, Australia still had 850 personnel in the Middle East. HMAS Melbourne was in the Persian Gulf, while RAAF C-130 Hercules and P-3 Orion aircraft were operating in the region. RAAF air traffic controllers remained at Baghdad airport, and soldiers provided security for Australian diplomatic and government personnel. Australians were also helping train the new Iraqi armed forces.
However, the situation in Iraq remains tense. A brutal resistance movement remains active, targeting coalition members, ordinary Iraqis, and international institutions, including the United Nations and the Red Cross. These repeated attacks threaten both political progress and the physical rebuilding of the country's infrastructure. Establishing a stable Iraq remains a daunting task.
US meritorious service medal awarded to Australians in Iraq

By Pte John Wellfare, ARMY Newspaper

FOUR Army members have been awarded the US Bronze Star for their service with joint headquarters in support of operations in Iraq.

Col Andrew Smith, Land Warfare Development Centre, Maj Brent Maddock, HQ 1 Bde, Maj Scott Winter, 1 Armd Regt, and WO1 Patrick Hills, 1CSR, received the medal, which is awarded for "heroic or meritorious achievement or service ... in connection with military operations against an armed enemy, or while engaged in military operations involving conflict with an opposing armed force".


Col Smith's receipt of the medal was announced alongside two Australian Navy captains by Minister for Defence Robert Hill.

"Col Smith played a key role in the development of two essential engineer works," Mr Hill said.

"His efforts were pivotal to engineering improvements in Iraqi facilities and infrastructure.

"Great strides were made in improvised explosive device awareness due to Col Smith's work and that of the staff under his leadership.

"Although exact numbers are unknown, the work probably saved numerous lives."

Maj Maddock, who served as the deputy chief of engineer operations in the American corps headquarters from February to August, said Australians serving with US forces in Iraq had earned a reputation for performing well.

"I was the only, what we would call 'regular' soldier, in the engineer operations section, the rest were reserves," he said.

"My experience base was actually greater than the majority of the people I was working for."

One of Maj Maddock's key duties while serving in Iraq had been the maintenance of the main supply route for coalition resupply traffic. The citation accompanying his Bronze Star praises his efforts to keep the route open by coordinating missions to repair bridges attacked by anti-coalition forces.

Maj Maddock also developed procedures for bridge repair tasks based on the lessons of early missions.

Australians are highly regarded for their broad skill base and subsequent ability to adapt to a range of situations and tasks.

WO1 Hills worked in the Joint Operations Centre in Iraq for six months from August 2003 to January this year as the operations sergeant major, responsible for the 15-member team that kept the centre running.

"The staff underneath me used to run the battle map, used to do the slide shows, run the radio system, keep the whole thing powered up and this ran basically 24-seven," WO1 Hills said.

"I had [US] reserves working for me who had, when I got there, done six months and by the time I left they'd done 12.

"There's guys that were there working with me that had two Bronze Stars.

"For me it was actually quite surreal because I was working in a corps-level operations centre, which had six divisions and 18 brigades underneath it.

"You don't realise what level you're working at. The one I was working in was 150,000 soldiers."

The number of Australians receiving awards while posted to US-run joint headquarters reflected the high regard in which the ADF is held, WO1 Hills said.

"They love Australians, they'd have as many as they could working in there with them," he said.

"All of our guys who were embedded over there did a marvellous job.

"I'm obviously stoked and chuffed, especially as an other rank, getting a Bronze Star. Most of the other people that have got the Bronze Stars are officers."

Deputy Chief of Joint Operations Maj-Gen Mark Evans presented the medals to the 1 Bde members at a recent ceremony at Robertson Barracks.