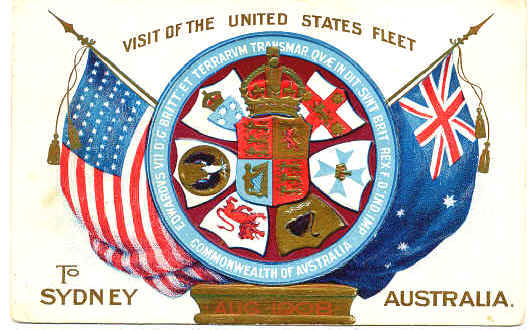 A postcard of the Great White Fleet in Sydney Aug 1908
From December 16, 1907 to February 22, 1909, 16 battleships and 14,000 men of the U. S. Navy traveled around the world. From the East Coast of the United States, down the coast of South America, up the West Coast - the Panama Canal was not yet open - and then a stay of almost two months in San Francisco harbor. During that time some of the fleet went to Seattle, then rejoined the rest in San Francisco, and on 7 July 1908, the fleet composition changed and they headed to Hawaii.
Later stops were: New Zealand, Australia, Manila, Yokohama, Ceylon, Suez, various ports in the Mediterranean, and finally home to Virginia. The fleet arrived in Virginia on 22 February 1909.
The fleet entered Sydney Harbor on August 20, 1908 where they remained until the 27th, when they set sail for Melbourne. The fleet arrived at Melbourne on August 29th and remained until September 5th when most of the fleet left for Albany. They arrived at Albany on September 11th and remained until the 18th when they departed for Manila. Albany was an important coaling stop for the fleet.