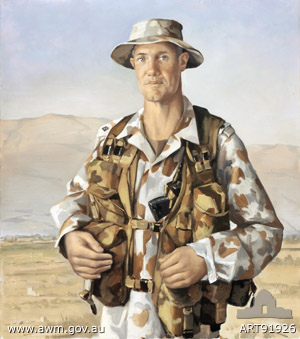 This is a commissioned portrait of Lieutenant Colonel Rowan Tink, SAS in Afghanistan.

In July 2002 Tink was awarded a Bronze Star by the US Government for his leadership role in eliminating al-Qa'ida networks from their mountain eyries in southeast Afghanistan.

Tink, at 47, was commander of the Australian Task Group at Bagram Air Base near Kabul. He was cited by Washington for his leadership in the planning and execution of Operation Anaconda.

Operation Anaconda involved a major drive by US-led coalition forces in March 2002 against al-Qa'ida, in which Australian special forces soldiers played a vital co-ordinating role.
The fortnight mountain offensive saw some of the fiercest fighting yet in the war on terrorism. Colonel Tink's recommendation for the Bronze Star read: 'The outstanding tactical contributions of Lieutenant Colonel Tink and his task group served as a major factor in rendering the enemy a crucial blow to his [sic] capability as an effective fighting force.' The Bronze Star may be awarded for acts of heroism in combat operations for meritorious service. Colonel Tink's medal citation praised his 'outstanding leadership, strategic and tactical proficiency, dedication to duty and commitment to mission accomplishment under the most extreme circumstances'.

The Bronze Star was presented to Colonel Tink by the US Commander of Coalition Taskforce Mountain, Major General Frank Hagenback. 'You won't find a more professional group than the Australians that have served here with us', he said. Acknowledging the award at a ceremony at Bagram, Colonel Tink praised his 150-strong contingent, which he led from January-July 2002.

'Australian special forces soldiers have done the hard yards and borne the brunt of the task and I pay absolute tribute to them', he said. A 1977 Duntroon graduate, Colonel Tink, chief of staff at special operations headquarters in Sydney, has previously served with the US Navy's elite SEAL unit. 'The Australian', 24/7/2002.