| | | |
| --- | --- | --- |
| Category: Tributes | | |
Headstones of Service personnel

An unidentified Australian soldier. (Tyne Cot)
An unidentified New Zealand soldier. (Tyne Cot)
There is no more personal memorial than a soldier's headstone. At the top of each CWGC headstone is engraved the national emblem or the service or regimental badge, followed by the rank, name, unit, date of death, age and the appropriate religious emblem. At the foot of the headstone there is, in many cases, an inscription chosen by the relatives.
| | | | |
| --- | --- | --- | --- |
| | This is an example of the headstones used in CWGC cemeteries. Note the AIF badge, personal details and the religious emblem of choice. Note also the personal epitaph chosen by next of kin. | | This is an example of a privately funded, non CWGC headstone. This one is of special significance. It is a 42nd Bn man and is shaped as a scroll although from straight on it is difficult to see that. This headstone is at Harefield (ANZAC) Hospital cemetery. |
| | This is a headstone of a soldier who could not be identified at all, not even nationality. Thousands were buried this way. | | This is a temporary grave marker. This 42nd Bn soldier was later moved to a final resting place. |
In some cemeteries, notably on the Gallipoli peninsula, in Macedonia, the Far East and the Pacific, stone or bronze plaques on low pedestals are used instead of headstones. That is done for climatic reasons .

<<< Kanchanaburi Cemetery Thailand
In Malta there is a shortage of land so troops were buried 3 to a grave.

Pieta Military Cemetery, Malta. Grave of two Australian servicemen: 254 Private J. C. Kenna of the 18th Battalion AIF, who died on 1915-09-03, aged 26 years, and 214 Trooper H. J. Stewart of the 2nd Australian Light Horse, who died on 1915-09-03, aged 41 years.

Kenner and Stewart are buried with a British serviceman. (donor president of Malta)
Australians respected their fallen enemy. This is a simple, temporary cross erected over the grave of an enemy.

Identification was impossible so the inscription simply reads "Italian".

Berlin, Germany.

1990

Headstones on the graves of Flight Sergeant C.H. Edwards and 413645 Flight Sergeant J.I. McKee, No. 1 Group, 460 Squadron RAAF. Edwards was the pilot of Lancaster DX 296 E2 and McKee is thought to have been the navigator. The aircraft and crew were lost over Berlin on the night of 1943-12-02.

They are buried in the Berlin War Cemetery. Other members of the crew were Sergeant (Sgt) R. Tarling (Flight Engineer, RAF), Sgt E. Sullivan (Air Gunner, RAF), Sgt P.R. Webber (Air Gunner, RAF), Sgt A. McDougal, Sgt D.J. Hobbs. (Donor G.M. Belsey)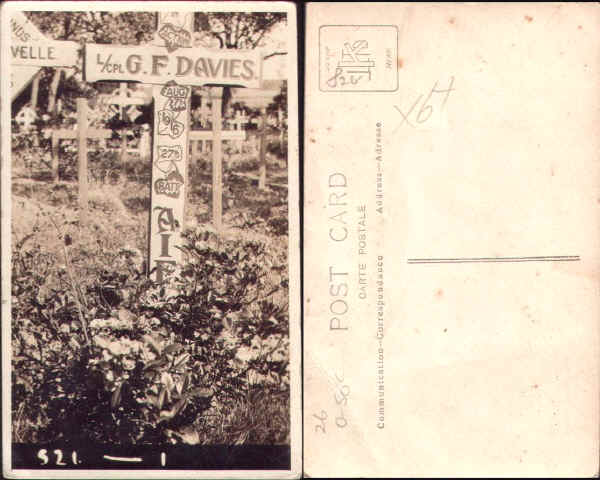 Sometimes a photo would be taken of a memorial cross (temporary) and sent home to loved ones as a postcard. This is L/Cpl G F Davies of 27 Bn AIF Killed 7 Aug 1916.