| | | |
| --- | --- | --- |
| Category: Tributes | | This page is a sub category index |
The Cross of Sacrifice.

A typical CWGC cemetery is surrounded by a masonry wall with wrought iron gates at the entrance.

In larger sites a historical notice gives an account of the conflict in which those commemorated in the cemetery died and the history of the cemetery.

A register for the cemetery is also likely to be found within a bronze register box.

Sub category index

The central focus of many (most) cemeteries is the Cross of Sacrifice, (above) designed by Blomfield to represent the faith of the majority, which ranges in height between 4.5m and 9m depending on the size of the cemetery.

Where there are more than 1,000 burials, the cemetery will contain a Stone of Remembrance, (below) designed by Lutyens to represent those of all faiths and none, 3.5m long x 1.5m high with three steps leading up to it.
| | |
| --- | --- |
| | |
| | |
| --- | --- |
| | |
At the top of each headstone is engraved the national emblem or the service or regimental badge, followed by the rank, name, unit, date of death, age and the appropriate religious emblem. At the foot of the headstone there is, in many cases, an inscription chosen by the relatives.
Headstone of Major Peter Badcoe VC killed in action with the AATTV in Viet Nam.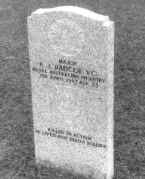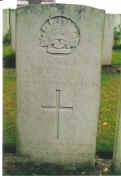 Head stone of Driver H E Jaffa, 1st AIF killed in action 6 September 1918

photo: Yves Fohlen
In some cemeteries, notably on the Gallipoli peninsula, in Macedonia, the Far East and the Pacific, stone or bronze plaques on low pedestals are used instead of headstones for climatic reasons .

Kanchanaburi Cemetery
In cemeteries in areas where there are a large number of men with no known grave a Memorial is erected. It is usually round and colonnaded as below. A WW2 example is to be seen at BOMANA.
The Ploegsteert Memorial stands in the Berks Cemetery Extension which is at Ploegsteert just over 12km south of Ieper (Ypres) on the side of the N365 Ieper to Armentieres road. On the opposite side of the road lies the Hyde Park Corner Berks Cemetery.

The Memorial is a covered circular colonnade enclosing an open space and is entered by an opening between two stone lions.

The names of the dead are carved in panels set in the walls of the colonnade. It commemorates over 11,000 men who have no known grave, who fought throughout the war on Belgian soil beside French troops and died in France or Belgium when the frontier was of little interest in this area in which trench warfare lasted longest. The casualties belong to 36 different Divisions.