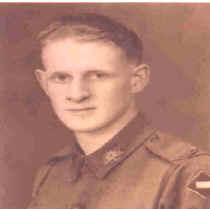 After the first few months of the Second World War, there seemed to be a stalemate in Europe, and except for a few friends who had enlisted earlier, life went on more or less the same as before the war. Then early in May, 1940 Germany invaded Holland, Belgium and Luxembourg. The situation had suddenly become very serious, so naturally I considered joining up.
At the time I was a member of the St. John Ambulance Brigade, a corporal holding the first -aid and home-nursing certificates. I applied to join the Royal Australian Navy and was accepted, subject to passing the medical examination in "two or three months time".
Then, with two mates I was introduced to Colonel Kay who had been charged with forming the 2/5 Australian General Hospital. He accepted us, so on 25 May I underwent the medical examination and jointed the AIF on 31 May at Victoria Barracks, Sydney. From there we went to Ingleburn for a few days, then to Greta, where we were camped in "Silver City", 'so called because we were accommodated in corrugated iron huts.
At Greta we should have been given nursing training. and/or sent to civilian hospitals for experience in surgical and medical work. But no - we passed much time in stretcher drill, and when I did eventually get into a ward (the 'flu ward) Matron Best was not interested in medical training, but that there might be dust on top of the doors. From memory I think that we were given one lecture by Major Kingsley, but I cannot recall the subject. We also did some route marches.
On 27 September we started pre-embarkation leave and after that reported to Sydney on 4 October for embarkation. But there was some mechanical trouble on our ship "Queen Mary" so we then spent a couple of weeks practicing getting on and off pretend buses. Here again there was opportunity for us to be given some hospital training, but that did not occur to the top brass. At the showground we slept in the Hordern pavilion and ate in the dog pavilion.
Finally on 19 October we boarded "Queen Mary" and sailed on the next day. About a week later we were off Fremantle for taking on supplies. Then early in November after a couple of days in Bombay we boarded "President Doumer", built as a troopship to carry French native troops. (A comedown from the "Mary".) 24 November saw us at El Kantara on the Suez Canal and then to rail transport to Gaza Ridge for a few days with 2/1 AGH before going to our permanent site at K'far Bilu, near the town of Rehovot. (Again I emphasise that we missed out on chances of medical training on the ships. On "Queen Mary" I was given the job of picket on the only freshwater showers near the Other Ranks' quarters. Most of the staff did nothing.)
Soon after our arrival at K'far Bilu, volunteers were called for to go out on detachment. With several others I went to the Camp Reception Station at Julis. Here I had the good fortune to get leave on several occasions to visit Jerusalem and Bethlehem. But no chance to go to other places of Biblical significance.
I returned to the Unit in time for the move to Greece. When we were packing up, of course our destination was a strict military secret, and even most (or all) of the doctors did not know. However. I was able to write to my mother (in a pre-arranged code) that it was Greece. One of the local Arabs told me.
For most of the short time in Greece before we were captured I worked in the RAP of British Headquarters in Athens. The hospital was located in a pine forest near a RAF 'drome which was attacked at least once daily by the German Air Force. On my return to the unit, just as the nurses were being evacuated, I was put in charge of a small ward, on night duty, and shown how to give a subcutaneous hypodermic injection. What great training! However, I can say that soon I was doing many of these successfully, and later intravenous as well.
Our hospital consisted of tents with the addition of a small hotel for administrative purposes and the housing of nurses.
The nurses, senior medical staff, and most of the rest were evacuated on about 22 April, leaving six general duty doctors, the Captain Quartermaster, RSM and 154 others to care for the current patients and others to follow. (It may be appropriate to mention here that up to this time, and for much time to come, the staff were never together as a full unit. From the beginning when we were the camp hospital at Greta, there was a large body of men packing stores at Leichhardt. From July to December 1940, 40 members ran the hospital in Darwin and from then onwards there were always people on detachment; even when we went to Greece some doctors were acting as ship's doctors on convoys.)
On the morning of Sunday, 27 April the advancing German army arrived and took charge. They posted a guard, took any firearms from the pack store and did not otherwise interfere with the hospital. Then early in May they moved us to Kokinnia, a suburb of Athens, between the city and the port of Pireaus. This was much better accommodation, but in the move we lost a lot of equipment. The building was in blocks each of four storeys. Food was in short supply and patients and staff all lost weight.
I was night charge-orderly in ward B4 and as casualities arrived from the battlefields and Crete we worked 12 hour shifts, with a night off after a month, (no union rules in the army). Each ward had about 40 beds. The day staff consisted of about seven and we had two on nights. In addition, the night staff were often called upon during the day to carry stretchers up as many as four flights of stairs if a convoy of patients arrived.
Later in the year, as patients were well enough to travel to Germany or other parts of occupied Europe, the work load eased, until in early December the hospital closed. During this slack period we sometimes were given a guard to walk in the local district. On some of these walks a visit would be made to the local tavern and there was one occasion when the guard over-indulged so that he had to be helped back to the hospital with one of the prisoners carrying his rifle. The NCO in charge of the guard was not amused.
Our exit from Greece was on a cargo ship loaded with empty 44-gallon drums. We spent the next three days on these drums - eating, living and sleeping. The trip up the Aegean Sea, especially between the mainland and the island of Evvoia, is one of beauty and Would have been better appreciated under different conditions. We disembarked at Salonica where we spent a few days in the large POW barracks, next to the German training barracks.
Then on the train for Europe. Fourteen days in cattle-trucks, freezing cold, through Greece, Yugoslavia, Austria, Czechoslovakia and Germany to Poland. From what little we could see from the small windows, the scenery, to us who had never seen a European winter, was enthralling, with the frozen creeks, snowcovered ground and icicles hanging from buildings.
We de-trained at night on New Year's Eve at the city of Thorn and marched through the snow to our new home, Fort XV, one of a series of fortresses built in the 19th century to protect the town in the wars which seemed to be almost constant in Europe. Fort XV was built of brick, two storeys, the lower below ground level and surrounded by a dry moat. Behind the actual building was a large area with artificial hills and several bunkers. It became a home for NCOs and medical personnel who, under the Geneva Convention, could not be forced to work for their captors. When we arrived there were British, French and Poles in occupation.
To avoid boredom, tedium and depression, the men kept themselves as busy and as fit as possible on the limited food available. The German rations were well below enough for sustaining a reasonable health, but Red Cross parcels made the necessary difference. The parcels included tea and a few other items which would let us buy eggs and a few other items from some of the guards. Sports were played; basketball between the British, French and Australians. (The Poles were sent to another camp soon after our arrival.) Football and cricket tests between Australians and British.
Those who were competent conducted classes in languages, accountancy, and other subjects. (I sat for and passed the three stages of French in exams set by the Royal Society of Arts, but could not get my final certificate until I did the oral test when we arrived in England). We had a reasonably good library, where I worked for several months. The sports were played on the "Platz", a square above the living quarters or else on a track around the inside of the fort. Football was played in a field outside.
The German NCO of the guard was named Benz and had been a POW in Scotland for two years in World War 1. He had a feeling for the prisoners, particularly for us Aussies. (We were a bit mad to volunteer to fight in a war, especially one that did not directly affect our country.) He told some of the British early in their captivity that Germany would never win, and that he expected them to look after him at the defeat of Germany. He was also one of the few Germans of my acquaintance who had a sense of humour. Unfortunately, he was transferred late in 1943 and I heard that he had been killed by the Russians.
At one stage some prisoners had escaped. The German Commandant thought it was by some trees growing near the fence. He was wrong. So he told the NCO of the guard to make the prisoners cut down the trees. But Benz pointed out that it was a non-working camp, and we could not be forced to do it. At the time we were making a new running track, so the German guards had to borrow our tools to do the job, while we looked on.
We lived about 20 to 30 in a room, slept in three-tier bunks, mostly about three or four men wide. The meat ration was so small that the rooms were divided into seven groups, each receiving the full ration on its allotted day. Bread rations varied according to the current supply problems. There were always movements among the medical personnel. Large working parties in the district were given a medical orderly to look after them, and these often rotated. At one stage a party of 2/5 men was sent to another hospital.
Then in September, 1943 there was an exchange of British and Australian medical personnel and wounded, against Germans held in Britain. Our RSM, Don Mould, assembled all the Australians in Fort XV, told us of the move and asked for six volunteers to stay behind to keep an Australian presence among those left behind. (There were quite a number of Australians among the working parties still in Poland.) Five responded -Stan Bobridge, Pat Horton, Ralph Johnston, Peter Morris and myself. We were immediately sent to other duties, I at first for a few days to Fort XIII, then to the Allied Hospital at Fort XIV. This was a little different from the other forts in that the moat surrounding it was full of water. I worked for the first few months in the infection ward, mostly TB cases, with an Englishman, George Smith.
The treatment then for TB was mainly a slightly better diet than that of the rest of us, supplemented by regular intravenous injections of a calcium compound, with the theory that the calcium would form around the TB in the lungs and prevent its spread.
After we had been in this ward for some months, we were sent to the city hospital for xrays, then transferred to other wards, I to the French ward. (In Fort XV I had played cards, monopoly, etc. with some French NCOs and built up on my schoolboy knowledge of their language, and as mentioned before, passed the Royal Society of Arts exams.)
In mid 1944 the hospital was moved to a hutted camp, Copernicus Lager, named after the famous Polish astronomer. This was built to hold 50,000 Russian POWs. We had one corner and on the other side of a barbed-wire fence were the starving Russians.
As medical personnel, we were entitled to occasional walks outside the camp (of course with German guards) and on one such walk we went into a forest where we found a Russian cemetery. The bodies were mostly in mass graves, with inscriptions in German such as "30 Soviet POW", "50 Soviet POW. The officers were in individual graves with the Russian Orthodox cross.
The winter of 1944-45 was very cold and fuel for the barrack-room fires was in short supply, so we had to burn parts of our beds and other parts of the huts for warmth. If we had not been moved in January we would have been in dire straits not that the ensuing weeks were pleasant.
During this winter the Soviet Army was advancing towards us from the East. On the morning of 20 January, 1945 at about 3am we were awakened and told to be ready to move off on foot. Every man filled his kitbag with as much food and clothing as he could find. By 7am I was as prepared as possible - pyjamas, uniform and overcoat and a kitbag of food, clothing and three blankets. Some nailed ice skates to the bottom of boxes to drag their gear along the icy roads, but after a few hours the many feet churned the ice to slush, and the boxes had to be abandoned.
Late in the afternoon we were marched into a field, for the night. We tried to get some sleep, wrapped in our blankets lying on several inches of snow. The next night was not much better the concrete floor of a big garage. Our general direction was north, then west. The following morning one of the younger men had a bad back and could not walk, so about six of us stayed behind when the main body moved off. We then commandeered a farm cart, put our mate and our gear on it and followed the "trek", civilians and some German soldiers away from the advancing Russians. Many were on foot, some had horse transport. Any men or horses that died from cold and exhaustion were left on the roadside. We lived on the food which we carried, supplemented by a little that we could scrounge from farms, etc. We slept mostly in barns. I remember that for possibly some weeks we did not take our boots off, as we would not have been able to put them on again. the next morning, as boots and feet would have been frozen. Early one morning, possibly about 3 or 4am I woke to hear a German voice, then see a steady light - he had set the straw on fire - part of the scorchedearth policy. We were in 'the upper part of the barn and escaped just in tjme. All this time the Russians were only a few kilometres behind us. Later we came upon a small village and met another group of British and American POWs in a small school. We stayed there a couple of days; I do not recall whether we slept on some sort of beds or on the floor.
We moved off again, this time with some German guards, and they had a cart with some meagre rations together with some basic medical supplies which we managed to cadge from a hospital we passed. With this I was able to treat sore feet and stomach upsets each evening. We still slept in barns at night, but as the weather warmed into spring it was not so bad when we were in open fields. Later a crowd of Russians joined us and they were treated worse than us. On a few occasions some of the British (including me) were allowed to go into private German houses to beg for food.
We marched across the top of Germany to the vicinity of Schwerin, then turned south to the city of Celle, towards the end of March. From there we had the luxury of a train for a short distance to Hildesheim, and back to walking, still south, but towards the advancing Americans. Now we were turned north again apparently the Germans did not wish to lose us. Then one of the English medical orderlies decided that he should stay with some men who had difficulty walking and wait for the Americans. But later in the day they were sent to us in a truck, as the local Burgermeister did not want them. The next morning it was my turn to stay with the footsore. We slept the previous night in a barn. The Germans had one big gun very close and when it fired during the night the tiles rattled off the roof. I suppose that we were fortunate that the Americans were infantry and did not have artillery to fire on the retreating Germans or we might have been on the receiving end. This village will always remain in my memory. Its name is Roklum. I revisited it in 1974 and the farm had new owners. In 1974 it was only a few metres from the East German border.
In the morning of Monday, 9 April, the main body marched out and I and several others stayed behind. At about 1.30pm an American ambulance and jeep drove through the village, only to return a few minutes afterwards. I stopped them. They were surprised to see us and asked where the other Americans were as these should not have been in the vanguard, so they went back to their own lines.
That left about ten of us on the loose. The local population seemed to be very friendly, but cautious. The first thing we did was to get the farmer's wife to make a large pot of nourishing hot soup. Then hot water for us to have our first all-over wash for many weeks. This was freedom after 1,445 days as a POW - four years less 16 days.
We then went into the village to the bakery and asked for, and received, bread; then to the butter factory for half a pound of butter each. As the day moved on, a lady of the village arranged for us to stay in an upstairs room (I think in a school) which had been set up as a dormitory.,. I still wore my Red Cross armband and with the Aussie hat was different from the others. The locals gave me the title of "doctor" and asked me to treat a young woman for some minor ailment, which I did. Then she ordered breakfast for us the next day, including two eggs each and three for the doctor. If I remember correctly, I also had sheets for my bed, but the others did not.
We stayed there for two days, then the Americans took us to the village of Hessau, where we were billeted in private homes for two more days. As I left the house I gave my blankets to some German girls who were refugees from the Rhine district. They were very confused by the outcome of the war and frightened. I think that probably they were brainwashed and thought that I would rape them, and were confused at the gift of blankets. On 15 April we were taken to Hildesheim by an American truck and handed over to the British who flew groups by nationality to England. By this time several Aussies had arrived and we were flown out on the last flight of the day, arriving at an RAF base to be given a wonderful reception by the Air Force girls, to the tune of Waltzing Matilda. We stayed there one night and the next day, 20 April (Hitler's Birthday) arrived at the Reception Camp at Eastbourne, to be given new uniforms and processed with medical checks, etc., followed by two weeks leave, then the next ship home.
But on leave I met some very hospitable English and Scottish families who invited me back to their homes so I did not wish to go home so soon. I applied for a job on the staff and was allocated to the Camp Reception Station situated in a block of fiats. Noel Cragg, also of the 2/5 AGH, did the same and we were given corporals' stripes, remaining there until 23 August, when we embarked on the troopship "Otranto".
While in Eastbourne CRS, which was run by two Australian Army nurses who had been sent to England for that purpose, I also had plenty of leave, including being in London on VE and VJ nights.
We arrived in Sydney on 29 September, five years less 21 days since we had departed in 1940. After leave at home until 28 October and discharge on 20 November, I had spent a total of nearly five and a half years in the 2nd AIF.
reproduced with permission from http://www.users.bigpond.com/pkegan4/ordely.htm