August 5 1944
On Saturday, 5 August 1944 Japanese prisoners at Cowra staged a breakout that resulted in the deaths of 4 young Australians and 231 Japanese.
The camp, officially known as No.12 POW Group, was a complex of four individual camps separated by cross roads. Each camp was originally built to house 1,000 prisoners.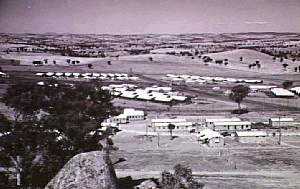 No.12 POW Group, Cowra.
Earlier, on Friday 4, in accordance with the Geneva Convention, notice was given of a transfer of all Japanese prisoners below the rank of Lance Corporal from Cowra to the Hay Prisoner of War Camp.
At 0150 hours on Saturday 5 August 1944 an unauthorized bugle was heard in camp B and immediately thereafter up to 900 Japanese prisoners of war rushed from their huts and attacked the fences of the compound. The outer fence was stormed in two places, with the prisoners using blankets and baseball gloves to minimize the damage inflicted by the barbed wire fencing.
Others set fire to eighteen of the camps twenty huts while those incapable of activity committed suicide by hanging or stabbing themselves, their bodies being burnt in the fires. Those that did not want to become involved were murdered by their comrades.
Armed with a wide assortment of weapons, including knives, one group attacked the crew of a Vickers gun that was stationed outside the camp. Members of the 22nd Garrison Battalion opened fire, causing a large number of casualties.
During the ensuring nine days 334 prisoners were retaken, of which 25 were dead. Of the dead, 11 were found hanging from trees and two had been killed by trains.
In all, 231 Japanese POW's were killed and 108 wounded. One Australian Officer was killed along with three Australian other ranks, while four others were wounded.
This made Cowra the largest POW breakout, eclipsing other well known Break-outs such as the "great escape" from Stalag Luft III.