"I look forward confidently to the exploits of our Fighter Pilots - these splendid men, this brilliant youth, who will have the glory of saving their native land, their island home, and all they love, from the most deadly of all attacks". Churchill before the Battle of Britain.
At the outbreak of the Second World War 450 Australians were serving in he RAF either as aircrew or as ground staff. There were as many Australians on active service with the RAF as there were with the RAAF. The first Australian to take part in a World War 2 air battle was a young Tasmanian, Flight-Lieutenant J. Brough of 99 Squadron, who flew in a raid of Wellington and Halifax bombers on 4 September 1939 to attack the German navy in it's home ports.

The Supermarine Spitfire, one of the saviours of the RAF
In May 1940 Germany invaded Norway, Denmark, Holland and Belgium before striking at France. The RAF was allotted the twin tasks of defending allied communications and slowing up the German advance. Its European‑based units fought desperately to win control of the air. Among the 40 Australians who took part in this fighting was the nation's first ace of World War 11, Flying Officer Leslie Clisby of Walkerville, South Australia. Clisby joined in the battle n 1 May and within five days had shot down eight enemy aircraft. On 15 May he was shot down in flames and killed.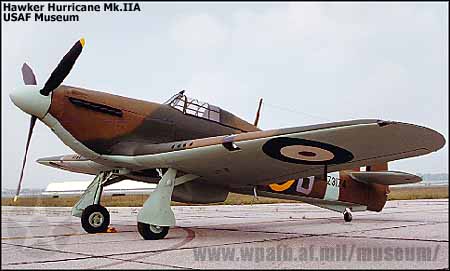 The Hawker Hurricane. The other mainstay of RAF in the Battle of Britain
Ten Australian RAF fighter pilots were killed in the Battle of Europe. The 30 who survived took an active part in the Battle of Britain during the spring of 1940. The Luftwaffe mustered some 3,000 fighters and bombers to defeat the RAF. The fighting was constant and the odds enormous.
On 15 August alone the Germans lost 76 planes. The Australians were right in the thick of the action. Flight Lieutenant Sheen from Canberra later recalled: 'Lots of aircraft were blowing up and people bailing out all over the sky and bombs dropping into the sea'. Lieutenant Sheen shot down two enemy planes that day. Such gallantry came at a price:
10 Australian fighter pilots were killed during the Battle of Britain, while five more died in British bombing raids against German landing barges in continental ports.