| | | |
| --- | --- | --- |
| Category: Badges | | |
Military Badges from Tonga (formerly Toga)

The first Tongan Expeditionary Force landed in the Solomon Islands in WW2.

Badges & buttons from the Tongan Military.

<<< Badge, Tongan Defence Force, Tongan Military Forces.

Belt buckle Tongan Army

<<< Badge, Tongan Defence Force, Tongan Military Forces, whitemetal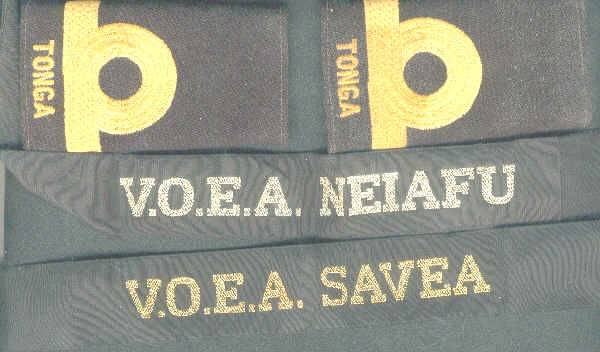 Tongan Navy epaulettes and cap tallies
2004. As a small developing country with a depressed economy Tonga, is making a massive contribution to restoring peace and stability in Iraq and the Solomons.

Tonga's Minister of Defence Prince 'Ulukalala Lavaka Ata told the Tongan Parliament on June 16 that an increase in one of the allocations in his defence budget from $240,610 to $400,000 was to meet the equipment of Tongan peacekeepers in the Solomons and those who had just left for Iraq.

The Prince went on to say that the expenses of the 45 Tongan soldiers for Iraq are shared between the USA and the Tongan governments.

Long Service & Good Conduct Medal Tonga Defence Service

He said that the Tongan government paid for the basic salaries and the living allowances of the soldiers. The USA paid for the transportation of the soldiers from Tonga to Iraq, their accommodation, food, their return trip to Tonga, and the transporting of a severely wounded or dead soldier out and back to Tonga.
The Tonga - New Zealand defence relations can be traced as far back as the Boer War at the commencement of the 20th Century. In World War I, Tonga participated as part of the NZ Expeditionary Force. The Tonga Defence Force (TDF) came into existence at the beginning of World War II in 1939. In 1943 the NZ Armed Forces assisted in the training of two Tongan contingents who went across to fight in the Solomon Islands. At the end of World War II, the TDF was disbanded, but NZ assisted in its reactivation in 1953.
Some images from Shaun Aumua
Tonga Independent, since 1970
The transition to independence was smooth on Tonga as the royal dynasty had continued to be in charge of the administration since pre-British times, and British influence on Tongan politics had appeared in indirect form, via the advice of the British consul.
The name was changed from Toga to Tonga; Tonga has a national assembly whose representatives are partially elected, partially appointed; the cabinet, however, is appointed by the king, who exerts dominating influence over the country's politics. Demands for democratization have been raised since the 1980s.