| | | |
| --- | --- | --- |
| Category: Badges | | |
3 versions of the history of the "Rising Sun" General Service badge
As discussed elsewhere the more popularly accepted version of the "birth" of the Rising Sun Badge was Version 1 below. However there are many people who support one or the other of the other versions.
Version 1. SOUTH AUSTRALIAN ORIGIN THEORY. The famous Rising Sun Badge, selected as the Army's General Service badge in 1902 but now the badge of the army, originated in South Australia. The original concept, a collection of bayonets and sword bayonets of the NSW Alexander Henry sword & socket style, radiating from a crown, was designed as a trophy. The initial drawing was done by Major J M Gordon, of the South Australian Permanent Artillery in 1893.The working drawing for the trophy was called 'Australia - Rising Sun'. It was used as the General Service badge of the Army in 1914-18 with the words Australian Commonwealth Military Forces. More details.
Version 2.

NEW SOUTH WALES ORIGIN THEORY. Another popular theory relating to the origin of the Rising Sun badge involves the badge of the 6th NSW Volunteer Infantry Regiment (Australian Rifles). This Unit was formed in 1896 and the Adjutant was the aforesaid Captain Cox-Taylor.

The Commanding Officer of the 1st Battalion, Australian Commonwealth (Horse), was Lieutenant Colonel J.S. Lyster. Cox-Taylor said that Lyster asked him to design a badge for the 1st Battalion, Australian Commonwealth (Horse).

He did so using the Rising Sun emblem in the centre of the badge of the 6th NSW Volunteer Infantry Regiment, (see left) which he had also designed. Cox-Taylor was a draughtsman.

Mr. Bill Harris, who was Orderly Room Clerk in the 1st Battalion, Australian Commonwealth Horse, NSW Squadron, said that he had prepared the final drawing of the badge at the direction of Cox-Taylor.

The theme of the design was the Rising Sun over the Crown of the Empire, on which it never set. Mr. Harris said that Cox-Taylor was anxious to complete the badge drawing so that the badge could be produced before embarkation of the 1st Battalion, Australian Commonwealth Horse, for South Africa.

If, as claimed, the badges were issued to the Queensland Squadron of the 1st Battalion, Australian Commonwealth Horse before they left Brisbane on 26th January 1902, then the issued badge could not have been the 'General Hutton Badge'. Major General Hutton did not arrive in Melbourne to take up his appointment as Commander-in-Chief of the Australian Commonwealth Military Forces, until 29th January 1902.

As the Queensland Squadron left Brisbane three days before General Hutton's arrival in Melbourne, the issued badge would have been that of Captain Cox-Taylor. However, there is no known documentation to prove that the badges were issued before embarkation for Sydney.

General Hutton had been 'on the job' for 20 days before the 1st Battalion ACH left Sydney for the Boer War in South Africa, which gave him time (although limited) to organise the selection process and manufacture of a badge before embarkation.

General Hutton asked his Staff Officers for design suggestions for the ACH badge. Captain Cox-Taylor's design based on the 6th Regiment NSW Volunteer Infantry badge, may have been submitted to General Hutton for consideration. Some wording from The Australian Army Slouch Hat and Rising Sun badge by Rick Grebert

Version 3. NEW SOUTH WALES ORIGIN THEORY (b)

Another version of Captain Cox-Taylor's involvement in the original Rising Sun badge design was told by Mr. Frank Rose. Mr. Rose was an Acting Sergeant in A Squadron, 1st Battalion ACH, at Moore Park Camp in Sydney. He remembered Colonel Lyster arriving one morning "In a bit of a flurry". Colonel Lyster said to Captain Cox-Taylor and others, "We have no Regimental badge, and we are the first Commonwealth Force to go abroad". He said that he had spoken to General Hutton at Victoria Barracks in Sydney (General Hutton was in Sydney from Melbourne, preparing for the despatch of the 1st Battalion ACH to South Africa). Hutton rejected Cox-Taylor's idea of a badge using the Australian Coat-of-Arms theme, saying that the badge should be a 'badge for all time'.

Cox-Taylor then said that lie wanted a 'Rising Sun'. Frank Rose said that he remembers Cox-Taylor arriving back at the Moore Park Camp after a meeting with General Hutton at Victoria Barracks in Sydney. Cox-Taylor found a 'Blazing Sun' at the rubbish tip, which he used as a short-cut between Victoria Barracks and Moore Park Camp.

The Blazing Sun was an 'advertisement for something'. Colonel Lyster said later, "It looks like a Jap sign". Cox-Taylor folded the Blazing Sun in half and said, "Make those tongues of flame out of swords and bayonets and put a crown 'in the centre. Make a scroll for COMMONWEALTH FORCES and I think I can make something out of that".

Frank Rose said. "The credit for the Rising Sun badge design goes to Cox-Taylor & to Cox-Taylor alone". Mr. Rose was putting his memory to the test 58 years after the events. However it is reasonable to accept that Cox-Taylor did design a badge from the Blazing Sun advertisement'.

Evidence suggests that Cox-Taylor Submitted one (or more) badge designs for consideration.

Were they rejected along with the 'flora and fauna' designs that were submitted by other Staff Officers?
Was one (or more) of Cox-Taylor's designs sent to the Melbourne die-sinkers along with General Hutton's Trophy of Arms design, for final design sketches?

There is no known evidence that General Hutton's Trophy of Arms design was the only one given to the Melbourne die-sinkers, on which they based their design sketches which General Hutton used to select tile badge for the 1st Battalion, Australian Commonwealth Horse. Some wording from The Australian Army Slouch Hat and Rising Sun badge by Rick Grebert
Are all of the above wrong?
It is my personal opinion that the people who have or still do promote these theories fail to look far enough back into Australian Colonial military badge history and other significant trends of the late 1800's.

I offer as some evidence:
This Queensland Scottish Regiment badge (circa 1885) shows that the basic idea of a rising sun was not new in 1902.
So does this late 1890s Victorian Cadet force badge >>>

When compared to the original "Rising Sun" badge (below) it is hard not to see the resemblance.
| | |
| --- | --- |
| | |
| Original "Rising Sun" badge | 2nd version "Rising Sun" |
A garden edging tile circa 1900 which bears a design very similar to the NSW Coat of Arms.

Some people claim that the Rising Sun depicted is the fore-runner to the AIF Rising Sun badge.
| | |
| --- | --- |
| | The NSW Coat of Arms was granted by King Edward VII in Oct 1906. It features a shield containing the badge of NSW together with wheat and sheep symbols on a blue background. The shield is supported by a lion, representing England, and a kangaroo, representing Australia. The crest is a rising sun, representative of a newly rising country. The Latin motto means "Newly risen, how bright thou shinest", as shown by the rising sun. It also refers to the State's continuing progress and development. |
The "Rising Sun" on the Australian $100 note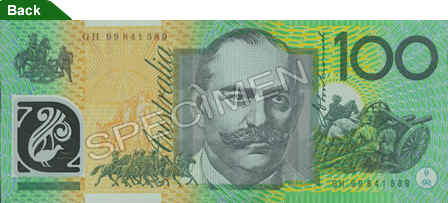 | | |
| --- | --- |
| Date of First Issue | 15 May 1996 |
| Size | 65 x 158 mm |
| Signatures | Top - EA Evans; Bottom - I J Macfarlane |
| Front of Note Portrait | Dame Nellie Melba (1861–1931) |
| Back of Note Portrait | Sir John Monash (1865–1931) |
| Designer | Brian Sadgrove |
---
BACK of the $100 note;
Portrait of Sir John Monash Based on a photograph of Monash taken in 1912. The original photograph is held by the National Library of Australia in Canberra as part of the Monash Papers, and a print was provided as reference for the designer.

Rising Sun Badge Based on reference material supplied by the Australian War Memorial in Canberra. This badge, also referred to as the Australian General Service Badge, but more commonly known as the Rising Sun Badge, was adopted as the 'Australian Imperial Force' badge and worn in World War I. Permission to use the badge was provided by the Australian Army.

Cavalry Designer's interpretation of mounted soldiers in World War I.

Soldier's and Cannon Based primarily on a photograph taken in 1917 titled Artillery in Noreuil Valley, showing the batteries of the 2nd Australian Division attacking the Hindenberg Line. The photograph is held by the State Library of NSW, which provided a print as reference for the designer.

Simpson and Donkey Based on William Wallace Anderson's statue called The Man with the Donkey, which is featured at the shrine of Remembrance in Melbourne. Permission to use the image of the statue was provided by the Shrine of Remembrance Trustees.
Taken from material provided by the State Library of NSW.

| | |
| --- | --- |
| | The Returned Soldiers' and Sailors' Woollen and Worsted Co-operative Manufacturing Company Ltd was formed in 1920 in Geelong, with the aim of producing fine quality textiles. This label was probably taken from a travelling blanket. Machine embroidered blue cotton label of the Geelong Returned Soldiers' and Sailors' Woollen Mills. The label features golden wattle sprigs and a gold 'rising sun' badge, at the centre of which is a white ram with the words 'PURE WOOL' written on it. Around the top of the rising sun are the words 'THE GEELONG R.S & S WOOLLEN MILLS', while below it is the word 'AUSTRALIA' and the facsimile signature 'Stan Savige'. |