| | | |
| --- | --- | --- |
| Category: Badges | | |
New Zealand's famous Onward badge
| | |
| --- | --- |
| | many images from Phillip James, New Zealand |
| | |
| --- | --- |
| | |
| Early pattern WW1 NZ hat & collar set. | NZ Onward collar dogs. |
<<< New Zealand Expeditionary Force sweetheart badge
circa 1915
---
New Zealand Expeditionary Force badge, possibly sand cast >>>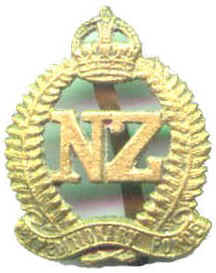 Variations of the NZEF "Expeditionary Force" badges
| | |
| --- | --- |
| | |
| WW1 New Zealand Expeditionary Force silver sweetheart cap badge. Measures 35mm high. Excellent condition with broach fitting. | 9 caret gold NZ Onward Second World War Sweetheart Pendent |
| | |
| --- | --- |
| | |
| Early "cut NZ" version | British Section, NZ Expeditionary Force |
The "Onward" hat badge & collar dogs started life as the NZ Expeditionary Force badge with matching collar dogs. This was later replaced by the badge originally created for the British Section of the NZEF. Although the Unit was one of the shortest lived Units of all time it's badge went on to make history. There were several variations of the wreath, oak-leaves (originally) and ferns (later).
The British Section of the NZEF was formed by New Zealanders living in England and, with a strength of 7 Officers and 233 men sailed for Egypt on 12 December 1914. It was dissolved the following day and the men were absorbed into the Army Service Corps and an Engineer Field Company.
Their "Onward" badge went on to become the general service badge of the NZEF & 2NZEF.
| | |
| --- | --- |
| | |
Onward badge in polished Brass

Worn by 53879 Private Alfred Edward Parker who served in the Canterbury Infantry Regiment of the New Zealand Expeditionary Forces during the First World War. Parker was born in 1878 and he worked as a bank accountant until his enlistment in the NZEF on 17 April 1917. Parker served on the Western Front and was discharged from service on 17 September 1919. Collar badge shown above left, not to scale. Held at the AWM
| | |
| --- | --- |
| | |
| The YMCA "borrowed" the basic design for it's war time activities in support of the troops. | Note variations in the Crown/s |