| | | |
| --- | --- | --- |
| Category: Badges | | |
New Zealand's Specialist Unit Badges
&

Hat & collar badges (unofficial)
The New Zealand Army sent the Samoan Advance Force to capture German Samoa on 29 August 1914. They did so without firing a shot. That unit was replaced in March 1915 by the Samoan Relief Force who stayed in Samoa until the end of the war and after. Photo Shaun Aumua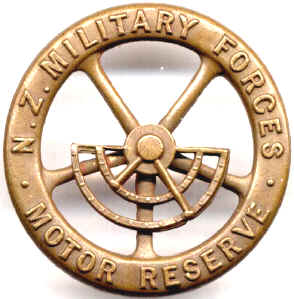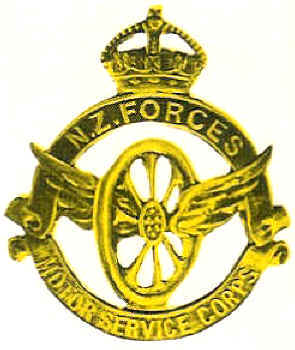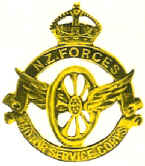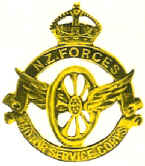 NZ Military Army Reserve of Officers was renamed New Zealand Forces Motor Reserve of Officers (above) and was raised in 1913 on 16 April.
Later the name was again changed, to New Zealand Forces Motor Service Corps (see right).
The Corps was disbanded 11 February 1920.
Base Records

was established as in June 1915.

It was part of the War Expenses Branch.

Their responsibilities included grave registration, educational and vocational activities and later, demobilisation.

Men who enlisted were physically classified A, B, C etc. Each class was broken into sub-classes. C1 was for unfit men who would be likely to be passed fit for active service after some special training.

A special camp (the C1 Camp) was set up to train them. It was originally at Featherston and later moved to Tauhernikau.
Imperial Camel Corps
A selection of NZ and Australian badges of the ICC. Image Shaun Aumua
4th Battalion Imperial Camel Brigade (Imperial Camel Corps) was raised in December 1916.New Zealand Mounted rifles provided the men to raise 15th & 16th Companies of 4Bn. There was a total of 350 all ranks. During 1917 and 1918 they saw service in Egypt, the Sinai Desert and the Jordan Valley. The CTC was the Camel Transport Corps.
Featherston Camp Training Battalion Band

Another band also operated at Trentham Camp. It also had it's own badge.
| | |
| --- | --- |
| | |
NZ School of Musketry
| | |
| --- | --- |
| | Formed in 1915 |