| | | |
| --- | --- | --- |
| Category: Badges | | |
New Zealand's Maori Unit Badges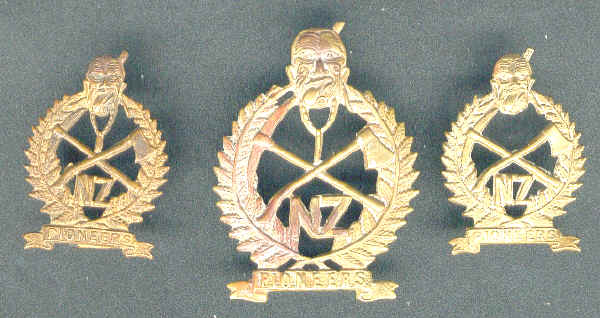 One of the NZ Maori Pioneers collars has the necklace removed. Apparently A Company (Northern Maori) never wore ornaments into battle so they removed the necklaces on their badges.
Photo by Shaun Aumua


1914 saw the formation of the Maori Companies (see badges below). They sailed in 1915 in time to take part in the Gallipoli Campaign.

Reformed as the Maori Pioneer Battalion (see badge left & collar badge above) they were sent to France.
Above: Probably reproduction.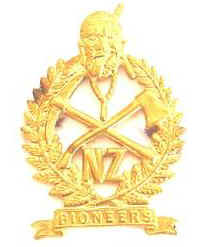 New Zealand Native Corps (Maori Battalion) NZNC

Variations of the NZ Native Corps & Maori Battalion badges.

Images by Shaun Aumua
A Company (above left)

with small NZNC and Imperial Crown

B Company (above centre)

with larger NZNC and King's Crown.

Smaller round version (above right) of the badge used for a short time between the A & B company design and

the later NZ design (left) of Sep 1917 to disbandment in April 1919.
Cook Islands Company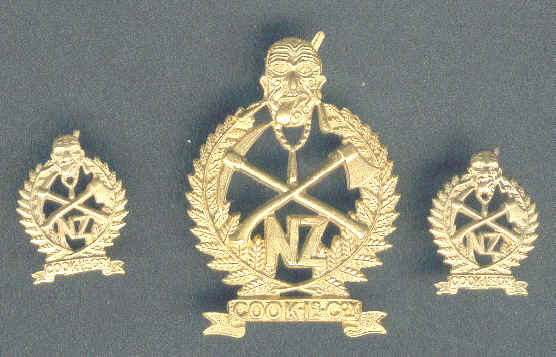 The Cook Islands Company was formed from pacific Islanders who had enlisted in the Maori Pioneer Battalion.

461 Rarotongans sailed for Palestine in February 1916