| | | |
| --- | --- | --- |
| Category: Badges | | |
New Zealand Militia, Armed Constabulary & Police
from Badges & Insignia of the New Zealand Army by Geoffrey P Oldham.

NEW ZEALAND MILITIA & POLICE

Although various volunteer units were formed in the Wellington district as early as 1838, they did not have any legal sanction until the passing of the Militia Act of 1845.

It was not for another 18 years that any of the units wore distinctive New Zealand insignia.

Prior to that date, assorted badges were worn, although often uniforms were nothing more than an assortment of civilian clothing, blankets and items of British uniforms without any insignia.

Even after 1863, soldiers were expected to purchase their own badges.
It was generally left to the individual units themselves to decide what insignia if any, should be worn. Members of well-funded units richly adorned themselves with a variety of high quality helmet plates, shoulder belt plates, waist belt buckles and other equipment items. Less financial units were often forced to adopt the badges of British regiments, or were completely devoid of insignia altogether. This situation continued until the abolition of the Volunteers in 1911.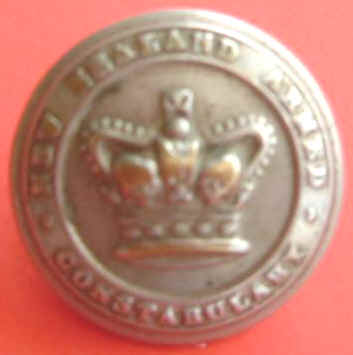 Uniform button, New Zealand Armed Constabulary
ARMED CONSTABULARY AND POLICE
The formation of the Provincial Police Forces was authorised in 1853, and the Armed Constabulary on I November 1867. By January 1877, all the Provincial Police Forces had been disbanded, and their personnel transferred to the Armed Constabulary. The force was designated The New Zealand Armed Constabulary Force in 1878, and was finally disbanded in 1886. Military personnel were transferred to the Permanent Militia, with the remainder forming the New Zealand Police Force.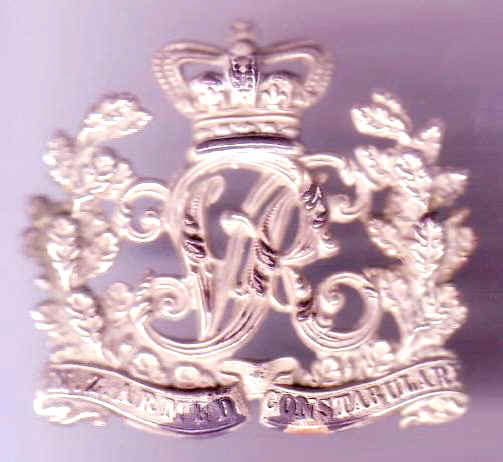 Photo from Shaun Aumua

NZ Armed Constabulary 1867/78
NZ Police Shako badge pre 1901
NZ Armed Constabulary 1878//86
| | |
| --- | --- |
| | |
| Otago Armed Constabulary Force | New Zealand Militia |
| | |
| --- | --- |
| | |
| NZ Volunteers belt buckle QVC | NZ Volunteers belt buckle KC |
Forest Rangers

The Forest Rangers were formed on 31 July 1863, with Major Jackson commanding No. I Company and Major von Tempsky commanding No. 2 Company. Numbering a mere 365 men, the Forest Rangers were an elite band of bush-roving scouts, operating independently in enemy territory and fighting the Maori on their own terms. After three years of hard living and tough fighting, which saw Major von Tempsky killed in action and very few of the original members remaining, the unit was disbanded in February 1866.


Taranaki Militia

The Taranaki Militia was formed on 13 January 1859 and saw their first action at the Battle of Waireka on 28 March 1860.

They were engaged in a number of local actions during 1863 and 1864 before being disbanded in January 1867.

The New Zealand Militia was responsible for defence within the Colony. As the local Militia units were disbanded, officers and non-commissioned officers had the opportunity of transferring to the New Zealand Militia without loss of rank. The New Zealand Militia, later the New Zealand Permanent Militia, was re-designated the New Zealand Permanent Force in 1903. This was finally amended to the Regular Force in 1953.
| | |
| --- | --- |
| | Medal/medallion named to W.J. Somerville. His name is engraved on the reverse. The reverse also has the Auckland crest of arms and the date NOV. 1913. |
This information is provided as a guide only. No commercial decision should be based on it.

Some details from Badges & Insignia of the New Zealand Army by Geoffrey P Oldham. I recommend any collector uses his publication ISBN 0-473-04378-5

I do not buy, sell, trade or provide valuations. Any advice I gave may be commercially worthless.