| | | |
| --- | --- | --- |
| Category: Badges | | |
Badges & Military Hat Badges of New Zealand Page 5
| | |
| --- | --- |
| | |
| NZ Patriotic Society | NZ Corps of Commissionaires (Many Commissionaires are ex-Army men) |
| | |
| --- | --- |
| | |
| RNZ Navy | Shoulder title of an Aide De Camp to the Governor General |
| | |
| --- | --- |
| | |
| NZ Home Guard | 'The NAVY LEAGUE' on the front and on the back 'Founded January 1895, First President Admiral of the Fleet Sir G Phipps-Hornby, GCB |
In 1915 all NZ males 17 to 60, excluding those in the armed forces, were required to enroll in the National Reserve and a distinctive enamel lapel badge was issued.

The badge of the 2nd New Zealand Expeditionary Force Association
| | |
| --- | --- |
| | |
| New Zealand WW2 Emergency Precautions Service HOSPITALS cotton armband. | New Zealand WW2 Emergency Precautions Service POLICE cotton armband. Red crown and EPS printed, as well as POLICE in black, on cotton band. |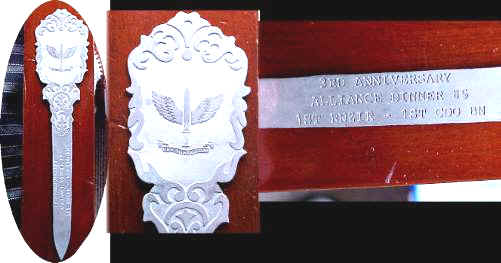 Presentation piece from The NZ Infantry Regiment & 1st Commando Battalion (Singapore Commando group's) 1985 Third Anniversary Alliance Dinner hosted by 1st Battalion of the RNZIR . This has the Winged Dagger insignia on the handle. I am told that 1 RNZIR is allied to the Singaporean Commandos. The symbol is the Commando one, not SAS. It is a 175mm or 7 inch letter opener in the form of a dagger.
New Zealand Proficiency Medal Red Cross - Instituted:

1911 Discontinued: 1914

A Red Cross member / nurse must have had three (3) successive: Red Cross First Aid examinations, provided an interval of at least twelve (12) months had elapsed between any two (2) successive examinations, or one certificate in each of Red Cross First Aid and Red Cross Nursing, plus a third certificate in either, provided that an interval of at least twelve (12) months had elapsed from the previous examination.

Additional bars were granted for each further Red Cross First Aid or Nursing Certificate, provided that an interval of at least twelve months had elapsed between examinations.
| | |
| --- | --- |
| | |
| NZ Air Training Corps badges | NZ War Contingent Association |
2nd Canterbury (Nelson Marlborough West Coast) Battalion Group
| | |
| --- | --- |
| | |
| Embroidered 2nd Canterbury NMWC Bn SDAR flash. (Logistics Coy.) | Embroidered 2nd Canterbury NMWC Bn SDAR flash. (HQ) |
2nd Canterbury NMWC Battalion Group Mounted Rifles hat badge and SDAR sleeve patch (company identifier).

The Mounted Rifles hat badge shows the rams's head (taken from the old 1st CYC badge), with the embroidered inscription CNMWC.

The SDAR flash is worn on the sleeve of either short sleeved SDAR shirt or SDAR jacket.

SDAR stands for Service Dress All Ranks.


This SDAR flash indicates the wearer is a member of Logistics Company and shows three embroidered gold feathers. .
This SDAR flash indicates the wearer is a member of Support Company (formerly Combat Support Group).

RARE New Zealand Auxiliary War Unit enameled lapel badge. This broach backed lapel badge was made by Angus and Coote Jewelers in Sydney. It measures 26mm high. It has what appears to be the name BARRY BOOTH scratched on the back. This will probably be the original wearer of this badge.

I do not know much about this unit other than I have been told it was formed in Australia in WW2.
The NZ Department of Agriculture introduced the Services Vegetable Production Scheme in July 1942 in order to meet the demands of the Allied Armed Forces & especially the United States Forces in the Pacific

At it's height, 1,000 full time staff were employed in vegetable growing activities, as well as a large number of seasonal workers.

This example bears the "M&K W" (Mayer and Keane Wellington) maker's mark on back center.

Mayer & Keane were the only known makers of this badge and ALL examples should bear their initials to front.

Additionally it should be noted that their DIE was flawed and a horizontal crack SHOULD appear across the "V" of SVP at the same height as their trade-logo appears on rear.

| | |
| --- | --- |
| | |
| RNZN Clearance Diver badge | Press badge Royal Visit 1970 |
This was one of the FIRST badges ever worn on the famed Paratrooper RED BERET in WW2. The Punjab Regiment was the OLDEST and MOST DECORATED Regiment in the British Indian Army.

Their unusual hat badge (a Greek or Roman galley) was awarded to them back in 1745.

The Punjab Regiment was the only Infantry Regiment in the entire British Army EVER to have a BOAT as it's cap badge.

India was one of the FIRST British Commonwealth Countries to start PARACHUTE training.

Early in the 2nd World War the 2nd Punjab Regiment was elevated to SPECIAL FORCES status, under the command of New Zealand raised & educated officer Major "Sharkie Shaw" who commanded the unit throughout the entire 2nd World War and led them into BURMA.
Sign in New Zealand Defence Force helicopters.

(Obviously designed for the Artillery men they sometimes carry)
| | |
| --- | --- |
| | |
| NZ Assn of Army, Navy & Auxiliary Forces Veterans lapel badge | On War Service with NZ Transports badge |