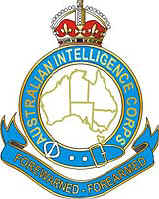 Dress regulations for the original Corps allowed for 'regimental badges'. The badge shown is known to have been worn prior to WW1.

It is not known whether this badge was officially approved, though as it featured a Crown & garter, it probably had approval but not public funding.

The blue colour is derived from the authorised facings for the Corps uniforms. Note the motto, which is still used by the Corps today.