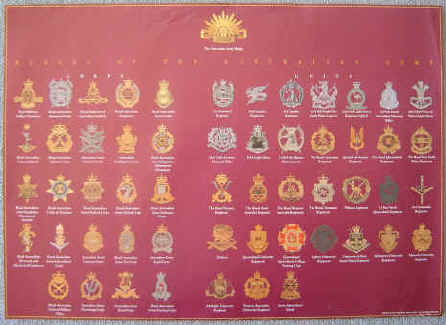 Quick reference chart for Army Corps & Unit badges circa 1990

Notes.

Collar badges are called "collar dogs"
Solid means that there is no section of the badge void.
Void means that some of the material is cut away.
Some collar dogs are 'reversed' so that the symbol faces 'out' on both sides. This is referred to as "oppose" or "facing pair".
This badge is "solid" except that the Crown is void.

This badge is void.

This pair of Oxley Regiment collar dogs is set up as left & right (opposed). This is sometimes referred to as a "facing pair".

These Survey Corps collar dogs are identical.

| | |
| --- | --- |
| | Not all hat badges are metal. Some are Bullion as this one is. Others are embroidered and during wartime some were plastic and others were printed. |

Important Notes

No commercial decision should be based on this information. I believe it to be accurate but cannot guarantee it.
I do not buy, sell, trade or collect so I am not in a position to give valuations. For valuations please contact a dealer or list with eBay.
No attempt has been made to reproduce images to scale.
Collectors generally refer to badges by era. Just because a badge is marked here as 1960-1985 it does not imply that the badge was in use for the whole period nor that it was restricted to that era alone.
There is often some "carry over" from one era to another.
The eras generally accepted are

Colonial (or Pre-Federation)
1900-1912
1912-1918
1918-1930
1930-1948 (often called 1930-1942)
1948-1953
1953-1960
1960-1985
post 1985

I have used as reference books:

Australian Army Badges

Part 1, 1930-1942 J.K. Cossum ISBN 0 949530 01 8
Part 2, 1900-1930 J.K. Cossum ISBN 0 949530 02 6
Part 3, 1948-1985 J.K. Cossum ISBN 0 949530 05 0

Australian Army Insignia 1903-1966 A.N. Festberg
Military Badges of the Australian Colonies 1800-1903 by Rick Grebert ISBN 0 909458 22 7 Landers Publishing

Queen Victoria's Own Corps of Guides, a cavalry unit that served in India, WW1 & WW2. Not an Australian Unit but it did contain some Aussies.

Sub category index
SPECIAL NOTE
Any person wishing to collect Australian Military Insignia, should be aware of Section 83 Sub-section 1-7, of the Australian Army Defence Act. The Act states that any person who has military insignia in their possession without lawful authority, has committed an offence and is liable to a fine, and the insignia may be forfeited. To obtain a permit, a person may contact the Military District Headquarters of their state by letter.
---
2 places to trade badges:
eBay.
---