| | | |
| --- | --- | --- |
| Category: Assorted | | This page is a sub category index |
These are copies of common use documents of the AIF and 42 Bn AIF Assoc
Notification of award of Military Medal sent to next of kin. The certificate is paper but is backed with a heavy cotton or light canvas backing. It was mailed to next of kin 6 MONTHS after the award was promulgated in the London Gazette.

Sub category index

AIF nominal roll. Copy of one page of the original typed & handwritten records of soldiers of the 1st AIF now available online from the Australian War Memorial. Their data base search is user friendly. Details
| | | |
| --- | --- | --- |
| | | Enlistment papers from Soldiers records. Each WWI soldier's records are being made available online. You need to order them and there is about a 3 month wait for them to be scanned. Once online they are available to any person and are full and complete records of service. These are 2 pages of the 20 available for 805 Sgt. C F W Harris, MM. Details |
| | | |
| --- | --- | --- |
| | | Discharge Certificate (front & back) from the Australian Imperial Expeditionary Force. Issued with the warning that NO COPY available if lost. (Editors note. This is the only document I have seen that uses the word "expeditionary" as part of the AIF title). |
| | | Notification of Wound (front & back) from Base Records Melbourne. This was standard practice. Wounds got a letter, KIA got a telegram. |
| | | In the case of death the next of kin was notified by an urgent (pink) telegram. A telegram was a telegraphic message sent from one Post Office to another and then written or typed onto a flimsy sheet of paper, enclosed in an envelope and delivered by a boy on a bicycle. The sight of the Telegram Boy approaching was feared and hated. Later a letter from the King would arrive (sometimes) with a Dead Man's Penny. That took years and the practice stopped before all The Fallen were honoured. |
| | | Field Service Post Card, troops for the use of. Note the order that promises total destruction if ANY WORDING appears other than address & signature. The troops called these "quick firers" as all you had to do was address and sign them. No writing was needed or allowed. |
| | | |
| --- | --- | --- |
| | | Rail Pass (Queensland) issued to returned WW1 servicemen. Good for "All Stations" and "First Class" (which only meant that you didn't have to travel with the sheep and cattle). |
Christmas Card 1939. Front, middle & back of the 42nd Bn Association Card, Christmas 39 New Year 40. Note that another printed page was inserted (held by ribbon) that had the poetry piece "Me on it.
Christmas Card 1925. Inside & out of the folded 1925 Christmas/New Year card. Note the ribbon in each card. Note also that the Unit shoulder patch was printed in colour.
| | |
| --- | --- |
| | Aussie Magazine. Produced by the Diggers for the Diggers. Note the interesting use of the map of Australia to form the head of the Digger. Unfortunately the front page is all I currently have available. |
This was printed for the 1st Celebration of Anzac Day (25th April 1916). It comes from Queensland. Around the central "Q" are the words In Memory of the Heroes of Anzac 25th April 1915. Queensland.

Handwritten on the top of the sheet are the words "Talwood State School".
Railway Warrant....1st Class...."Commonwealth Military Forces of Victoria" "The Victorian Railways are requested to provide for the conveyance of the following members of the Defence Force in uniform. This warrant was issued to 502 L/C Gray from Melbourne to Serviceton on 15/1/1919. There are the stamps: "ANZAC" and "Expeditionary Force" on the front. There is also the instruction to "Debit to State Treasurer". On the back is the Certificate of Commanding Officer which says:- "I certify that the Officers/Warrant Officers for whom this Warrant is required is/are proceeding to Serviceton for the purpose of ANZAC" and signed by the Commanding Officer.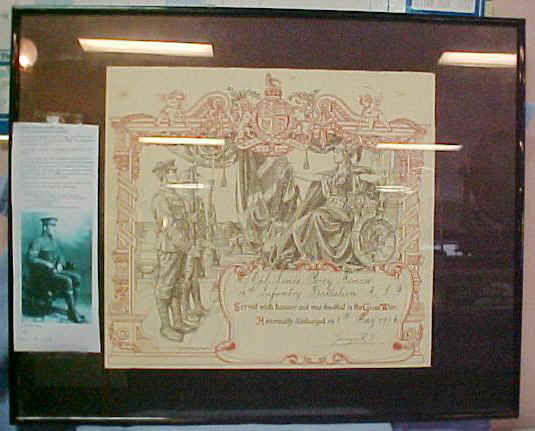 Certificate of Service in AIF (WW1)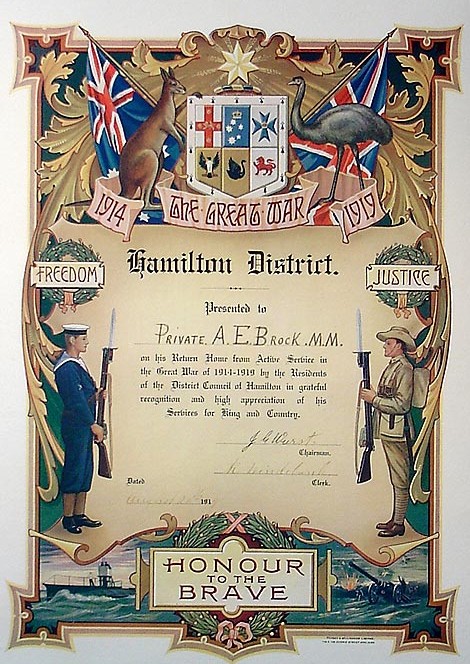 Certificate issued to Pte A E Brock MM by Hamilton Council
New Zealand Expeditionary Force NZEF WW1 Documents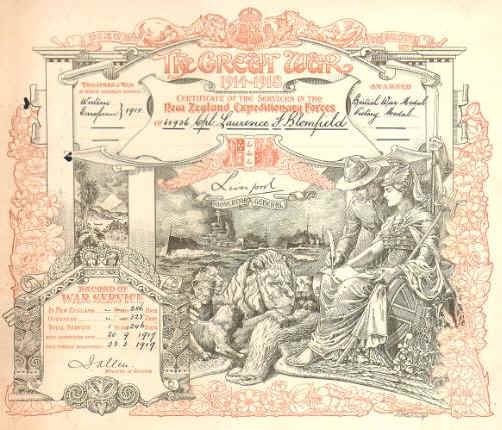 Certificate of Service NZEF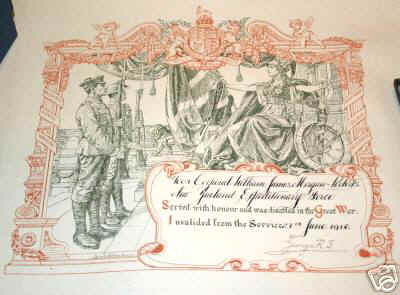 New Zealand "Invalided from the Service" certificate 1918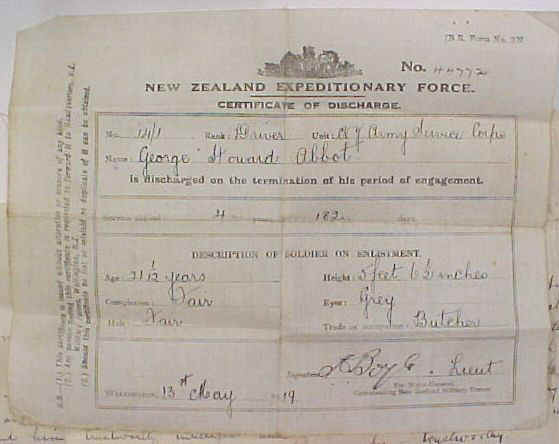 NZEF Discharge papers, 1919
Au Revoir Cards

Cards like this were printed on board ship while the troops were on route. They were designed to be posted home from the next port.

Note the HMNZT with a number. That stood for His Majesty's New Zealand Transport No....
Australian Naval & Military Expeditionary Force AN&MEF, 1914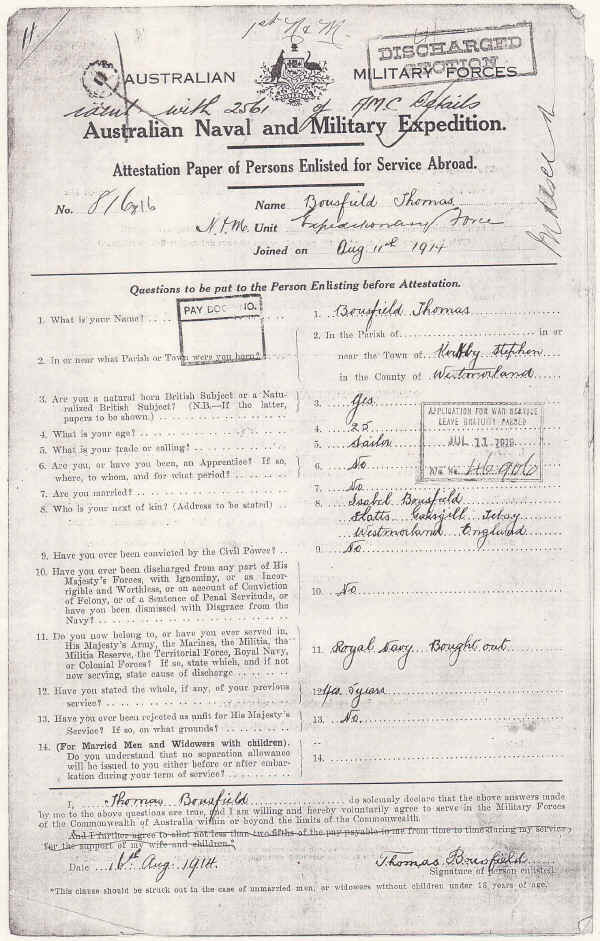 Post war retraining certificates
Notice to attend Concentration Camp

This WW1 Regimental Order to men of the 2nd South Canterbury Regiment (NZ), ordering them to attend a Concentration Camp shows that the name did not have at that stage the same terrible connotation that it gained in WW2.
World War 1 Service Poster from USA