The story of the match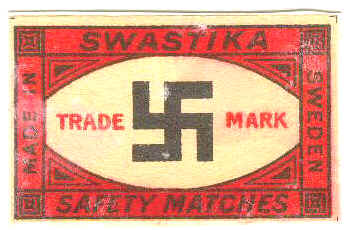 In the far off dawn of civilization primitive man found out how to make fire by rubbing two pieces of wood together. This was a long and laborious process and explains why fires, once lit, were carefully tended so that they should not go out.

When man acquired the art of smelting iron, some 3,000 years ago, the flint and steel method of making fire was used instead of the sticks. A hard flinty stone was used to strike sparks from a piece of steel, and the sparks, falling on a piece of tinder, which was usually a piece of charred rag, caused it to smoulder. The actual fire was then obtained by the aid of a splinter of wood or a piece of straw, the end of which had been dipped in melted sulphur.

Next came the tinder-box. It was made of wood, horn or metal, the most usual being in the shape of a round tin. The tinder-box served a dual purpose: it kept the steel, flint, tinder and matches together and, more important, kept the tinder dry.

Small tinder-boxes and tinder-pouches were made for carrying in the pocket. These were made from a variety of materials, the tip of a bull's horn being often used in England, while in India the hollowed-out tooth of a crocodile was favoured.

It was during the 17th century that the tinder-pistol was introduced. When the trigger was pulled the resultant spark ignited a few grains of gunpowder which, in turn, ignited the tinder. The earliest tinder-pistols were made of iron, but later some exquisite examples of workmanship were made in iron and brass. Smaller pocket models were also made.

It is an extremely odd fact, but nevertheless a true one, that it was very soon after this that the pocket lighter came into existence. The Japanese, when they eventually came into possession of a European tinder-pistol, copies the action on a very tiny scale and enclosed it in a small container not much larger than a walnut shell.

It was not until 1810 that anything resembling the match, as we know it today was introduced. This was the "instantaneous Light Box" which came from France. It consisted of a box containing a tiny bottle of sulphuric acid and some matches, the heads of which had been dipped in a compound of chlorate of potash and sulphide of antimony. The head of the match was dipped into the acid and when it was withdrawn it burst into flame. This form of instantaneous light became very popular and remained in use for about 25 years.

In 1828 the instantaneous light was improved on by Samuel Jones, a chemist of London. He invented what he called the Promethean Match. This consisted of a tiny glass vessel, which had a minute portion of sulphuric acid inside, which was enclosed in a small quantity of chlorate of potash, the whole being sealed up in the end of a paper spill. When the head was crushed between the jaws of a small pair of pliers, which was sold with every box, the liberated acid immediately caused the potash to ignite.

John Walker, a chemist from Stockton-on-Tees, invented his "Friction Lights" in 1826, but although his friends urged him to do so, he refused to patent them on grounds that the idea was not sufficiently important. They were sold in round tin containers for 1/2d. per hundred. The earliest lights had cardboard stems, but he quickly improved them by using slivers instead. They were ignited by placing the head of the light between a folded piece of sandpaper, then sharply withdrawing it.

As Walker had not patented his friction lights it meant that anyone could make them, and that is what soon happened..

In 1830 Samuel Jones, the inventor of the Promethean Match, put his "Lucifers" onthe market. These were an exact copy of Walker's friction lights, but he sold them in cardboard boxes very similar in shape and size to the matchboxes of today.

Almost immediately a near neighbour of Walker's, another chemist, G.F.Watts, brought out exactly the same match but called it Watt's Chlorate Match. These were sold for 6d. a hundred.

Two years later, in 1832 Richard Bell established the first British match factory in London. Bell's matches are still produced today, but the original firm has since been incorporated in Bryant & May's firm.

Bell started producing the new phosphorus match that had been invented a young Frenchman named Charles Sauria. The head of the match was made of a mixture of sulphur, chlorate of potash, sulphide of antimony and phosphorus and had the great advantage that it would strike on anything hard.

The new match, the Congreve as it was called, quickly ousted all other matches from the market and was used almost exclusively for many years.

As various manufacturers entered the business, and competition grew, the cardboard matchboxes began to flaunt highly coloured and greatly varied labels, one unforeseen result was that a new hobby was born, the matchbox collectors - phillumenists as they are called - now enjoy a hobby older than stamp collecting.

In 1832 two further types of matches were invented, the Fuzee and the Wax Vesta.

The fuzee was intended solely to light pipes and cigars out of doors. It was composed of a thick piece of cardboard, some 5 inches long by 1.1/2 inches wide, steeped in nitre and then incompletely cut, as in the manner of book matches today, into twelve strips. The head of each strip was dipped in a phosphoric compound. When required for use, the match was torn off and ignited when it was slowly smoulder and could not be blown out by the wind.

The wax vesta was made like a small wax taper and was exactly like the wax vestas of today, although very few of them are now produced, having been almost entirely superseded by the wood vestas.

It was in 1855 that Eduard Lundstrom produced the "safety" match, which he did by incorporating phosphorus in the rubbing surface on the side of the box.

It is obvious however, that with the millions of matches that are now used every week, the old fashioned method of making them by hand has long since vanished.

S.J. Moreland & Sons Ltd of Gloucester produce millions of matches every week. In 1850 these Works were founded by Samuel John Moreland. He did not rely solely on matches, however, as he did a large amount of joinery work, and also was well-known for his blind-laths.

As time went on, matches became more and more popular and so he gradually turned his whole attention to their manufacture. Since that time the "England's Glory" Match Works provided employment for a great number of men and women in the City of Gloucester.

The fact that matches have to be placed, immediately they are made, into a bonded warehouse, may sound surprising, for there certainly seems no connection between such a weighty process of the law and that most humble of all common everyday articles - a match. The reason is that the Match Tax was instituted in 1916, and the collection of tax has been the responsibility of H.M. Customs and Excise ever since.