| | | |
| --- | --- | --- |
| Category: Assorted | | |
"Cigarette" cards with a military theme

One of the longest running forms of collectibles was the "cigarette card".

These cards were included in cigarette packs, packs of chocolate, chewing gum, petrol purchase and in or with other consumer products as advertising or as a reason to purchase a particular brand and/or to engender brand loyalty.

They came in sets, commonly about 50 per set, and a very popular hobby grew up around collecting them. It exists to this day.

Sub category index
Each card had on the back some advertising and an explanation of the image that was on the front.

This particular one helps dispel the myth that the slouch hat with a turned up leaf is uniquely Australian.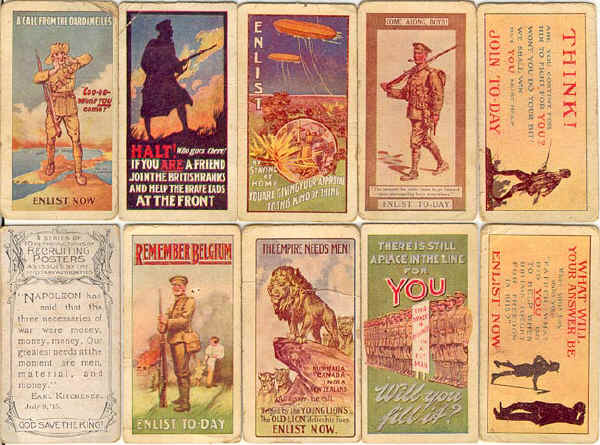 This is a partial set of "recruiting" cards. This type of advertising was just as popular in Germany, for example, as they were in Britain, USA or Australia. They still fetch good prices and full sets bring really good prices.
Churchman Cigarettes

Warriors of All Nations


Cards from 1929 showing warriors old and new from Ancient Japanese to a Highland Clansman, Red Indian to Zulu, Foreign Legionnaire to American Doughboy and including "the Aussie".
Gallahers Cigarettes
The Great War

This set of 100 cards issued in 1915 depicts life and equipment of the Services during the early days of the Great War.

Philadelphia Chewing Gum Corp - War Bulletin
Cards issued in 1965 depicting events from the 2nd World War from start to finish. The reverse contains a newspaper style report on the picture.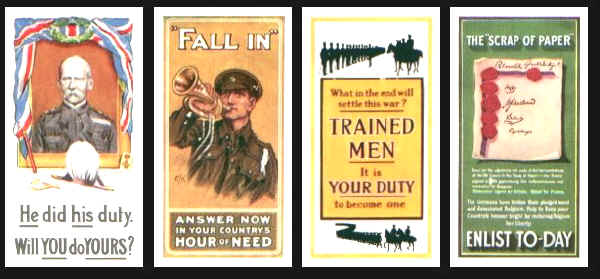 These cards are now so valuable and sought after that authorised (and probably unauthorised) reprints are available.