| | | |
| --- | --- | --- |
| Category: Army Today/State Regts | | |
The Fighting Ninth: 9 Battalion Royal Queensland Regiment
9 Battalion Royal Queensland Regiment

9 RQR has a proud military history with numerous battle honours. Soldiers from 9 were the first on the beach at Gallipoli.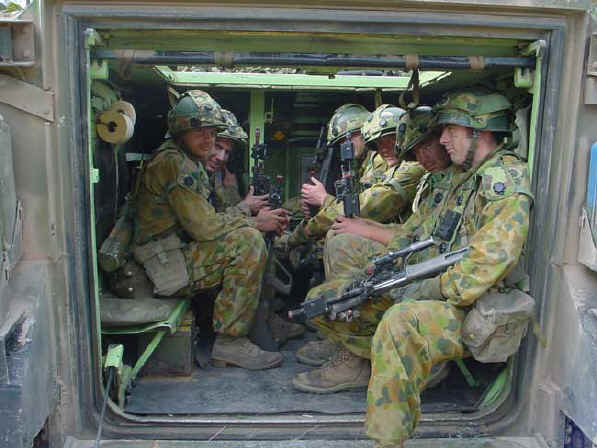 The fighting ninth is one of the strongest Battalions in the modern Army Reserve and is the proud custodians of a long and distinguished history. The Battalion can trace its history back to the Queensland Volunteer Rifle Brigade established in 1867 and first deployed forces overseas as early the Boer War in 1899. Today the Battalion has depots at Bundaberg, Maryborough, Gympie, Yandina, Caboolture, Enoggera and Loganlea. The Battalion forms part of 7 Brigade and has an operational focus in its training and has provided soldiers for several overseas deployments in recent years including East Timor, Malaysia, and New Zealand.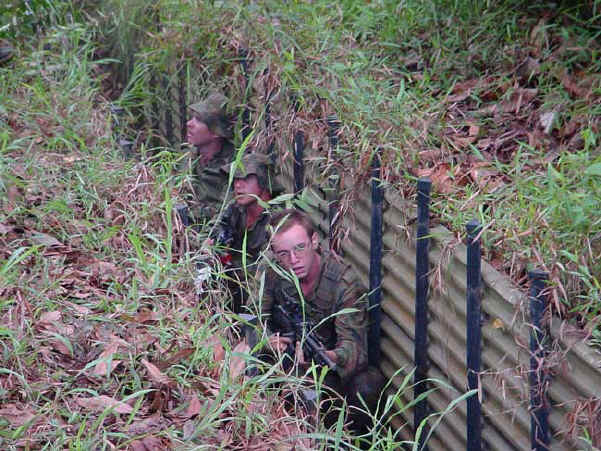 | | |
| --- | --- |
| 1867.06.23 | The Spring Hill and Fortitude Valley Rifle Corps |
1879.
1st Queensland (Moreton) Regiment
formed by regimentation of existing volunteer rifle corps
1885
1st Queenslanders ( The Moreton Regiment )
1903
9th Australian Infantry Regiment (Moreton Regiment)
1912
7th Infantry (Moreton Regiment)
1918
9th Infantry Regiment (The Moreton Regiment)
reorganised to perpetuate 9th Battalion AIF

1st Battalion, formed from 9th Battalion AIF
2nd Battalion formed from 7th Infantry
3rd Battalion
4th Battalion
5th Battalion formed from 7th Battalion Senior Cadets

1921
9th Battalion (The Moreton Regiment)
formed by merger of 2/9th Infantry and part of 5/9th Infantry
1930
9th/15th Battalion
absorbed 15th Battalion
1934
9th/49th Battalion (The Moreton Regiment)
unlinked from 15th Battalion, and linked with 49th Battalion
1940.07
9th Battalion (The Moreton Regiment) unlinked from 49th Battalion
1940
9th Australian Infantry Battalion (AIF) mobilised for war service
1945.12.12
disbanded
1948.07.01
9th Infantry Battalion (The Moreton Regiment) reformed in CMF
1960.07.01
reduced to one company in 1st Battalion, The Royal Queensland Regiment

A Company (The Moreton Company)

1960
9th Battalion, The Royal Queensland Regiment
formed by redesignation of 1st Battalion, The Royal Queensland Regiment
1960.07.01
The Queensland Regiment
formed by reduction of all CMF infantry battalions in Queensland:
1st Battalion

A Company (The Moreton Company), formed by reduction of

9th Infantry Battalion (The Moreton Regiment)

B Company (The Darling Downs Company), formed by reduction of

25th Infantry Battalion (The Darling Downs Regiment)

C Company (The Darling Downs Company), formed by reduction of

25th Infantry Battalion (The Darling Downs Regiment)

D Company (The Wide Bay Company), formed by reduction of

47th Infantry Battalion (The Wilde Bay Regiment)

E Company (The Byron Scottish Company), formed by reduction of 41st Infantry Battalion (The Byron Scottish Regiment)

2nd Battalion

A Company (The Far North Queensland Company), formed by reduction of

51st Infantry Battalion (The Far North Queensland Regiment)

B Company (The Far North Queensland Company), formed by reduction of

51st Infantry Battalion (The Far North Queensland Regiment)

C Company (The Kennedy Company), formed by reduction of 31st Infantry Battalion (The Kennedy Regiment)
D Company (The Capricornia Company), formed by reduction of

42nd Infantry Battalion (The Capricornia Regiment)

E Company (The Capricornia Company), formed by reduction of

42nd Infantry Battalion (The Capricornia Regiment)

1960
The Royal Queensland Regiment

9th Battalion, redesignation of 1st Battalion
31st Battalion, redesignation of 2nd Battalion

1965
battalions reorganised:

9th Battalion: E Company (The Byron Scottish Coy) redesignated A Company, 41st Battalion, The Royal New South Wales Regiment
25th Battalion, re-formed 1 July 1965 from companies of 9th Battalion
31st Battalion
42nd Battalion, re-formed 2 Aug. 1965 from companies of 31st Battalion
51st Battalion, re-formed 24 May 1965 from companies of 31st Battalion

1966.09
49th (Remote Area) Battalion re-formed and regimented
1976.07.31
51st Battalion reduced to 51st Independent Rifle Company
1985.10.01
51st Battalion became independent as a Regional Force Surveillance unit
1997.07.01
25th/49th Battalion, formed by amalgamation of 25th Battalion and 49th Battalion