LINEAGE
41st Battalion The Byron Scottish Regiment
41st Battalion AIF
41st Australian Infantry Battalion CMF
Battalion History
The 41st Battalion has a long and distinguished history. Read below to find out about the Battalion Motto, the Battalion Song, the Unit's Scottish Ancestry and the Battalion's Victoria Cross recipient Lance Corporal Bernard Sidney Gordon.
---
Soldiers from the Battalion have served in almost every conflict that Australians have served in. From World War One to East Timor, the Battalion has fought as a unit or provided reinforcement soldiers to support Australian Defence Force Operations.
Death before Dishonour

The 41st embraces it's illustrious motto of "Death before Dishonour". This motto has been adopted by the 41st as no member has ever surrendered to enemy forces since the unit's formation in 1917.

The Battalion was raised in 1917 and fought in some of the most important and bloody battles of that war.

During WWII, soldiers drawn from the Battalion fought in all theatres.
In more recent times soldiers of the 41st have served in INTERFET in East Timor, with the Peace Monitoring Groups in Bougainville and as part of the Operational Search Battalion at the Sydney Olympic Games in 2000.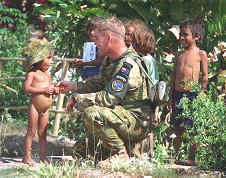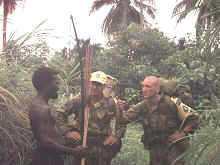 ---
---
Scottish Background

The Battalion has strong links to it's Scottish ancestry. The Battalion was formerly known as the 41st Battalion The Byron Scottish Regiment. This is due to the large number of Scots who settled in the north of the State in areas such as Grafton, Byron Bay and Maclean.

We maintain links to the Argyle and Sutherland Regiment and wear the Kilt of the Argyle and Sutherland Highlanders on ceremonial occasions.
---
Lance Corporal Bernard Sidney GORDON
41st Battalion, 11th Brigade, 3rd Division AIF


27 August 1918
Fargny Wood, France
World War 1

VC
CITATION: For most conspicuous bravery and devotion to duty on 26th-27th August, 1918, east of Bray. He led his section through heavy shell-fire to the objective which he consolidated. Single-handed he attacked an enemy machine-gun which was enfilading, the company on his right, killed the men on the gun and captured the post, which contained one officer and ten men. He then cleaned up a trench, capturing twenty-nine prisoners and two machine-guns. In cleaning up further trenches he captured twenty-two prisoners, including one officer, and three machine-guns. Practically unaided, he captured, in the course of these operations, two officers and sixty-one other ranks, together with six machine-guns, and displayed throughout a wonderful example of fearless initiative. (London Gazette: 26th December 1918.)


Today the 41st Battalion honours Lance Corporal Gordon, where the Soldiers Club proudly bears his name.